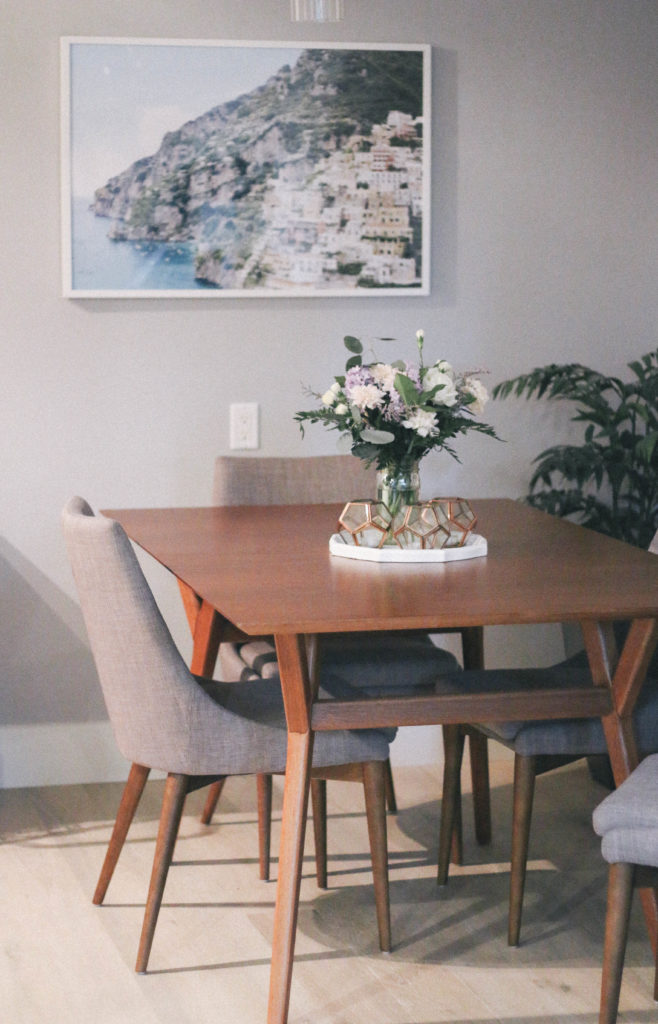 Our apartment has undergone a major transformation and I am so excited to finally start sharing some of it with you!  I've mentioned it a million times, but with some terrible luck, we just so happened to have two floods almost exactly a year apart (it's always in February, so I'm understandably a bit on edge).  Though they were an absolute pain at the time, both taught us valuable lessons about our home.  First, we learned that we had WAY too much stuff.  Having to pack up your things with a days notice really makes you realize the weight of everything you own.  Also, that we'd become complacent to feeling 'meh' about our apartment.  It's so easy to just live amongst within growing clutter, furniture you don't love, or the same old decor.  Change requires effort, and let's face it, a lot of the time that energy is justified elsewhere.  But, I'll tell you, after basically being forced into redecorating when our second flood hit, we realized that we could learn to love our space again.
Though we allocated a more significant budget to larger furniture swaps like our dining table and chairs, a couch, our Sayulita Chair, and wall mounted shelves, we also added a lot of smaller touches that helped make our apartment feel brand new without breaking the bank.
Large Framed Print
Under $50
Inspired by all the beautiful fine art prints I've seen online, I decided to try a DIY version.  It seemed a waste not to use one of my own photos and it's such a great conversation piece in our dining room.  The project ended up being extremely simple, the toughest part was that I had to shed a tiny bit off my printed photo in order for it to fit into the frame.  It's so wonderful seeing the stunning Amalfi Coast on our wall every day, and I feel a real sense of pride that it's my own photo (and that I managed to achieve the look for under $50).
Pictured: IKEA Ribba Frame ($20) and Large Photo Printed at Costco ($18)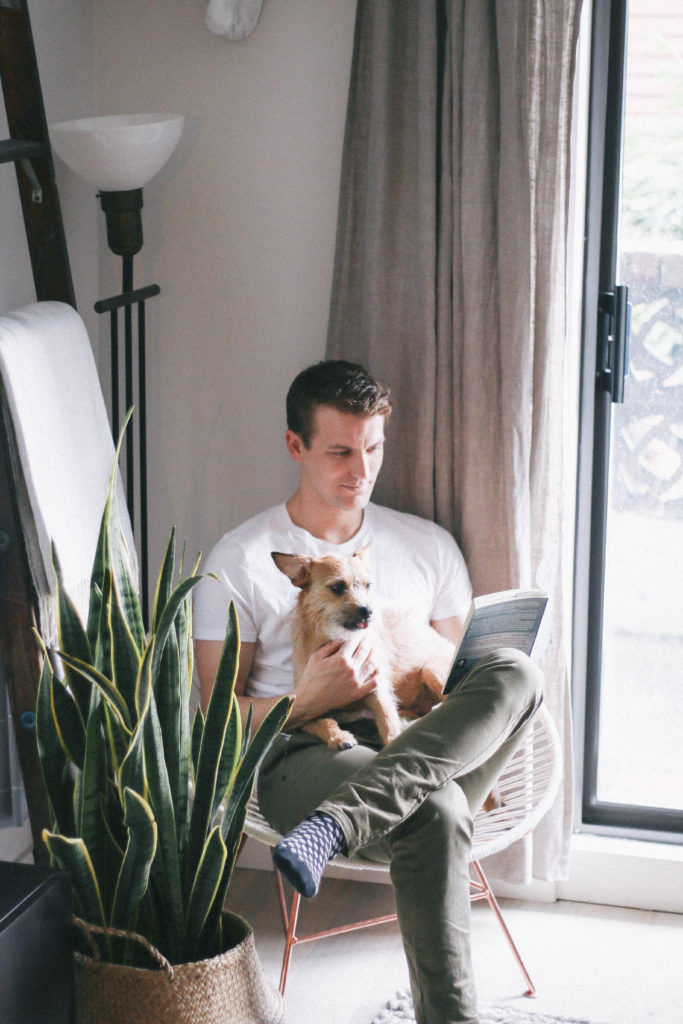 Indoor Plants and Fresh Flowers
Under $150
I love purchasing fresh blooms for our apartment, but it's an expensive habit and pretty seasonal.  I finally took the plunge and bought a snake plant for our living room, under the assumption that my murderous black thumb would eventually prevail.  Miraculously, they're as low maintenance as advertised (this reminds me that I should water it…) and apparently helps keep the air in our place clean!  I highly recommend the investment, even if you're normally a plant killer like myself.  The greenery really adds some life and colour to our space!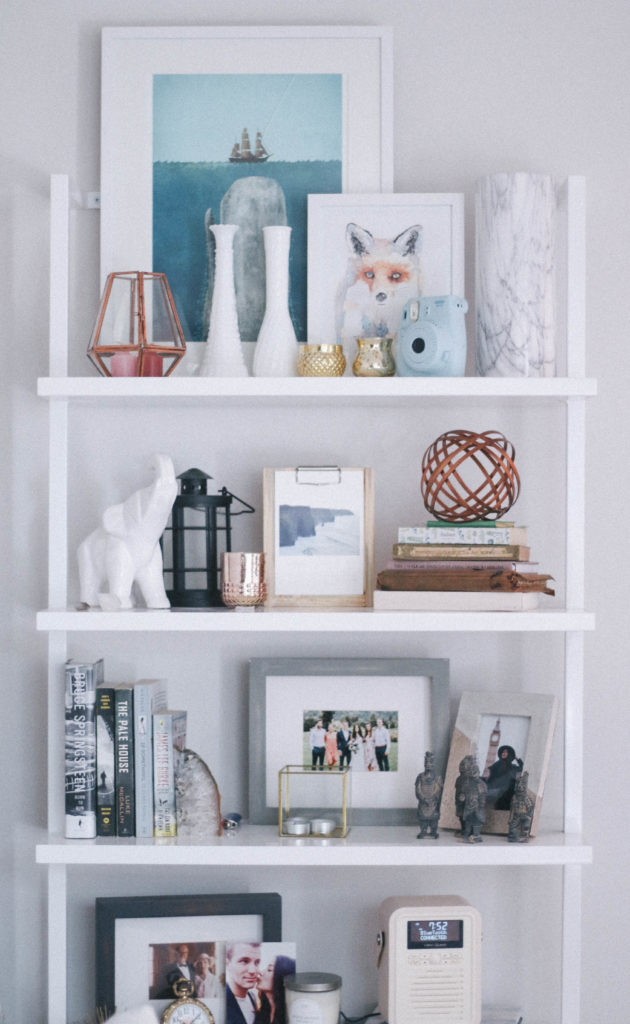 Re-Styling A Bookshelf
Under $100
Ugh, I just noticed that I left the candle lighter on one of the shelves in this photo and it will haunt me forever.  Sorry I pointed it out.  Despite this, our wall mounted shelves and desk unit were the perfect solution to an otherwise unused wall.  I'd admittedly never styled up a bookshelf, and it was a rather fun task.  I got to feature some favourites like my VQ Retro Mini Speaker, Artifact Uprising Calendar, and Instax Mini 8 Camera.  I also went to Home Sense and purchased a few knick knacks and have finally displayed all of my candles and left over candle holders from the wedding.  I've linked to a few similar pieces below to help achieve the look: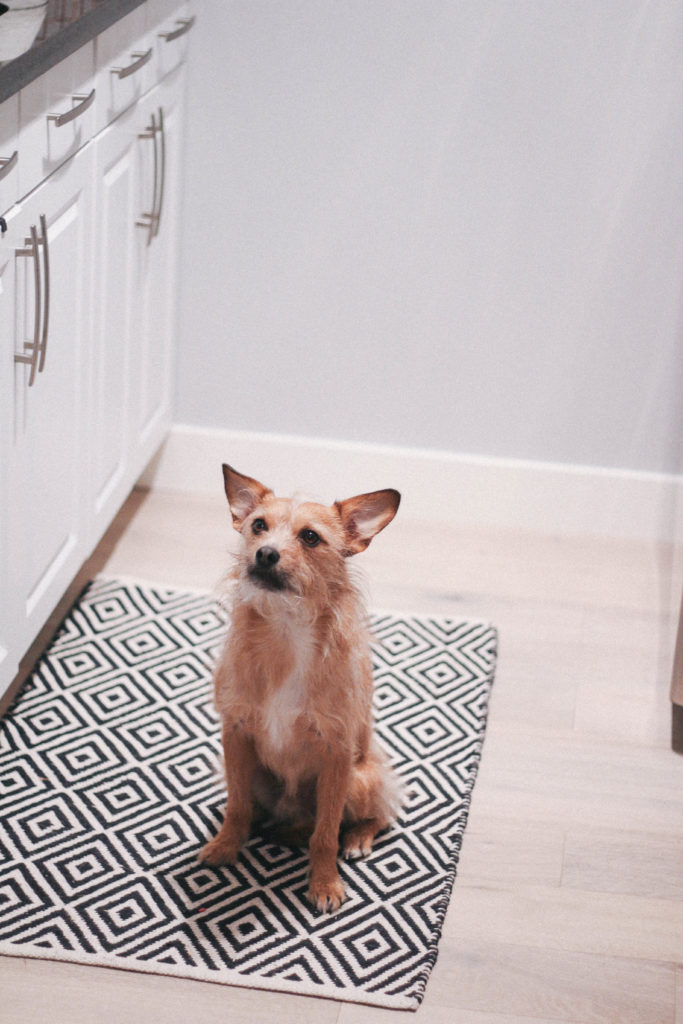 Small Printed Rugs
Under $75
Somehow, I'd never considered that we needed small area rugs in our place.  Our kitchen seemed fine sans rug, until I impulse bought this black and white diamond number.  It brought our galley kitchen together and protects the floors from inevitable spills.  I also purchased a slightly longer and more colourful rug for our front entryway and it once again transformed the space.  Home Sense has a ton of these kinds of small rugs at the moment and I highly encourage you to spend the $30 and try one out!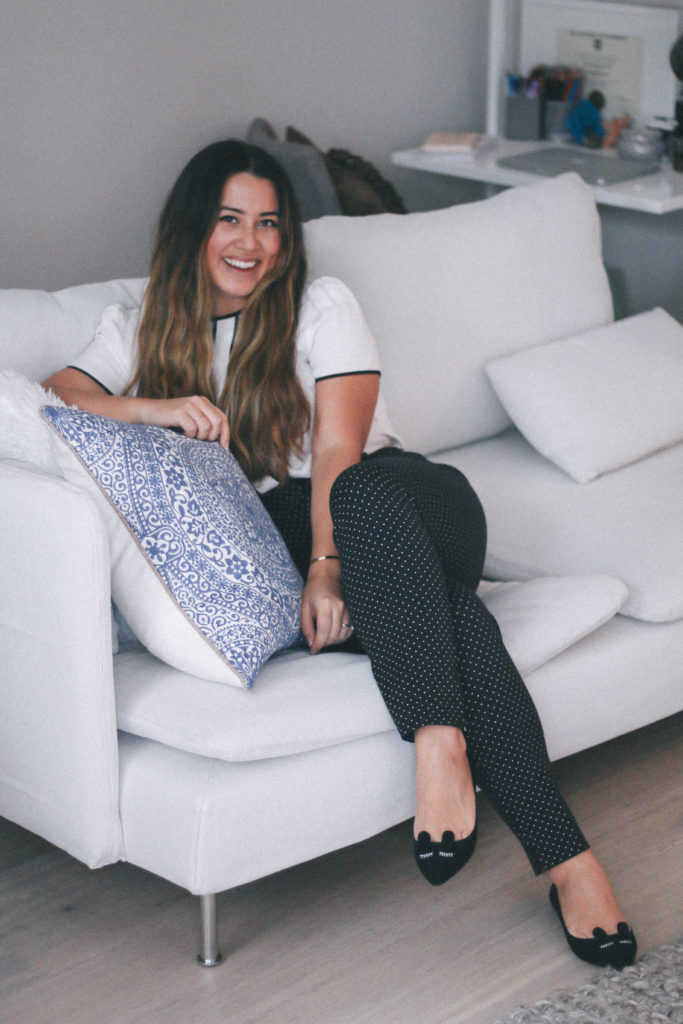 New Throw Pillows
Under $100
Such a simple concept, and yet I NEVER purchased new throw pillows.  It felt like such a commitment, which is ridiculous because return policies exist for a reason.  Anyway, I purchased all three of these pillows at Home Sense and love how they provide different fabric texture and a colourful pattern.  The fuzzy white pillows came in a two pack for $25 and the embroidered one was around $30 on its own.  Never ended up finding its mate, but I almost like having an odd number.
Next up, we'll be attempting a photo gallery wall behind the couch and saving up for a second sleeper couch (we're in a one bedroom, so we have to get creative).  It's an ongoing project, but really so fun!  Hope you're able to use a few of these ideas for your own place and if you do, tag me on Instagram – I want to see!