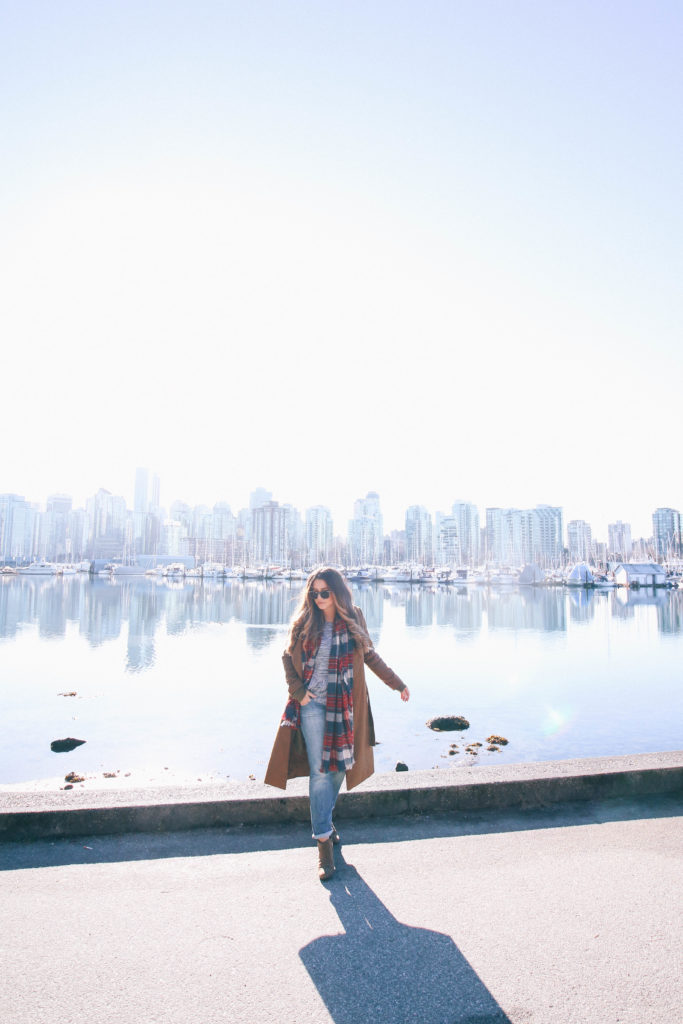 We've had the tiniest glimpse of spring and I'm already reaching for lighter jeans and my favourite tanks.  These sunny warmer days are extra sweet after we've had such an extreme winter.  Which, I know pales in comparison to the rest of Canada and much of the States, but the Pacific Northwest isn't usually hit this hard.  They are calling for snow again tomorrow and my fingers are crossed that the meteorologists are wrong.  I'm throwing a baby shower this weekend and thanks to a series of ironic events, we no longer have snow tires.  I've got errands to run, people!   We'll get snow tires again for next winter and I'm sure we'll have another 8 year stretch without snow, because the universe is funny like that.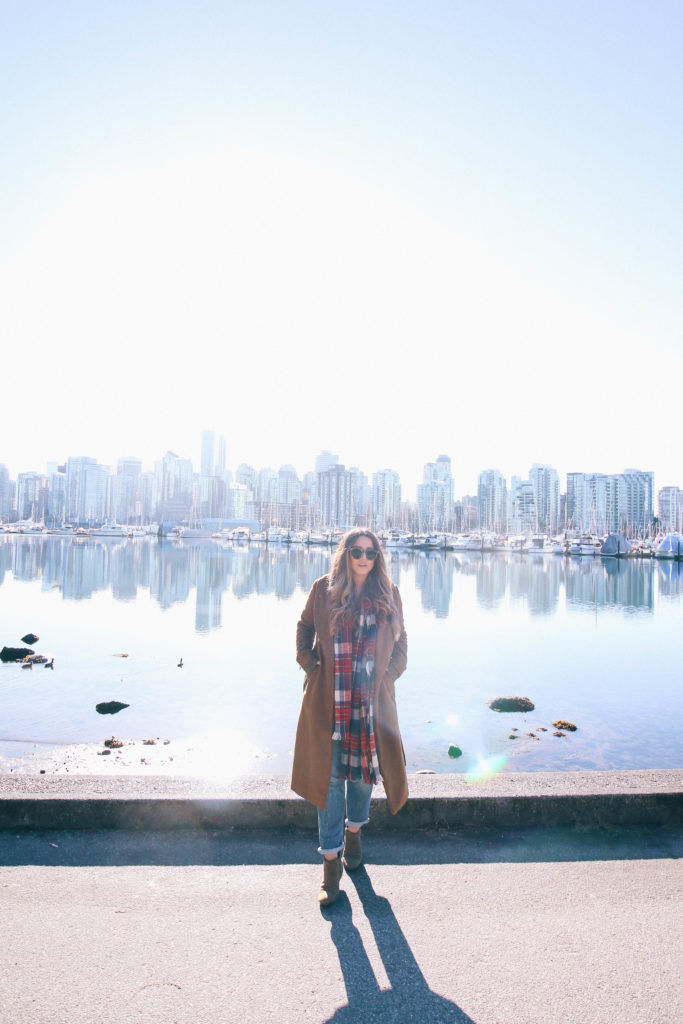 Speaking of the universe (yes, I just created my own segue and made it seem like happenstance), I don't think I've told you about last Friday.  It was Random Act Of Kindness Day and somehow, I received this in spades.  Things began when I was a few minutes late for my much needed appointment at Bombay Brow Bar on West 4th.  They were really understanding and finally threading my out of control brows was the perfect way to start the day.  As I was making the trek back to my car, I saw three women standing outside of one of my favourite stores, Saje Wellness.  They looked like they were actively trying to talk to people, and having just threaded my now bright red face, I was purposely avoiding them.  Whipped my phone out and started to open Instagram, when I could see them in my peripherals walking towards me with determination – interaction was inevitable.  Turns out, that they were just being nice (duh, Alicia) and handing out little gifts as acts of kindness.  I was given one Peppermint Halo for myself, and one to pay it forward to someone else and we even made a little boomerang for insta stories to document the moment.  It was awesome!
I then picked Alex up, as we were going to shoot, but we both decided that our hunger surpassed the need to work, so we beelined it to Field and Social for salads.  As we sat there having a wonderful conversation about nutrition and gut health, a woman came up and asked if I was Alicia Fashionista.  Turns out, she owns the place, and thanks to our supportive Instagram interactions, she recognized me.  Not only was she lovely, she even gave us a card for our next salad.  I mean, this stuff REALLY doesn't happen every day!
After our photo shoots, and a delightful coffee meeting at The Birds and The Beets, I made my way to the parkade so I could head home.  When I got to the top floor where I'd left the car, there was a note scribbled on a tag and stuffed into the driver's side window.  It was from a guy who'd seen a vehicle open their door really hard into my car and he'd left his contact info in case there was damage.  Who even does that any more?!  I was blown away by his thoughtful gesture and jeez, they really must have slammed that door hard!  Anyway, I couldn't see any damage but I messaged him to say thank you anyway.
A run of such good karma was seriously appreciated, and as I head out this morning, I hope to pay that back to the world as much as I can today.  I also still have the second Peppermint Halo to give out, so hopefully I run into you today!  Wishing you all a lovely Thursday xo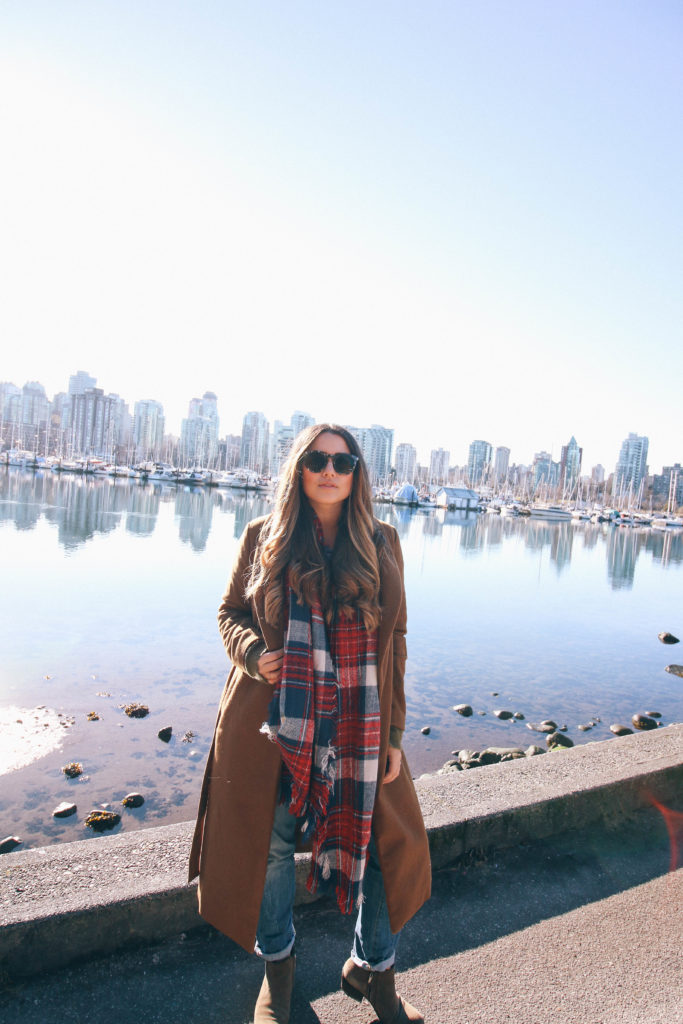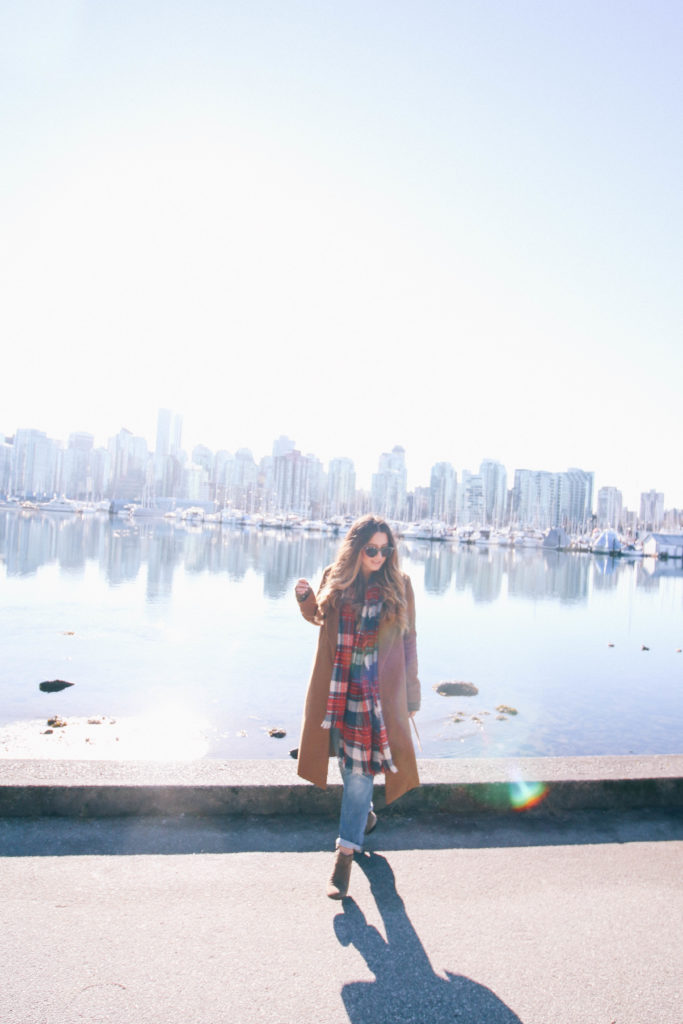 Photos by To Vogue Or Bust
Robe Coat from ASOS, similar here and here
Striped Cotton Peplum Tank from Old Navy, similar here and here
Tartan Blanket Scarf from Zara, similar here
Emma Boyfriend Jeans c/o Mavi
Booties from Sam Edelman
Sunglasses from Bailey Nelson similar here