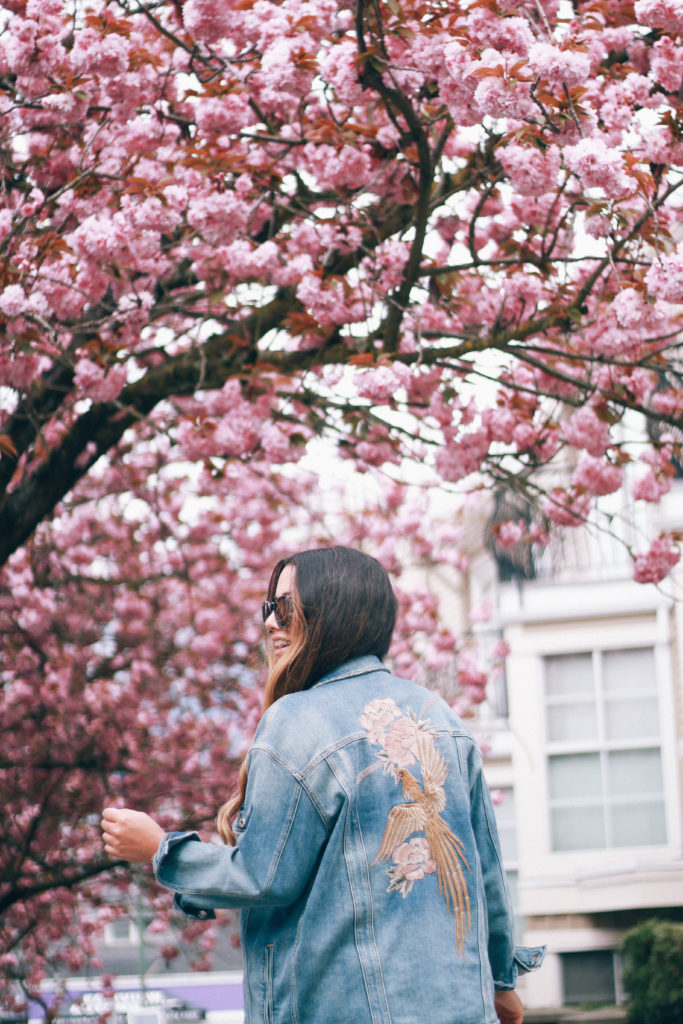 I'm sure this will come as no surprise to you, but I basically live in denim.   The fact that I'm in the Pacific Northwest and work from home or a shared office, means that the comfort of denim is kind of my jam.  And have you noticed how many fun spring denim trends popped up this season?  I find it so exciting and the perfect excuse to discover new silhouettes!  I had a blast visiting Mavi in Yaletown and shopping the latest for spring/summer.  They are my go-to for denim and have been for many years.  I just find their fits work well on me and that they consistently carry the classics, but are also stocked with the hottest new looks.  I very much appreciate that they keep their quality with the trendier denim too, always making them as flattering as possible.  My kinda people!
There's so many new (or re-surfacing) denim trends at the moment, that I've rounded up my favourites below, as well as some inspiration to achieve the look.  All of the denim I'm sporting is from Mavi, and luckily they just launched an online store, so it's even easier to shop!  I'll try to outline as much about each pair below that I can, but if you have any questions about a particular style, let me know!
Embroidery
This is definitely the boldest trend in denim this spring, but I just love it.  There's such a variety of embroidery styles and placement out there and I just think it's so darling.  When there's embroidery on jeans, it often requires there to be little to no give in the denim, so I opted for the look in a jacket instead.  Stretch in my jeans is kind of a must!
Wearing: Mavi Rose Back Embroidery Gold Denim Jacket 
Shop the look:
Frayed Hems
This is such a simple detail, but I'm obsessed with the look of a raw edge hem this season.  These ankle skinnies have been on repeat in my world, I already want another pair in a different wash.  The beauty of this trend, is that you could always DIY the look with an existing pair of skinnies!  Who doesn't love the look for less?!
Wearing: Mavi Adriana Ankle Super Skinny in Light Shaded Gold
Shop the look:
Cropped and Frayed
Carrying that frayed hem trend over to cropped jeans feels kind of retro in a great way.  I adore the slight flare to these and they're perfect for providing more coverage than tricky to wear denim shorts on these warmer days.
Wearing: Mavi Anika Crop Flare in Mid Used Vintage
Shop The Look:
Oversized Denim Jackets
This particular oversized 'boyfriend' denim jacket is kind of two trends in one (has the embroidery on the back, as pictured above).  The longer, more significant denim jacket is a playful twist on previous trends and I really like the added coverage.  I know this will be a staple all summer long!
Wearing: Mavi Rose Back Embroidered Gold Denim Jacket (same as above)
Shop the look: 
Mom Jeans
Ha!  I don't come up with the names, I just wear the clothes, mmkay?  Mom jeans are my absolute favourite!  The high waistline is so comfortable and this particular 'Cindy' pair from Mavi have just the right amount of stretch to allow movement but don't end up bagging out.  I know it's a bit of a throwback and not necessarily for everyone, but this silhouette is a vast improvement from anything in the 80's/90's, for my shape anyway, I promise you!
Wearing: Mavi Cindy mom Jean in Indigo Retro
Shop the Look:
What are some of your favourite denim looks this season?