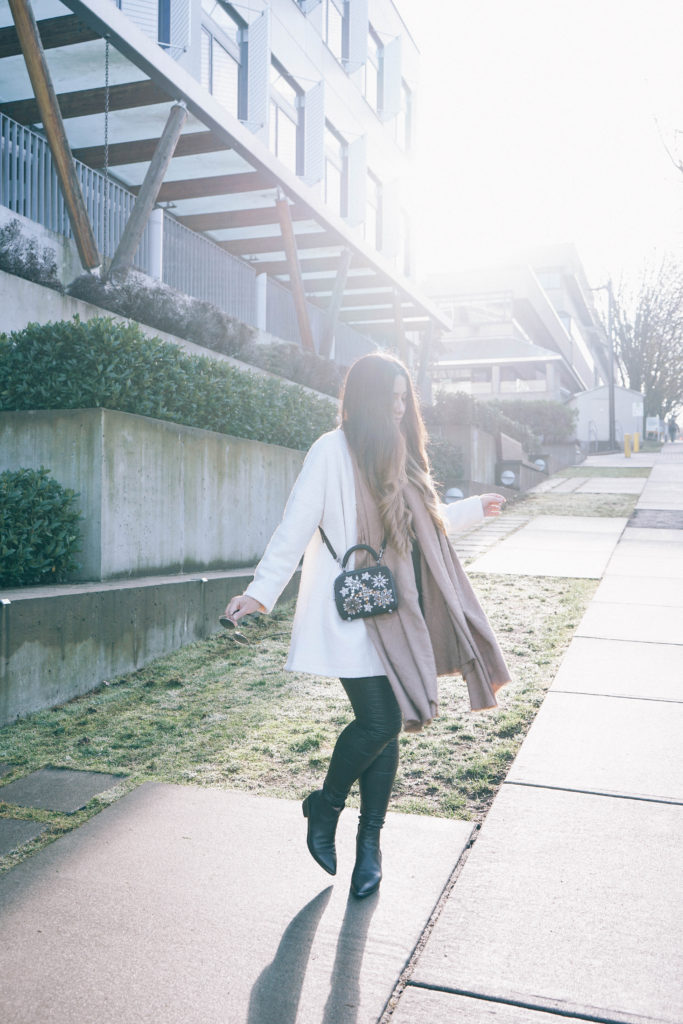 Comfort is the key to winter, my friends.
I work from home a lot, especially justified at this time of year, so it's a miracle if I'm not in loungewear.  Legit wore my pj's to a movie last week but in fairness a) they were fresh out of the wash b) my pyjamas are leggings and a men's crewneck sweatshirt, so it's not THAT noticeable c) no one could tell anyway because my outfit was hidden under a giant puffy coat.  What I'm getting at, is that if I can find an outfit that is comfortable and somehow salvages my standard leggings and oversized top into anything even remotely chic, then I must tell you about it.
Admittedly, I've worn this exact combo several times in the past few weeks because it is my new winter uniform.  I love how this Vancouver designed and made Emma Knudsen wool jacket is in a warm, bright cream colour because it automatically cheers up the all-black ensembles I rock in the wintertime (it's also on SALE right now at 40% off, so I'd scoop one of these up before they're all gone).  Plus, I saw Shay Merritt from Jillian Harris's team rocking it, so you KNOW it's good.   I definitely want to recreate Shay's look soon because pretty sure I own almost everything she's paired with the jacket.  I love when that happens!  Emma just restocked this beautiful piece and in terms of fit, I'm wearing a size Large and like the oversized fit, but could have easily done a Medium comfortably.
I pair mine with, as I mentioned, all black, including these faux leather leggings.  They're one of my favourite winter capsule wardrobe pieces, as they're actually fleece lined and equal parts function and fashion.  The waistband is high enough that they don't roll down my waist every time I move and the coated fabric has been surprisingly durable.  I am so happy with them that I'm already thinking I should snag another pair before the season's over.  They also have fleece lined athletic leggings (on SALE!) here, here, and here.  Ooh, and as I'm browsing I see that they also have maternity fleece lined leggings, if that's your current (or future) need.  Someone take my computer away before I'm buying maternity leggings just in case I ever decide to get pregnant LOL.  I got the (non-maternity) faux leather leggings in my usual size Large and they fit really, really well.
Ultimately, everything feels a bit fancier with a touch of sparkle, which is why I love wearing my this cutie Rebecca Minkoff Mini Bag.  It's neutral but punchy and I found it on sale last month, such a score.  It seems that Shopbop is currently sold out, but I'll keep an eye out for you!