There was so much we loved about our first trip to Kauai.  For a family vacation with grown children (according to numbers, not necessarily our attitudes, right Tav?) it was absolutely the right island for us.  Far less chaotic than Oahu and even quieter than Maui, Kauai is a beautiful and relatively untouched island.  It's full of lush greenery (it's where they filmed the Jurrasic Park) and absolutely breathtaking beaches.  Everything on the island is fairly close by, with plenty of day adventures just a short drive away.  We stayed in a house we found on VRBO that was in Poipu, which I cannot recommend enough.  When they say it's the sunniest part of the island, they aren't kidding.  It's like Poipu has a forcefield against rain clouds – it's kind of magical.  The location is also within walking distance to Shipwreck and Poipu beaches, as well as great shopping and some amazing restaurants.  We had one meal at Red Salt that we all still think about and obsess over!
Though we spent most of our two weeks relaxing, we did manage to venture out and see some of the island.  There was so much we didn't even manage to get to!  Darn it all, looks like we'll just have to head back to Kauai again soon 😉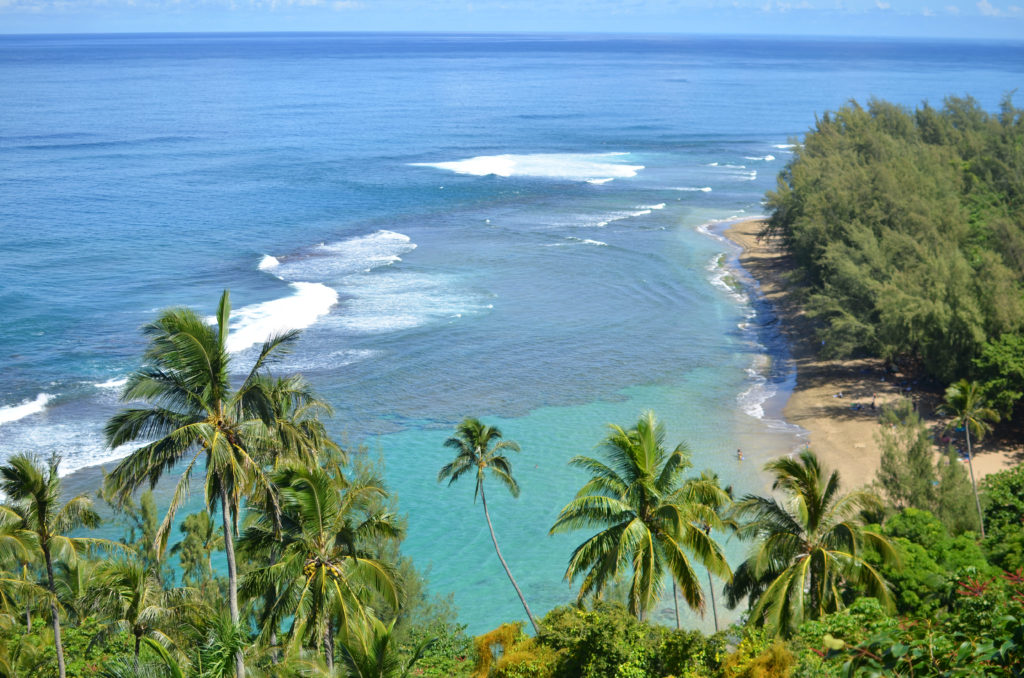 Hike the Kalalau Trail
The day we went to the trail was slightly confusing.  Typical family dynamics, my dad had in mind that we were going on this hike he saw in a brochure and the rest of us had no idea what this entailed.  I thought we were just doing a short hike to a beach and almost didn't bring my runners.  It was about an hour and a half drive from Poipu and parking wasn't the easiest, but definitely not impossible.  I had my long mermaid hair down with NO hair elastic and my bathing suit on with a cotton romper over top (I felt like those ill-pepared people in flip flops and jeans on the Grouse Grind that everyone judges).  At least I had those runners because this was quite the hike!  We got up to the 1/2 mile mark, which doesn't sound far but in the heat it was actually a great workout and provided stunning views like the one above.  Serious hikers are able to go much further, but I can't advise anyone on that – we barely made it a fraction of the way.  Still, an activity that the whole family can enjoy as long as you're prepared for a thirty minute uphill climb and decent.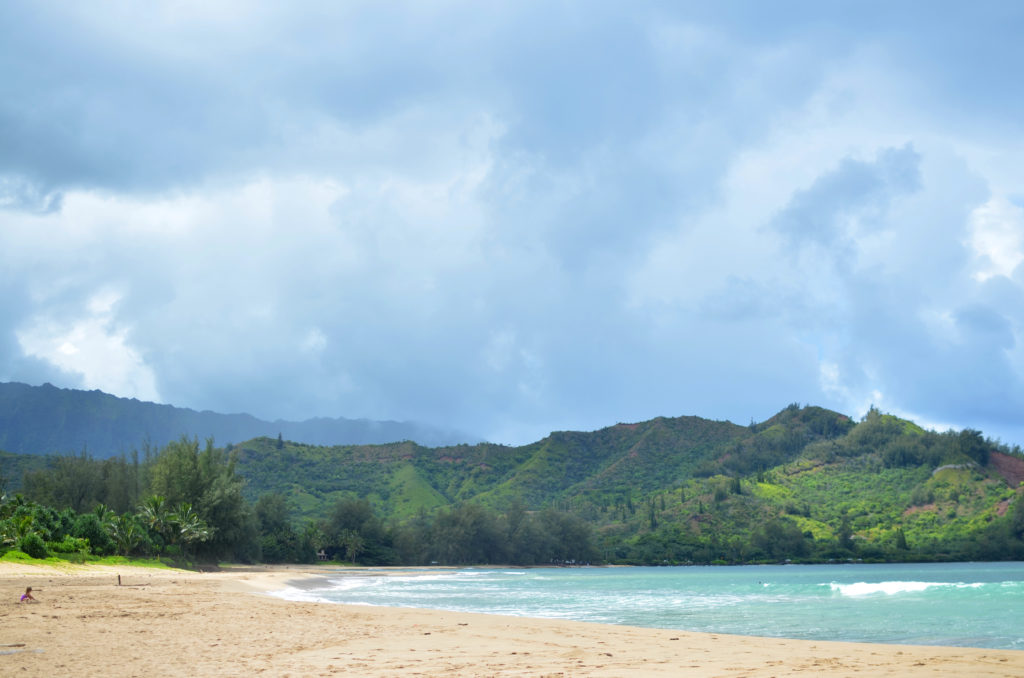 Be A Beach Bum at Hanalei Bay
After that hike, we earned an afternoon of rest and relaxing on the North Shore.  Hanalei Bay was certainly easy on the eyes and actually quite scarcely populated while we were there.  It was nice for us to grab lunch in the area and check out a new spot to laze around before we headed back south, stopping at some viewpoint and the lighthouse on the way to complete this day trip.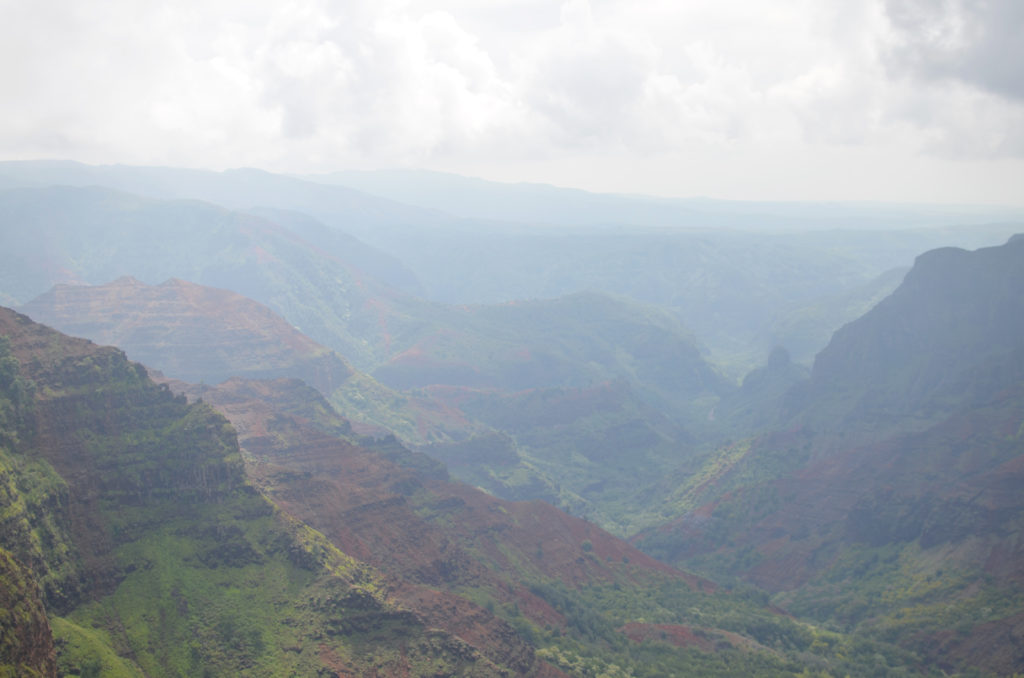 Explore Waimea Canyon
They call it the Grand Canyon of the Pacific, so of course we had to go see it!  We allowed a half day for this adventure and the driving warnings are quite intense, but we didn't find anything too dizzying or difficult.  Once you've done the road to Hana in Maui, everything else is a piece of cake!   There are quite a few viewpoints once you reach the canyon, so it's nice to stop and get some fresh air at the top.  Each viewing spot was uniquely gorgeous and I'm glad we opted to visit them all.  This is something that cannot possibly be described, you absolutely must experience it for yourself!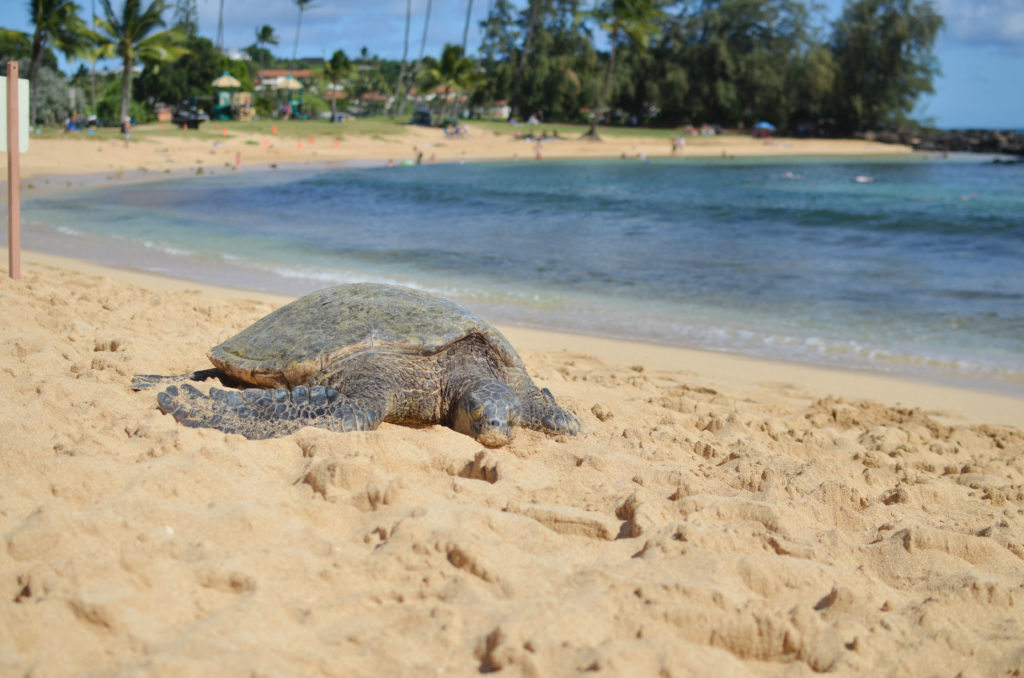 Snorkel and Turtle Watch at Poipu Beach
We spent the majority of our time at Poipu Beach.  It was walking distance to our rental home and had lots of action during the day and jaw dropping sunsets in the evenings.  If you're into snorkelling, it's quite busy but there are definitely lots of Honu sightings.  The waves were great for boogie boarding and there was plenty of food and shave ice nearby.  You'll see lots of footage of Poipu beach in the video below.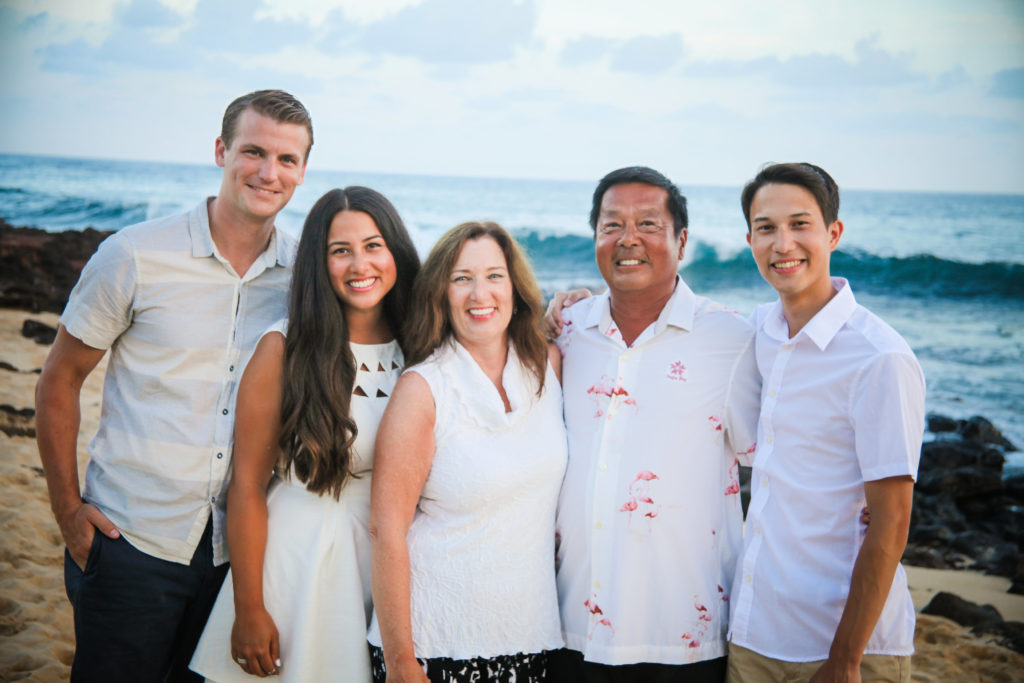 A Portrait Session with Emily Helen Photography
As a thank you to my parents for bringing us along on this trip, I organized for us all to get some professional photos on the beach.  I was so happy we found the BEST in Kauai, thank goodness for Emily Helen Photography.  She was able to meet us near our accommodations at Shipwreck beach for a 30 minute sunset mini session (the exact amount of time we can all stay focused and relatively presentable).  The photos are incredible and allowed me to take the pressure off us taking forced family photos during our entire vacation.  It was one of our favourite moments from the trip and provided us with lovely imagery that captured that.  Thank you again, Emily!Photos barely do everything justice, so I also spent the flight home making a little highlight video of our trip.  You'll see a lot of what is mentioned above, as well as some spots I didn't even get to mention like Glass Beach and the Spouting Horn.  Unfortunately, YouTube somehow messed up my editing a little bit (note to self, never opt to 'fix shaking' by a program like YouTube) but you can just ignore those bits.  I must warn you though, this might make you want to book a trip to Kauai riiiight now!