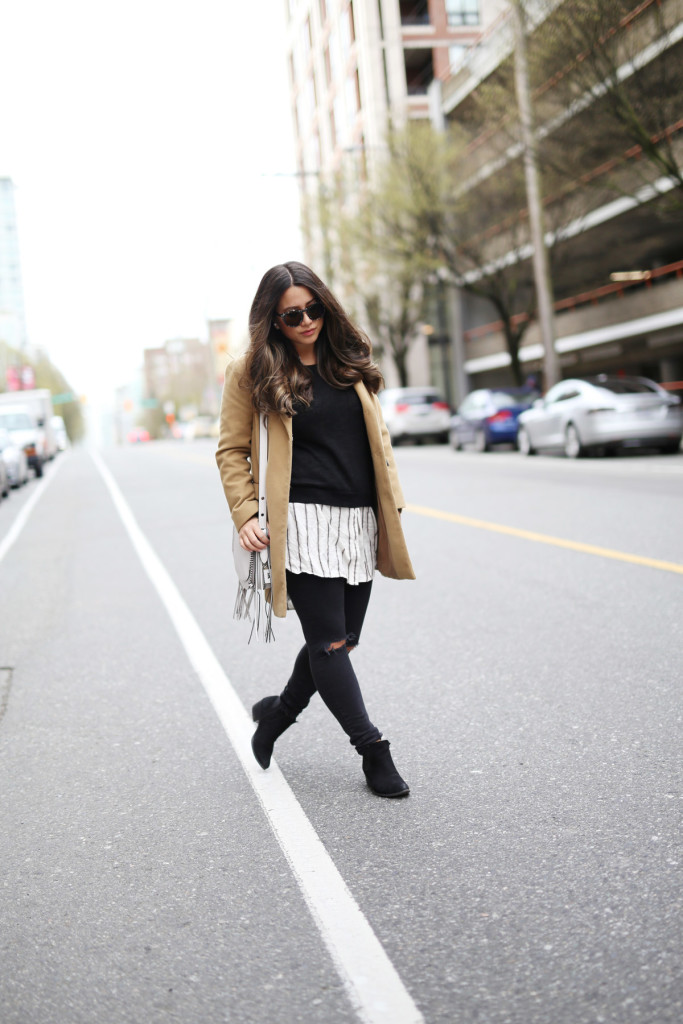 Do you all remember The Great Flood of 2015?  I SURE DO!  It was exactly one year ago.  It was hell on earth for us.  After the flood was the 3 months of construction.  Then, came the months of me organizing everything room by room, that the insurance company had put back in the wrong place.  I also had to purge a bunch, since we obviously didn't get the chance to do that before we'd "moved".  Oh, then we got married.  Following that, we honeymooned.  Around November, we finally started having friends and family over again.  I've spent the first bit of 2016 doing fun little projects around the place and sprucing things up a bit (since we decided we'll be staying for a few more years because the housing market here is literally impossible).  In fact, I was just finally getting over the great flood of 2015.  It was beginning to be a distant memory.  Something we'd bring up and laugh about.
That's exactly what happened this Saturday.  We were off to our second visit to CB2 of the week because we'd settled on a new bookshelf to replace the stack of boxes that never got unpacked after the water incident that shall not be named.  I put my hand on top of Adam's as we crossed Cambie Bridge and looked over at him. "Can you believe it was a year ago that we were living downtown and trying desperately to survive?" Adam smiled, "Wow, it really was a year ago.  We would have walked to the store from our apartment!" He decided.  It was a good thing the shelf was on back order, because…
We arrived home and Adam saw a puddle of water on the kitchen floor.  Very small, nothing alarming.  Must have been from when we unloaded the dishwasher we decided.  Our day continued on.  Then, Adam happened to check his email and there'd been a message from strata.  The unit above us had heard some water running in his wall and it felt hot to the touch.  They'd managed to turn off the hot water and after checking a bunch of units for water, deemed things okay.  They noted that they'd knocked on our door, but we weren't home.  I personally feel as though this would warrant a phone call, but maybe that's just me???!  Anyway, as Adam is reading the last few sentences of this email, I'm already moving furniture to discover that, YES!  Indeed, there was a giant pool of water.  The kind that loudly squishes when you step on your 9 month old engineered hardwood floors.  You guys.  It happened all over again.  In the EXACT same spot.
And as calm and knowledgable (re: what to do when your apartment is flooded) I am this time around, all that anxiety that we experienced just one year ago has come back in full force.  The two claims adjusters are already fighting. Our place is in shambles.  We now have to move our workdays around to meet this person and that person at the apartment.  Hot water was only just turned back on today.  We still don't even know what's going to happen construction-wise.  Could be just a few days of work, or we could be out for a few weeks again.  Our floors, at least in that area, we've been told are "garbage".  The exact cause of the flood still hasn't been determined.  And all this added stress is honestly just exhausting.  Things at home were finally going well again and everything crashed down again in the matter of an afternoon.
It doesn't quite sound like it, but we really are doing our best to stay upbeat about this.  I'm just thankful that I'm not unhealthy and juggling 4 jobs and wedding planning like I was last year.  Now I know how this works and am ready to tackle this and get things fixed ASAP.  So yeah, that's where we're at.  Send us some positive vibes if you can and I'll be sure to keep you posted!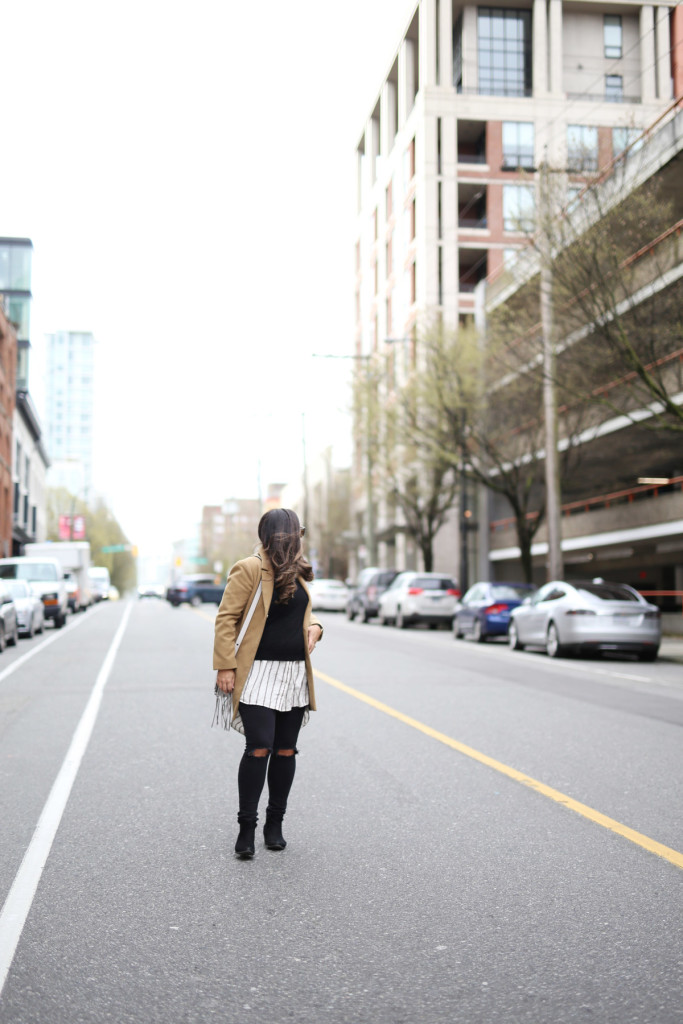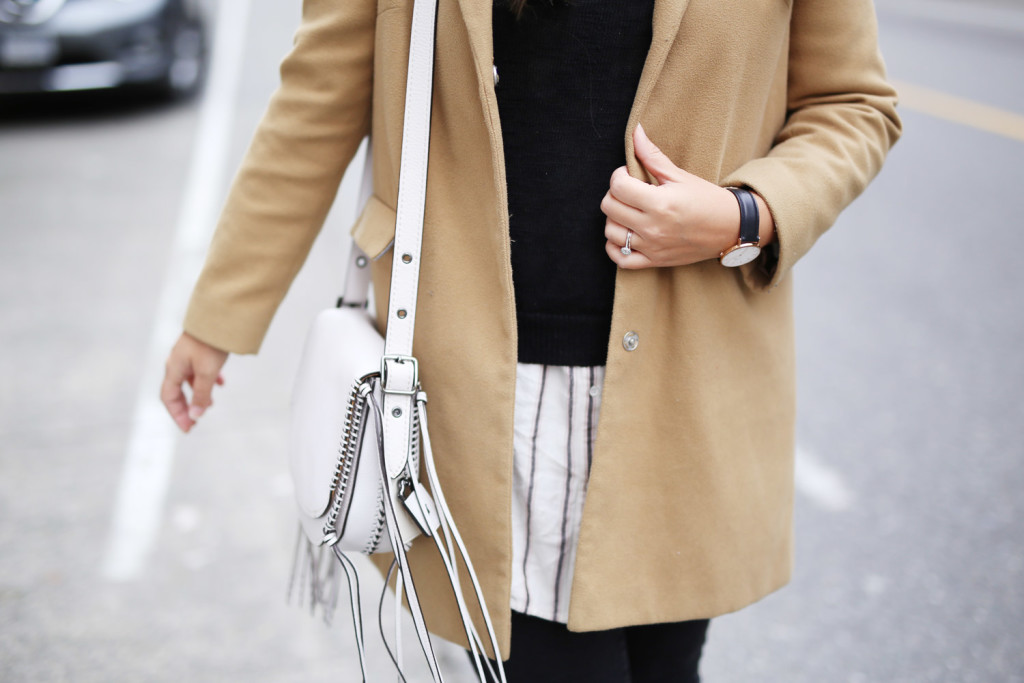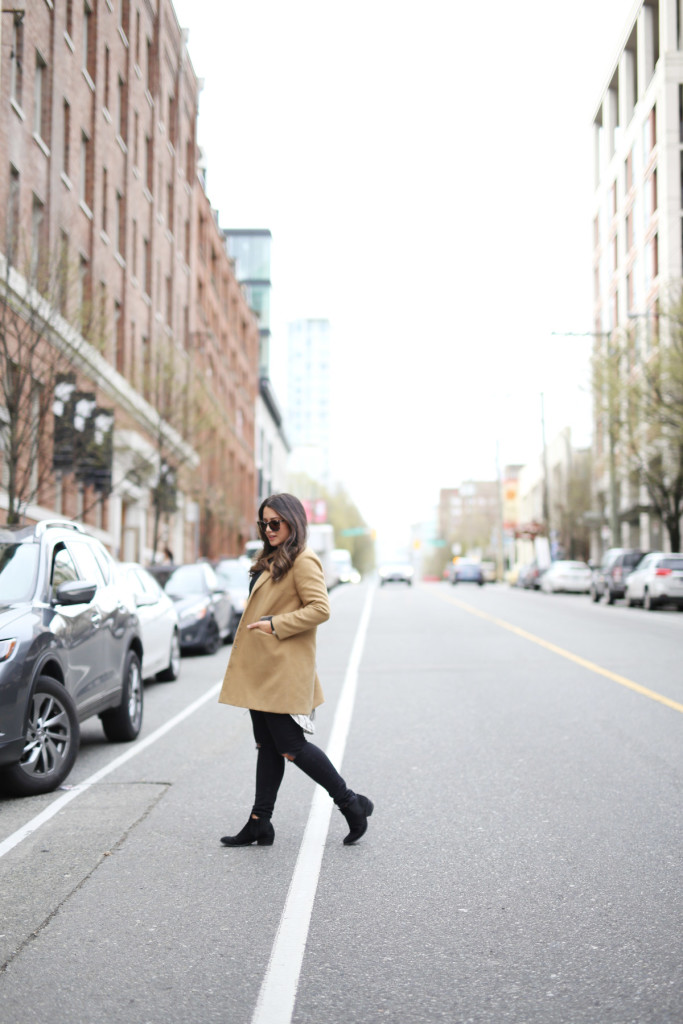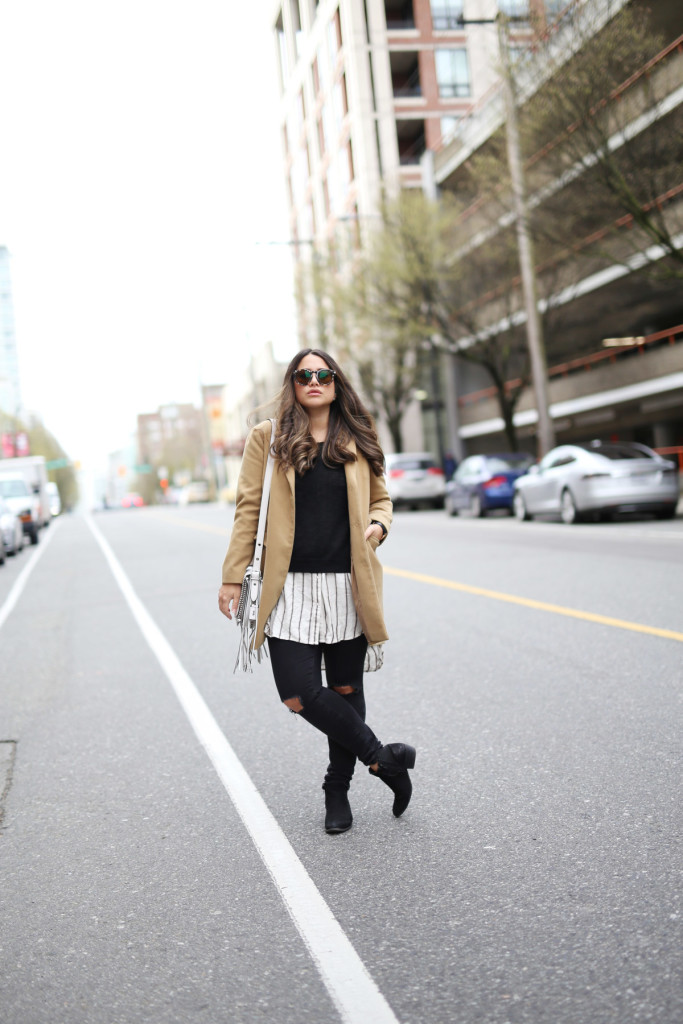 Photos by The August Diaries
Camel Coat from TOPSHOP
Striped Blouse c/o Gentle Fawn
Saddle Bag c/o COACH
Distressed Denim c/o Mavi
Boots from Steve Madden – similar
Watch c/o Daniel Wellington