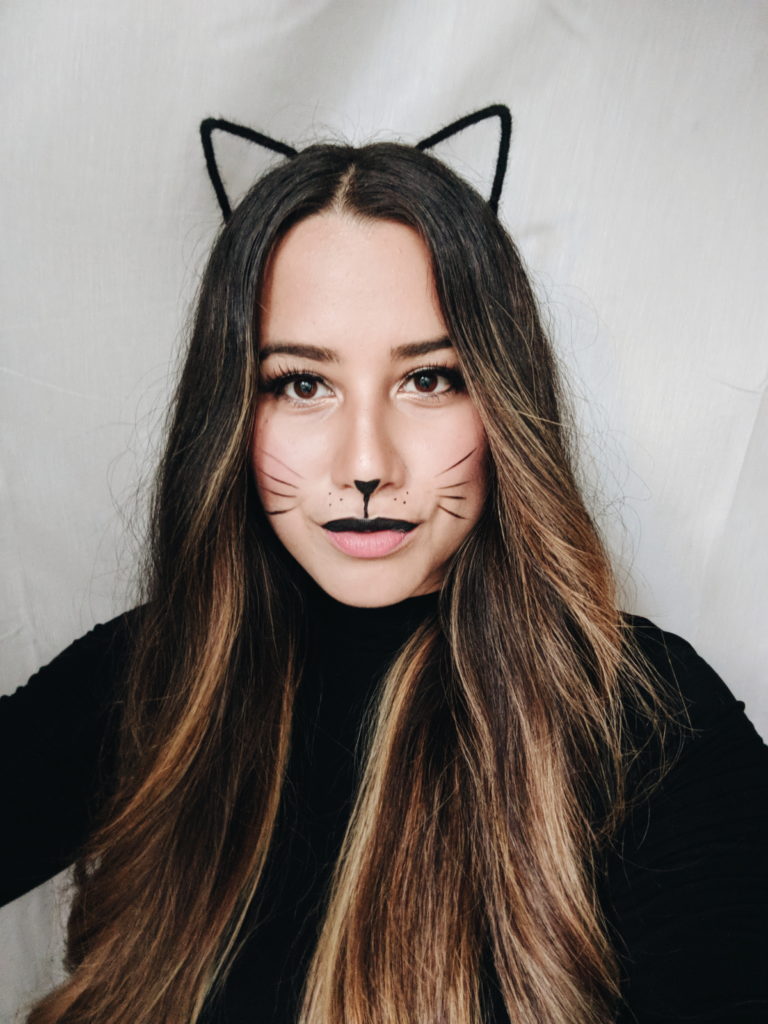 Fun Fact: It's also International Cat Day!
It's not just a Stranger Things Season 2 binge fest around here.  We also have some last minute Halloween plans for Tuesday.  Which, in fairness, aren't crazy, as we're going to my mother in law's to help hand out candy, but I decided that dressing up would be way more fun.  Since there isn't much time to get my life together before the 31st, I googled costume ideas with a black outfit base.  I remembered that I had this awesome black bodysuit that would be a great starting point to any last minute costume for the lazy.  I almost went for a Holly Golightly like this one, but it wasn't cozy enough for greeting trick or treaters.  Instead, I came up with THE most original, never even done before Halloween costume.  Pretty sure I actually invented it.
I know you probably need me to explain, since you've never seen this, but I am a Black Cat!  You can barely even call it a costume, but it's certainly cat-like and great for a quieter All Hallows' Eve.  Following I Covet Thee's Cute Cat How-To, I made some adjustments to create the following cat face: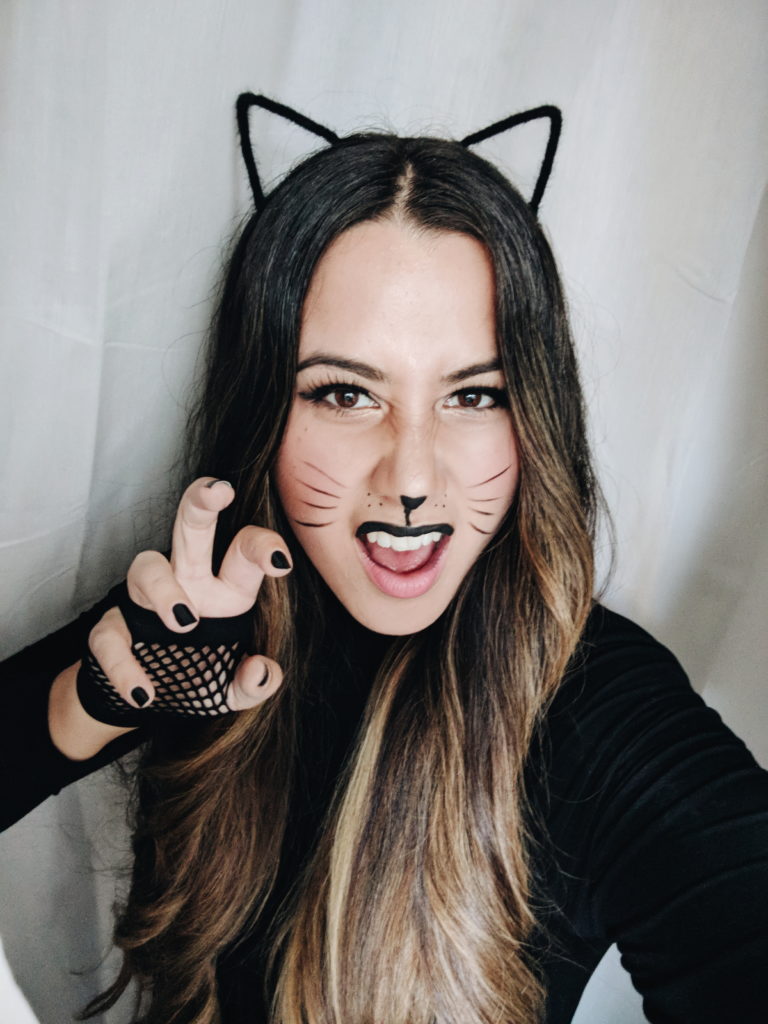 It was really fun to play around with a bunch of makeup, something that I really don't normally take the time to do.  I was experimenting with different techniques and eyeliners, so maybe when I recreate this on Tuesday, my lines will be a little less shaky.  I also might try to source a tail before Tuesday to be able to classify it as an entire costume.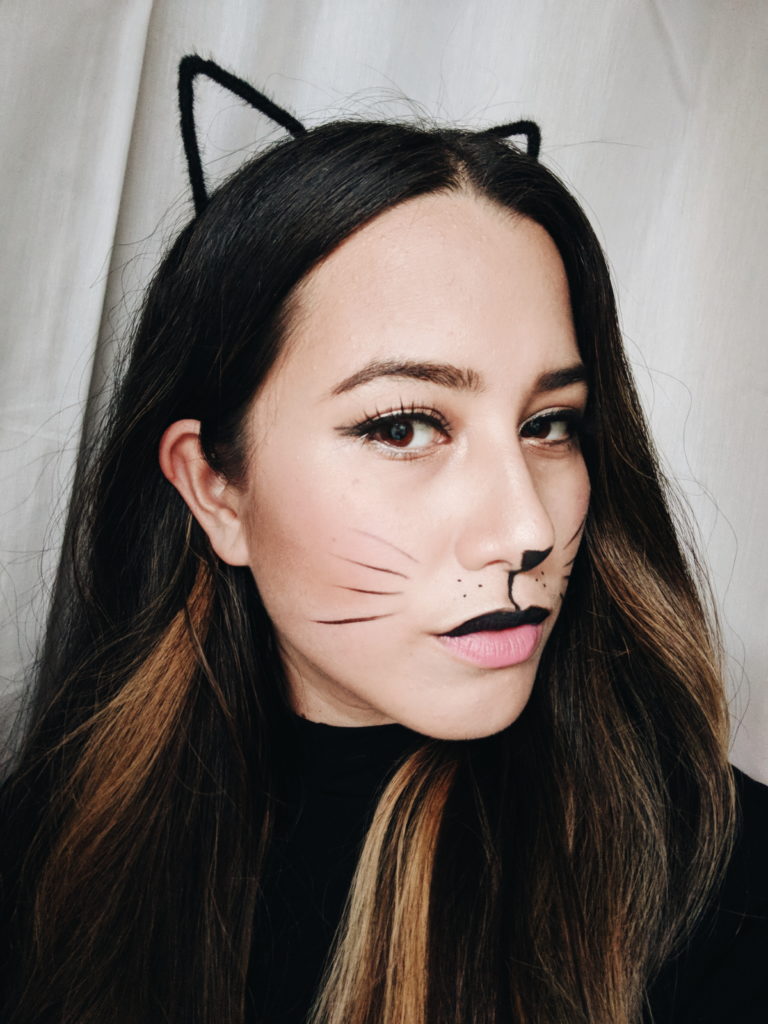 MAKEUP
Laura Mercier Foundation Primer
Emani Cream Foundation in Medium | I am positively in LOVE with this vegan foundation!  It went on so smooth and felt light, despite giving full coverage.  I did have to make sure to blend afterward, but I will absolutely be wearing this on the daily.
e.l.f Contour Palette | I used the lightest shade around the cat detailing and the darker matte shade to contour
Anastasia Beverly Hills Beauty Express | My go-to for brows, I mix the dark and light shade for a brow match
Tarte Amazonian Clay Blush in Paaarty | Love how pretty this highly pigmented blush is!
Urban Decay Nocturnal Shadow Box | Baby as a base, Delete in the crease, Half Baked in the corners, must blend and then added Blackout for the upper wings
L'Oreal Paris Eyeliner | For the classic winged liner
The Estee Edit Edgiest Kohl Shadowstick in Black Viper | For the nose down to the top lip.  This stuff is serious business and stays really well!  If I'd had black lipstick, I obvs would have used that instead for the top lip.
Annabelle Brush Tip Eyeliner | For the dots
Annabelle EyeInk Tulip | For the whiskers
NYX Pin-Up Pout in Boundless | For the bottom lip
…Sorry, don't know what faux lashes these are.  Just used whatever I had on hand.
NAILS
Sally Hansen Hooked On Onyx
OUTFIT
Black Choker Plunge Bodysuit c/o LACE | Get 25% OFF your order with code: ALICIA25
Black Denim c/o Mavi (not pictured because I was annoyed with Adam and ended up taking my own photos LOL)
Fuzzy Black Cat Ears from Ardene, but you could easily DIY with black pipe cleaners
Black Fishnet Gloves from Ardene
What are you dressing up as this year?  Would love to hear in the comments below!