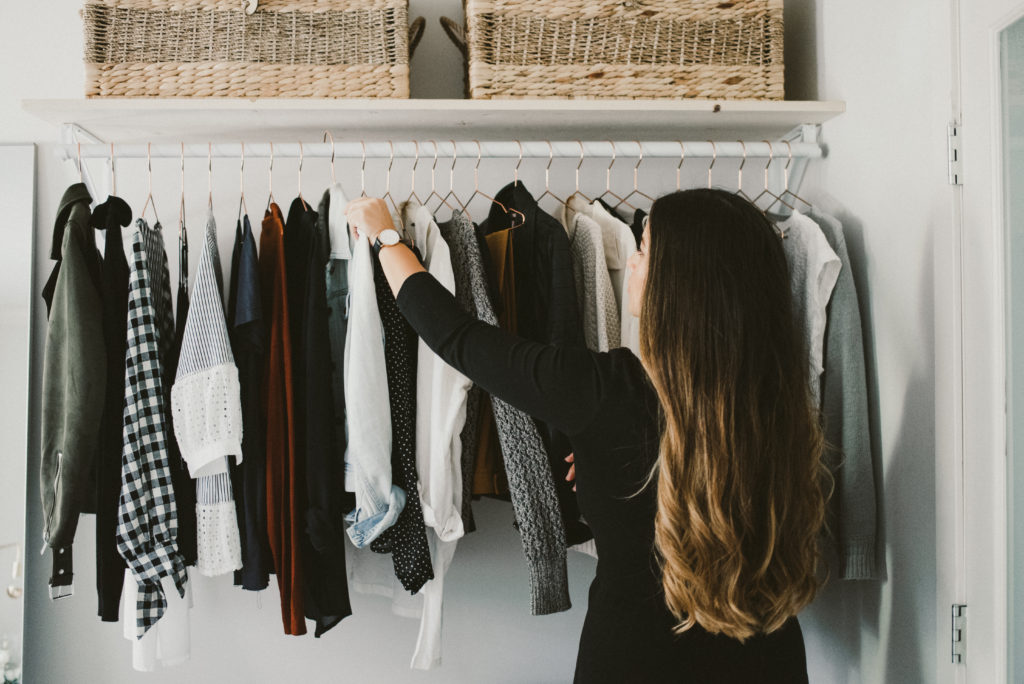 Your closet is overflowing.  So now what? 🤔
January is the perfect time to start a new minimal(ish), organized lifestyle.  I spent months and months purging our apartment last year and let me tell you, it felt amazing.  It's so true that a decluttered home makes for a decluttered mind, I felt like a weight had been lifted off my shoulders.  I was finally able to organize the remaining items we had into clearly labeled boxes, or on display around our place.  And trust me, if this clutterbug can do it, so can you!
I was patient and went room by room, drawer by drawer.  As the first post in this organization series, I wanted to go over how I was able to tackle my disastrous closet!  It was crazy how many times I had to purge in order to get to the core pieces I actually wear and astonishing how much I ended up giving away or selling.  I mean, we're talking bags and bags, it was out of control.
To get started, find a playlist that pumps you up to keep you motivated.  Wear minimal, stretchy and light things, this is going to take some manual labour!  You'll be wanting to find spots for 4 categories: KEEP, DONATE, SELL, and MAYBE.  Don't worry about buying storage bins until after these piles of clothes are complete, so that you know what size bin you'll need.
In terms of donation, if you're nearby in the lower mainland, I highly suggest the Big Brothers of Greater Vancouver.  They'll come pick up you donation for FREE (how convenient is that?!) AND as of today, you'll be entered to WIN a dream vacation for 2 + monthly prizes for your donation. More details further into this post.  So, what are you waiting for?  Get reading!