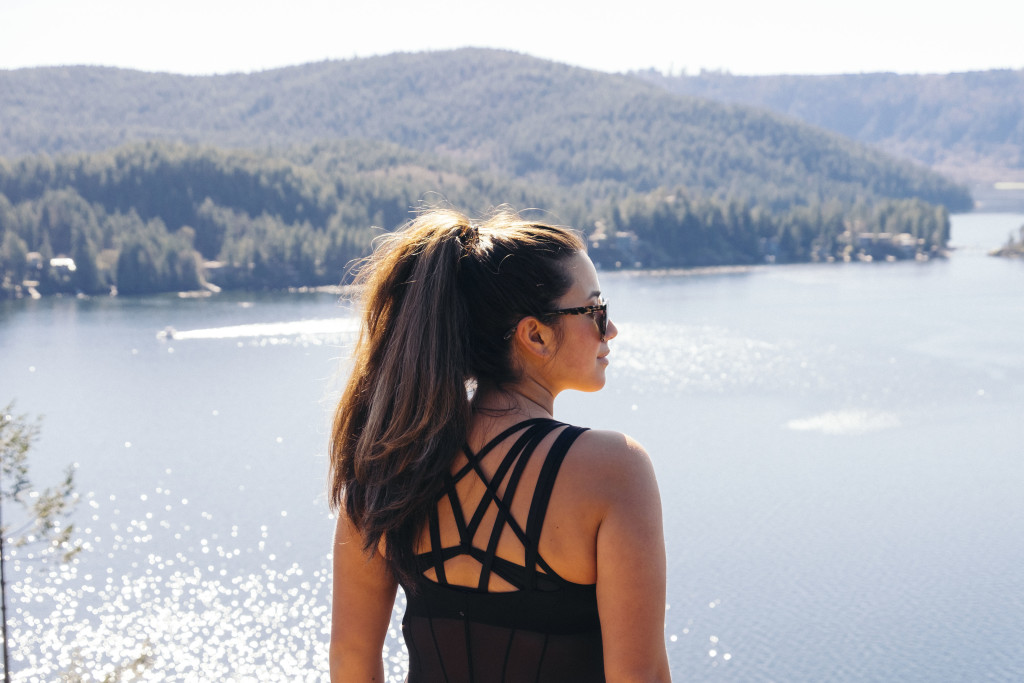 Photo by Lindsay Henwood
I've been trying to journal on a more consistent basis and it really is helping me sort out my thoughts on this process towards a healthier mind and body.  I thought I'd start a dialogue with you, as I know that we all have times of struggle in our lives and I wanted to share mine.  I eluded to some of this in this blog post, but here is the story behind it.
To give you an idea, 2015 was both the best and worst year of my life.  The apartment flood part one really highlighted that and I could no longer ignore the fact that I had completely burned out.  The problem was that I loved my 4.5 jobs (wedding planning counts as at least a part time job) so much. But, just because you love every sandwich on the menu, doesn't mean you should order them all.  In fact, I wasn't even eating three meals a day. I was lucky if I was having more than just coffee.  I was stressed all the time.  I had too many projects on the go and wasn't doing my best work for anyone, which took a toll on my confidence.  I had "no time" (but really) for anything.  To cook or clean or workout or do anything remotely for myself was out of the question.  I simply did what I needed to do to get by.  I was trying to Olivia Pope 'handle it' but life isn't (thankfully) an episode of Scandal.  I didn't have her team of associates to help me, or her killer power suits to wear around town.  It was painfully obvious that I couldn't continue on that path.
Sometimes we're not okay, and that's okay.  Going through extra obstacles, whether it's a physical injury, an illness, feeling out of shape, depression, etc. really pushes you to change your mindset.  Sometimes things aren't as easy as they are for others, or even as they once were for ourselves.  It's these times that it's important to REALLY check in and do what needs to be done to feel better!
I have always struggled with exercising consistently and how these people with "success stories" magically changed their entire lifestyle.  And that's the thing.  I don't want to become a tall slender blonde model (because that's literally impossible).  I want to be stronger.  I want to feel healthy.  I want to nourish my body with the food I put in it.  I hope to start a family within the next 5-ish years and want to make sure my habits can be a great example for them.  Below are a few things I've realized in the last few months.
Let Go Of The Guilt
When I'm not exercising consistently or eating well or working on what I think I should be or being my best, then I am overwhelmed with guilt.  Guilt, guilt, guilt.  It's unnecessary, often paralyzing, and takes up far too much space in my head.  I now question these thoughts immediately.  WHY do I feel like I SHOULD be doing that?  It's about breaking that vicious self destructive cycle and deciding that you don't need to feel bad about not acting a certain way or finishing something.  Go back to basics.  Celebrate the wins.  Make goals and commitments that are fun and rewarding.  And if you don't complete them?  That's cool too!
Be Okay With Not Being The Best
My cousin Melissa had a real epiphany about exercise and I related to it so much.  What we concluded, is that we like doing things that we're good at.  It's that detailed 'perfectionist' side that we share genetically.  It sounds so simple, but I had really never put it all together – that I didn't enjoy exercising because I'd deemed myself unfit/not skilled at it.  As soon as she said it out loud, the wheels started turning, the lightbulb went off and I realized this was a barrier I'd had since childhood.  I'm now owning the fact that I'm not the best at things.  Learning new skills is great!  Being out of breath isn't a sign of weakness, it means that your blood is pumping and your workout is, well, working!  I've gone from feeling like there's only the gym and yoga and tennis in the summer, to a whole list of new things to try!  I found out that I love hiking.  I hope to try rock climbing and paddle boarding and to become a better runner.  There's a ton of possibility now, and that, my friends, is beyond exciting!
There's Always Time For Health
I used to be the queen of excuses.  There was always work to be done.  Netflix to be watched.  Someone to meet up with.  But these things weren't helping my mental or physical health at ALL when they were replacements for exercise…and eating properly.  I really didn't seem to have the time to squeeze it in, so I did everything I needed to do to carve out the time.  And when you change your perspective on time, it's one of THE most powerful tools for positive thinking.  I will touch more on this in my upcoming post about maximizing productivity in your days, but realizing that there is time for things if you choose to make time for things is life changing.  Especially for someone as lazy as I am!
And so yeah.  That's where I'm at right now.  I hope you'll join me in this journey to get #2016strong because this is the year to be our best selves, right?!?  Would also love to hear what your tips and tricks are for living a healthier lifestyle.  Anything helps!