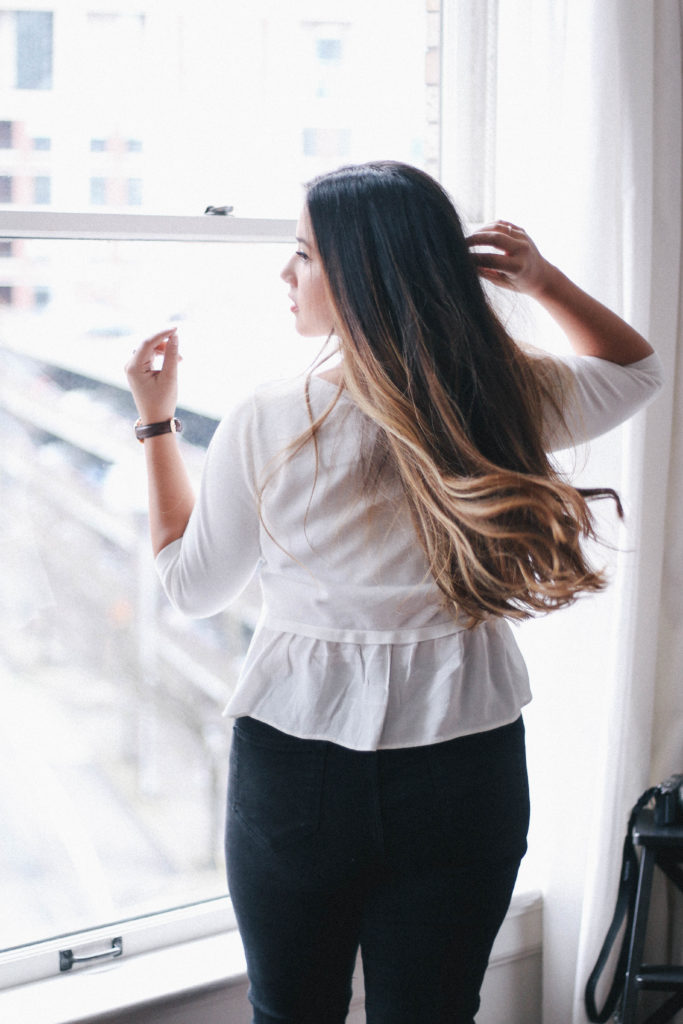 Your feedback on my recent insta-hair post was amazing!  Not only am I really excited to do a little review of the Dyson Supersonic for you (stay tuned, should be live soon), but I had a lot of questions about my hair colour!  Which, I completely understand because before I started going golden a year ago, I really didn't know what I wanted for my hair.
Having an idea in mind and communicating that to a hair stylist can be really difficult.  I think that finding a stylist that you connect with and have confidence in is major.  I feel so lucky to have worked with so many talented people over the years.   Recently, that was the lovely Rosie, who helped me get to where we're at today with only a vague description and a heck of a lot of trust.
I hadn't dyed my hair since a brief stint when I was a newly single 19 year old.  Based on the trends at the time, I went for light highlights that morphed into full blonde.  The trouble with this, was that I was a poor college student and couldn't afford to touch up the roots.  The colour separation wasn't fluid at all, and there was one particular appointment where she accidentally dyed the roots a different colour than the mid section. Things peaked when one of my young dance students asked me why my hair was 3 different colours at the top, middle, and bottom.  When the dark roots were showing again, I went to a new stylist and had her correct with low lights and then went back a few months later for a full dark colour.
My hair grows like a weed and went back to virgin colour within a few years.  I'd tried a tiny bit of balayage in 2015 at TRiM and really liked it, but again, wasn't quite ready to invest in constant colour.  You can probably see the remnants of that in the 'before' picture below.  After our wedding, I wanted to go for more of a dramatic change, and so began my journey to golden balayage!  What I love about the technique, is the way the colour is staggered and painted in to look like more of a natural transition.
BEFORE + AFTER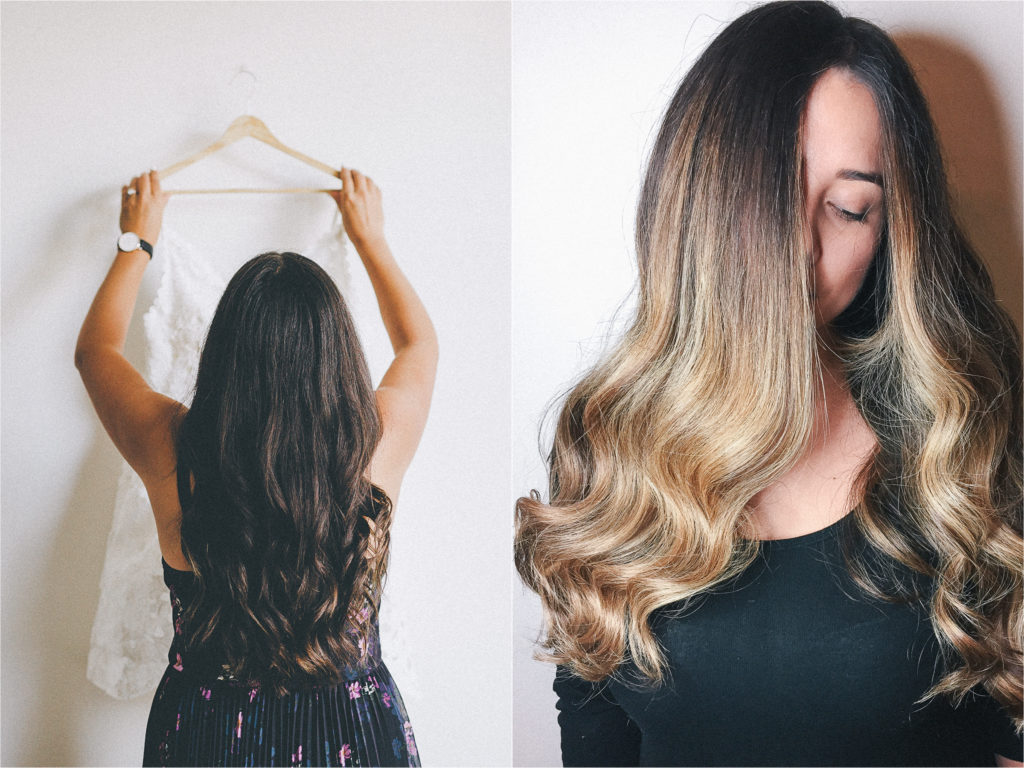 HAIR TYPE: Thick, coarse, wavy-ish hair
CUT: Very long layers (just the slightest) and thinned out
COLOUR: Golden Blonde Balayage
I'm sure this isn't new information, but it's important to articulate the look you'd like to achieve with your stylist.  Doing some research in advance on Pinterest and Instagram and compiling the images for easy access at your appointment is a big help.  Be open to the feedback they provide, but also be true to what you really want.  If your gut tells you no, or you have learned that something doesn't work for you, then be firm.  For instance, stylists often go to thin my hair using that technique where they almost shave it away in a downward motion down the hair (don't know how to explain it, but if you also have thick hair you might understand), but I know from years past that this method causes my hair to turn quite frizzy and broken.  Which, is something I now speak up about.
The biggest thing I wanted to make sure I passed on, is that it took a long time to get my hair to the golden hue it is today.  I started off with a very subtle hint of blonde and eased my way into a major colour change.  It sounds ridiculous, but it was really scary!  Not only did it take about 3 sessions to get to the bold gold I wanted, it actually requires more maintenance than I'd anticipated.  I'd opted for balayage in order to avoid having to touch up the roots every few months.  Turns out, that blonde will dull if you leave it alone, and so I've found myself back at the salon every 3-4 months.  Not that I'm complaining, I love my salon time!  So patience and commitment are required, especially if you're starting from scratch.
In terms of the specific colour, I put all of my trust in Rosie and feel really lucky that she completely got it.  I'm sad to report that she's just moved to Australia (and I miss her terribly), but I will keep you posted on who I see next at Artel.  I hope this answered some of your questions, if you have any more please leave them in comments below!
Photos by: To Vogue Or Bust, Shari and Mike, Rosalinda Diaz