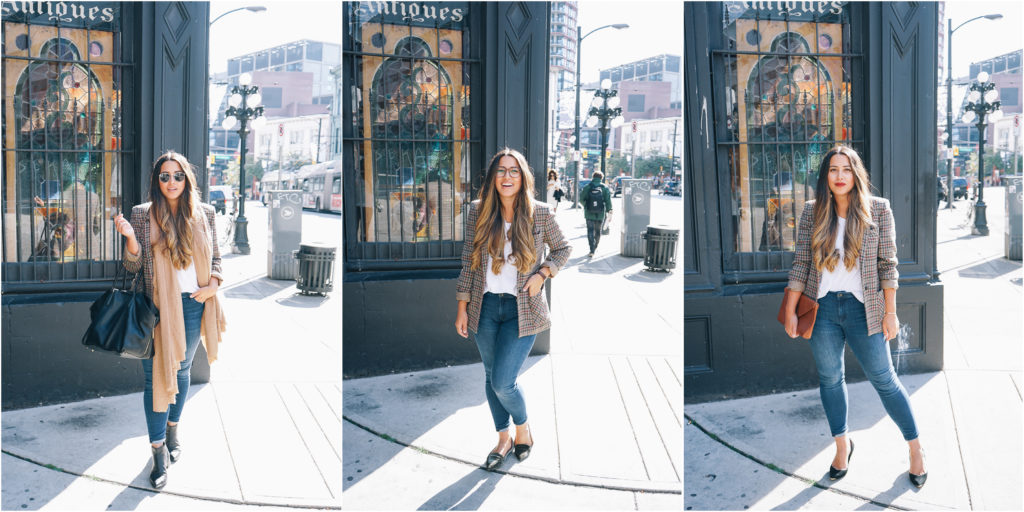 Checked Blazer + White Tee + Jeans from errands, to the desk, and off to dinner!
I've owned this thrifted blazer for years, so you can imagine my delight when it has been deemed 'in style' this Autumn!  Mine might have shoulder pads, but it's as though I've saved myself at least $100 for hoarding it away in my closet.  Since I've been seeing this kind of jacket everywhere, I thought it would be fun to style it up for three different occasions.  Didn't do anything too crazy with these looks, just simple swap out pieces.  Wanted to show you some versatility in this check blazer, if you've succumb to the pressures of Fall 2017.
I kept the base simple because chances are you have a great pair of skinny jeans and a decent white crew neck tee.  If not, who even are you?  Now, let's begin.
SHOP THE BASE LOOK
..On The Weekend
Saturday and Sunday are often spent running around and ideal for those simple, throw on pieces that are still chic.  My Marc Fisher boots (that you're probably sick of seeing LOL) are ideal for this.  A leather boot with a pointed toe that's slightly dressier is one of the best things to happen to me in footwear.  Goes well with a soft blanket scarf and my favourite sunglasses because the dream is that all weekend are sunny, right?!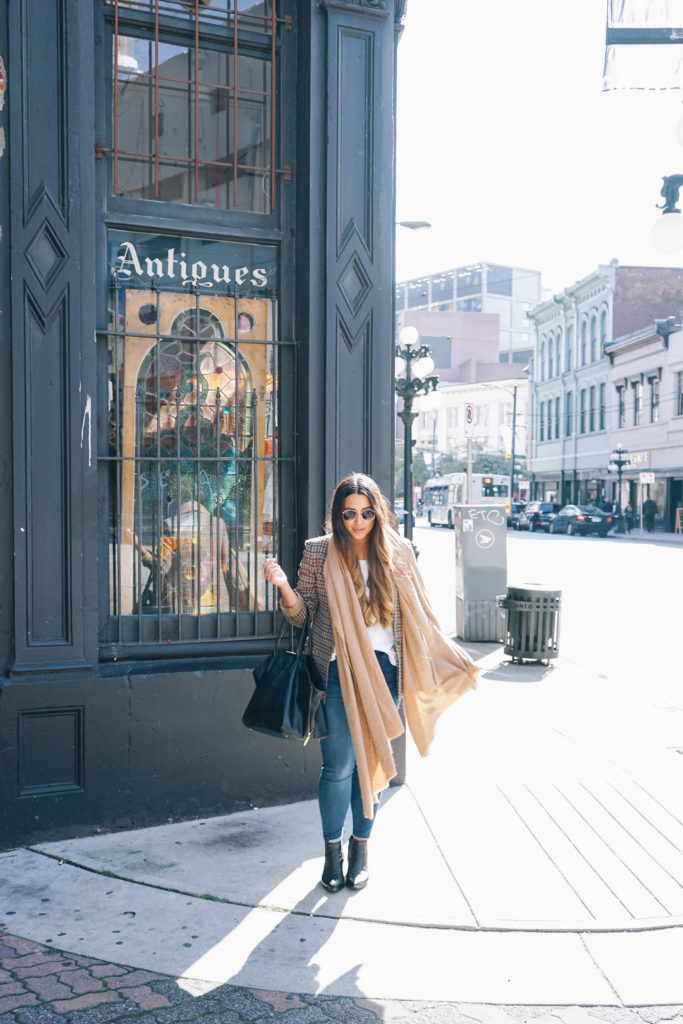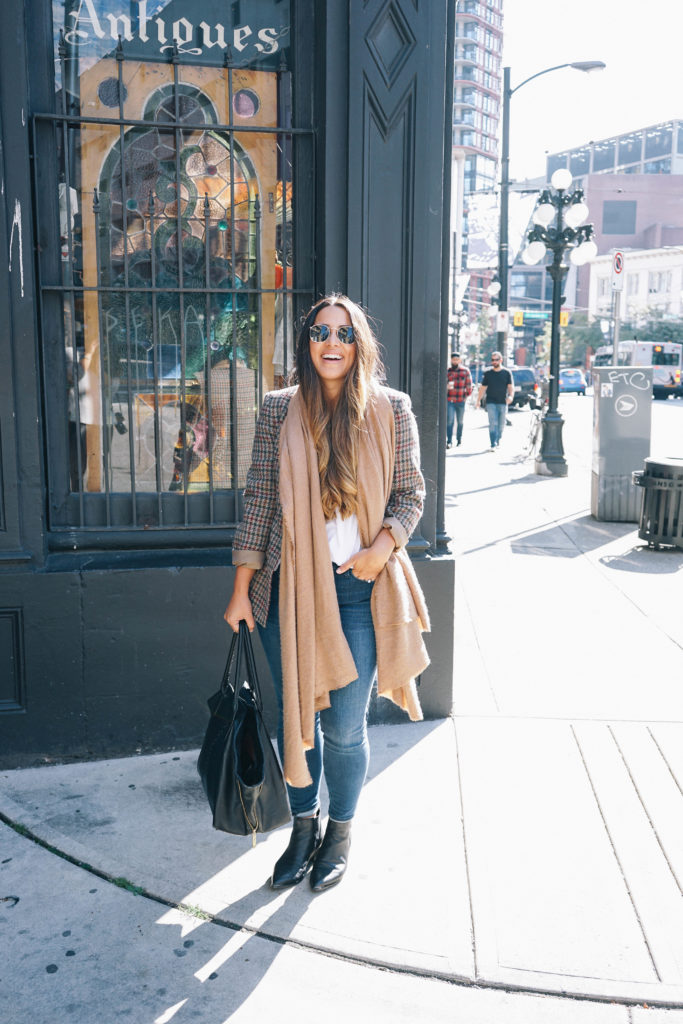 Soft Camel Scarf from Zara
Prescription 'Harrison' Sunglasses c/o Bailey Nelson | These are the gold frames with grey lens
Marc Fisher Yale Boots from WINNERS
Oversized Black Tote Bag is older from Target | Similar one here
..At The Office
I make my own dress code rules for my office space, so almost anything goes.  This is obviously a more casual office look, but I feel like you could replace the denim for trousers and achieve something similar, perhaps even comfier!  I do usually like to keep my shoe choice as comfortable as possible and flats are essential for my 5th floor studio that I insist on taking the stairs to and from.  If you can suffer through heels all day at the office, hats off to you (and a heel of some kind would probably fancy this up a tad)!  I can barely make it through 8 hours in a kitten heel, so I went for a velvet pointed toe flat with this look.  My favourite glasses and a classic watch really tie everything together.  It's simple, but put together.  Exactly how I like to be at the office!
Main and Central Wednesday Glasses in Brown M c/o Clearly
Dapper Watch c/o Daniel Wellington
Velvet Pointed Toe Flats are older from WINNERS | Similar-ish at Target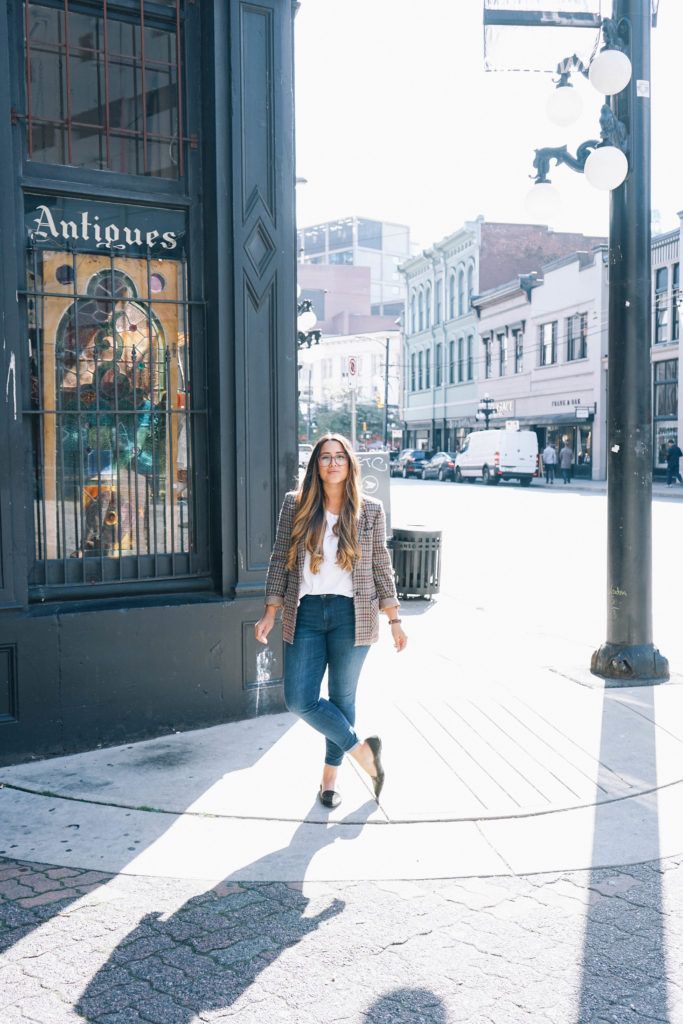 ..Out For Dinner
Went for the power quad: bold lipstick, power pumps, statement earrings, and a clutch purse.  The only thing missing is a power pose!  Again, these are things that I'm sure most of you probably already have on hand.  I also love the idea that you could have these items in a bag at the office with you, in case you needed to get your base look from desk to dinner.  In fact, I'll probably do this for my girl's night next week!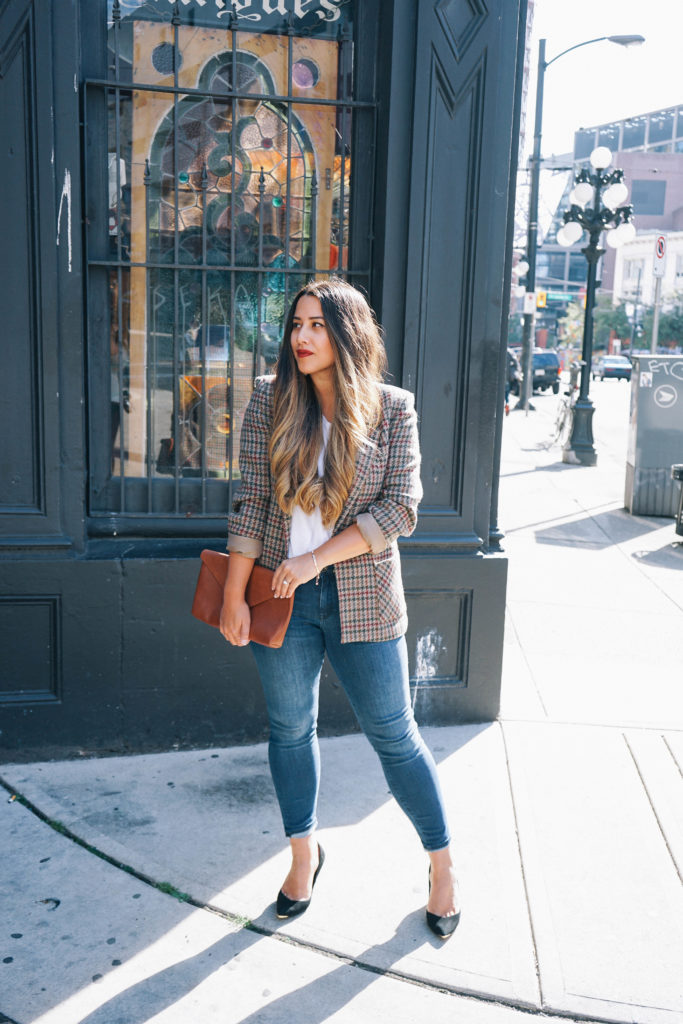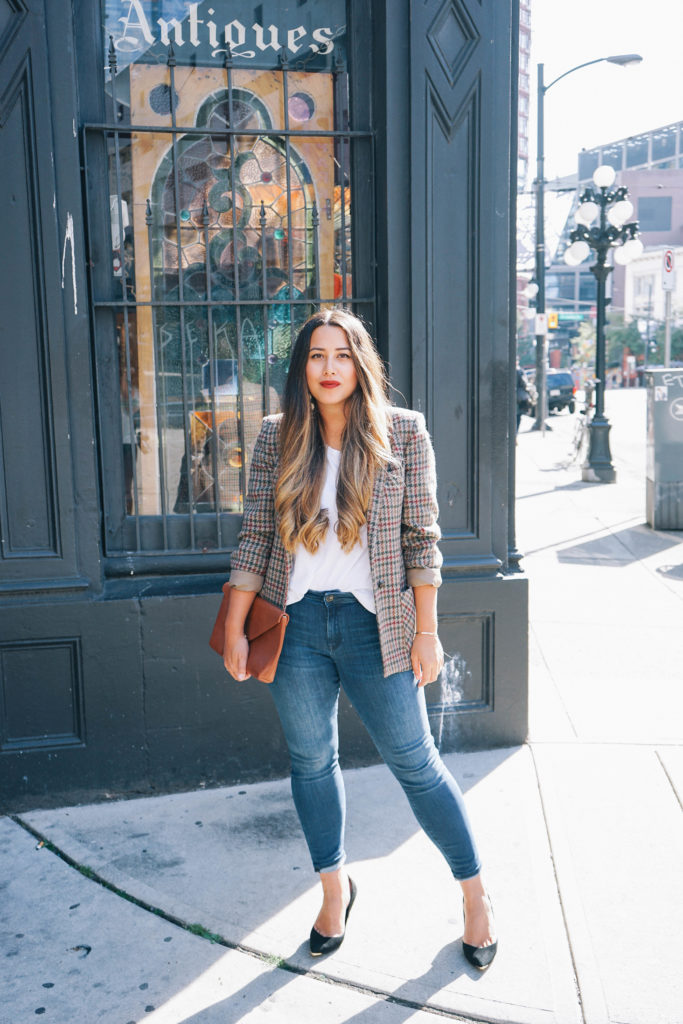 Florence Envelope Clutch c/o Linell Ellis
Fiji Monica Vinader Chain Bracelet c/o Nordstrom
Always On Matte Liquid in Disorderly c/o Smashbox
PomPom Earrings from a local boutique | Similar here
Black Pumps c/o Ted Baker | Similar here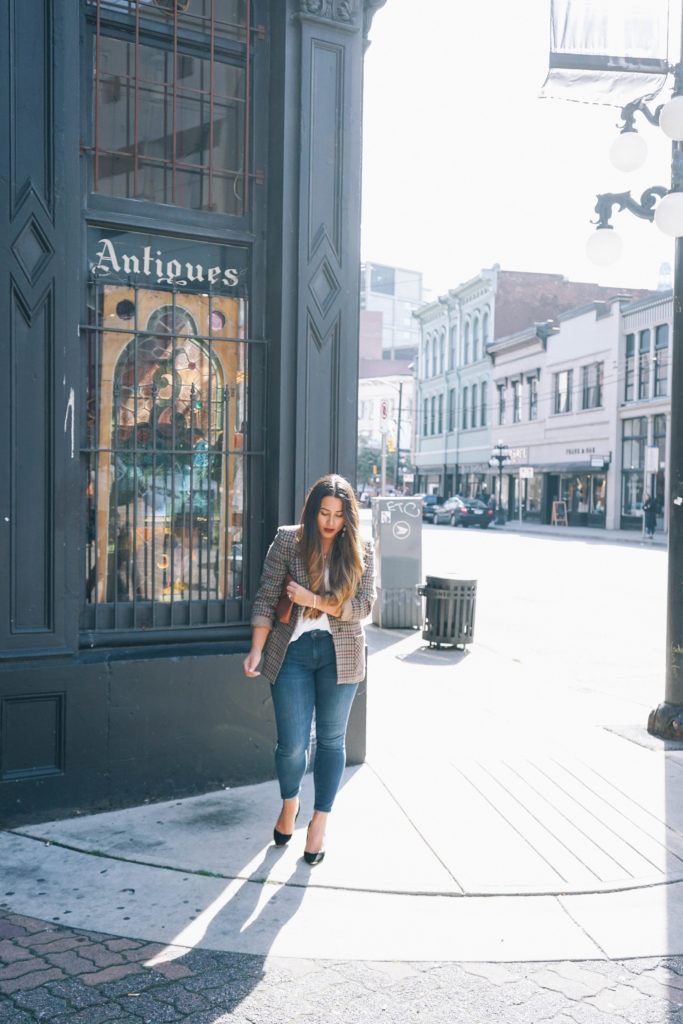 Photos by To Vogue Or Bust