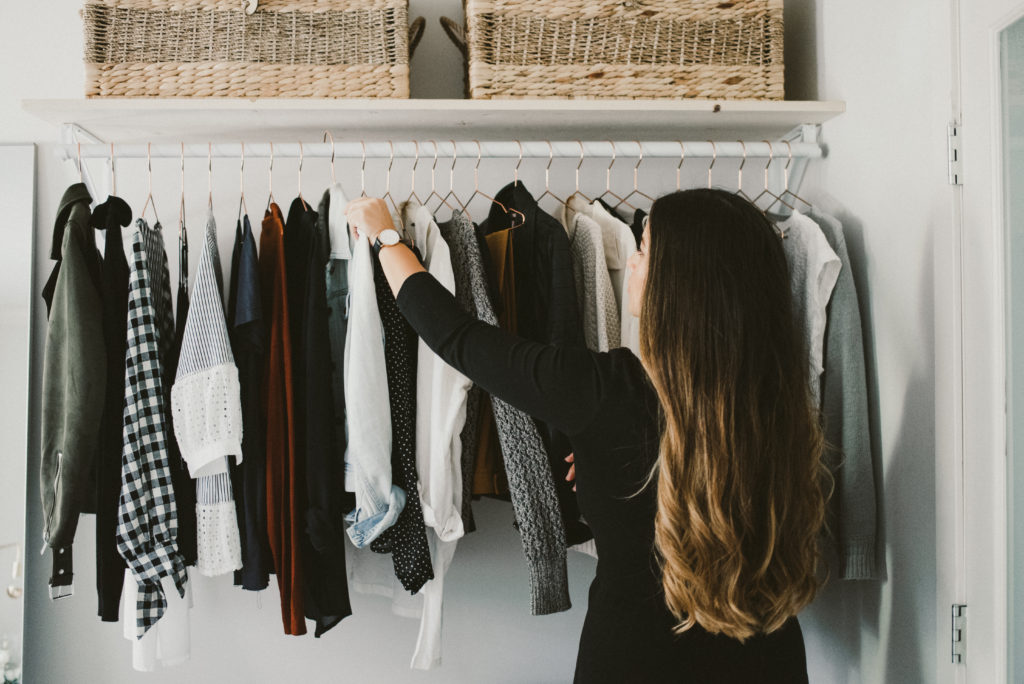 Your closet is overflowing.  So now what? 🤔
January is the perfect time to start a new minimal(ish), organized lifestyle.  I spent months and months purging our apartment last year and let me tell you, it felt amazing.  It's so true that a decluttered home makes for a decluttered mind, I felt like a weight had been lifted off my shoulders.  I was finally able to organize the remaining items we had into clearly labeled boxes, or on display around our place.  And trust me, if this clutterbug can do it, so can you!
I was patient and went room by room, drawer by drawer.  As the first post in this organization series, I wanted to go over how I was able to tackle my disastrous closet!  It was crazy how many times I had to purge in order to get to the core pieces I actually wear and astonishing how much I ended up giving away or selling.  I mean, we're talking bags and bags, it was out of control.
To get started, find a playlist that pumps you up to keep you motivated.  Wear minimal, stretchy and light things, this is going to take some manual labour!  You'll be wanting to find spots for 4 categories: KEEP, DONATE, SELL, and MAYBE.  Don't worry about buying storage bins until after these piles of clothes are complete, so that you know what size bin you'll need.
In terms of donation, if you're nearby in the lower mainland, I highly suggest the Big Brothers of Greater Vancouver.  They'll come pick up you donation for FREE (how convenient is that?!) AND as of today, you'll be entered to WIN a dream vacation for 2 + monthly prizes for your donation. More details further into this post.  So, what are you waiting for?  Get reading!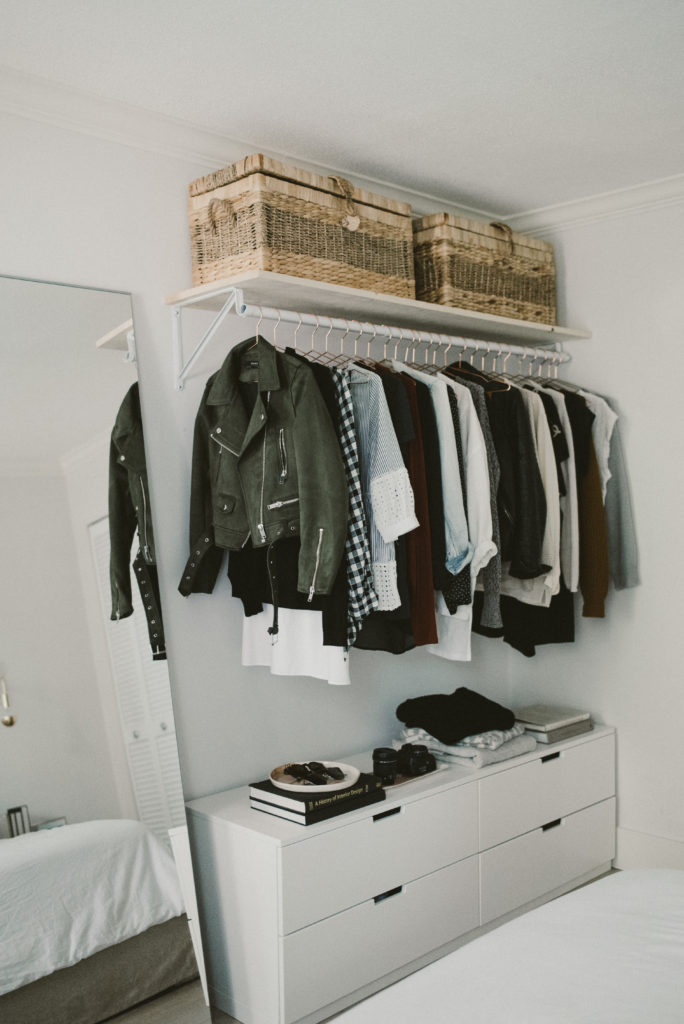 Photos by Meghan Bustard
Be Honest With Yourself
The decluttering process will not work if you're not going to get real about everything in your closet and your true feelings about them.  This requires some real wardrobe soul searching, people!  You're going to be making some tough decisions, but the results will be amazing!
I have a concise list of questions to keep in mind during the editing process, which you can download for free HERE.  My number one question is, "Does this bring me joy?" when you wear it, do you feel amazing?  When you see it in your closet, does it bring a smile to your face?  If the answer is no, then it might be time to let go.
Some things that I keep in mind and that are important to me: Comfort is key.  Remember that trends and styles changes.  Edit again.  It's okay to hold onto a few pieces for nostalgia.  It's also okay to hold onto a few pieces that are waiting for THE occasion.  Just be reasonable about it. You have to make some tough decisions and let some wonderful things go, but it's worth it.
Sort Seasonal Items
Setting aside all of your out-of-season items will help you cut down what you're looking at, if you don't already separate your items by season.  Our home has very limited closet space, so I usually store my out-of-season things and do a closet turnover every September/October and April/May.  Which, is also the perfect time to sort everything that just sat in your wardrobe for a few seasons.  If you didn't wear it very much (or let's face it, at all), then it should go.  If there are seasonal items that I'm still unsure about, then I'll store them as well and if I don't miss them, they're also gone.
Efficiently Organize Your Stored Items
With little extra space, we have to get creative with how we're storing things.  We made sure to get a bed that could house a few bins of clothing underneath.  We have a storage locker downstairs (that I never visit, that's Adam's territory), which is where we keep our suitcases.  Sometimes we'll store seasonal items in those suitcases, because otherwise they're just empty bags.  Lastly, vacuum seal bags have vastly improved my life in terms of clothing storage.  They condense everything you're storing, keep them from getting that gross musky storage smell, and are clear so you can see what's in them and easily access if needed.  I even vacuum seal the items I have in storage bins.  It's a game changer, I tell ya!
Save Time And Stress By Donating
I never really thought about what happened to all the bags of clothing I'd donated over the years, but I LOVE that with Big Brothers, you're helping fund important mentoring programs for children in the community.  These programs help thousands of children build higher self-esteem, a greater sense of belonging, and do better in school.
For 2018, their goal is to collect 20 million pounds of clothing and small item donations by the end of this year. And as of today, every time you book a pick-up online, you'll be automatically entered to WIN a grand prize of a dream vacation for two, and monthly prizes. See full contest details, rules and regulations. Check the list HERE of items that Big Brothers Clothing Donation accepts and what they're currently not taking HERE. They have bins throughout the city, but they also offer a FREE clothing pickup service. 
Book Your Pickup Online Now:  To find out more on when BB will be in your area for pick-ups, visit BigClothingDonation.com. If you would like to help Big Brothers a little bit more, you can also donate $10 or more to cover the pick-up fee!
Don't stress the ROI
I used to hold onto things out of guilt for paying for them and barely wearing them.  But you know what?  Those items don't make me happy in my closet, they just bring me buyer's remorse for not getting my return on investment.  It's best to donate or sell those pieces because what you didn't end up wearing, could potentially be a favourite to someone else!
Keep Editing
The thing about an organized closet, is that the edits are an ongoing process.  I did a big purge and organize at least 4 times last year.  In my line of work, items are added faster than I can take them away, so the 'one item in, one item out' rule doesn't work for me.  I find it more efficient to reevaluate the contents of my closet every month or so instead.  It's also less daunting and overwhelming if you continually edit.
Try A Capsule Wardrobe
If you want to test a sense of the minimalist wardrobe, try making a capsule wardrobe.  This is a small group of clothing that you keep on constant rotation for any amount of time.  I bought 20 rose gold hangers to put at the front of my open concept closet and everything hung on them is part of my 'capsule wardrobe'.  I'm hoping to change these items up each month this year to get a better idea of minimalism and perhaps take my closet decluttering to the next level.  Working with such a limited amount of clothing can really help open your eyes to how little you actually need.
Don't forget to download my important questions to ask yourself during this decluttering process.  Do you have any tips or tricks that you'd add to the list?  If so, let me know in the comments below!
This post was in partnership with Big Brothers of Greater Vancouver.  As always, opinions are my own.