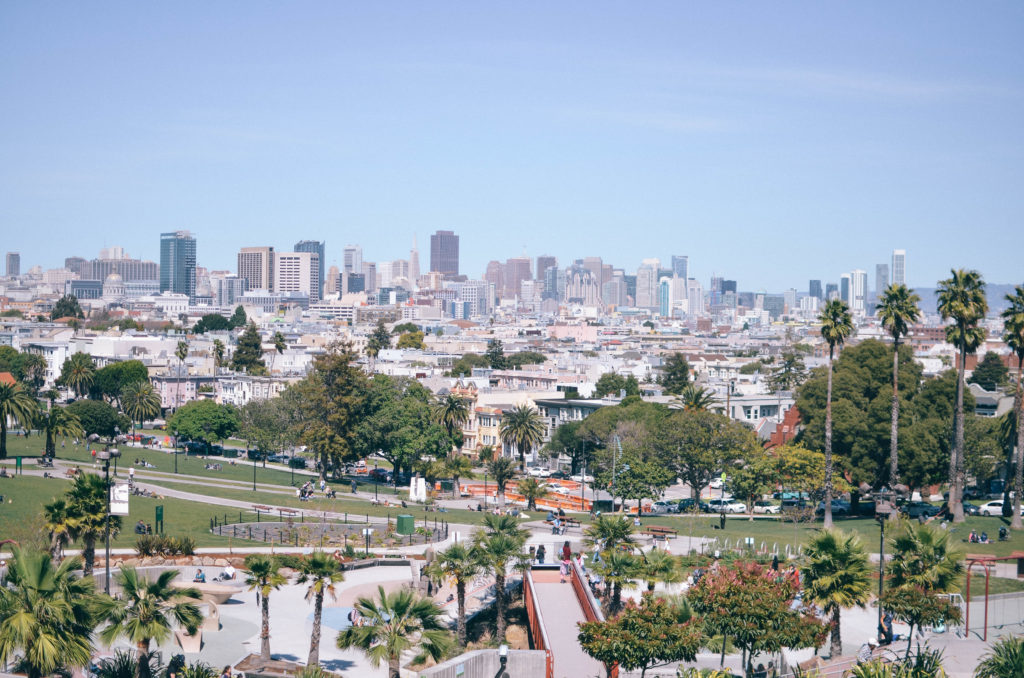 Are they really 'cool' if I have to tell you they are?  Oh well, let's go with it.  Following my recently discovered San Francisco photos, I have so much to share!  To catch you up, I went to SF last April with two girlfriends for 5-ish days.  We stayed with her cousins for the first few nights, and they were not only kind, but they also had the best suggestions.  Any time you can get insider info from locals, it can really take your visit to the next level (if that's the way you like to travel).  We did some really fun activities and I branched outside of my go-to travel itinerary in the best way.  But, what good is this info if I keep it to myself?  I've compiled a bunch of notable things to do in beautiful SF below for you guys, and I hope you enjoy!
GO TO OFF THE GRID @ FORT MASON CENTER
Saschie's cousins brought us to OtG and we had the BEST time.  Open Friday nights from 5 PM-10 PM, Off The Grid is an outdoor street food market with live music, drinks, a fun crowd, and of course, so much food!  We left the grounds as the sun was going down and we got to watch the sunset behind the bridge from the water's edge.  It was probably my favourite night on our trip for being casual and carefree, we really felt like locals!
No tickets are required, and if the location or time doesn't work for you, they have tons of other markets around town – get more info here!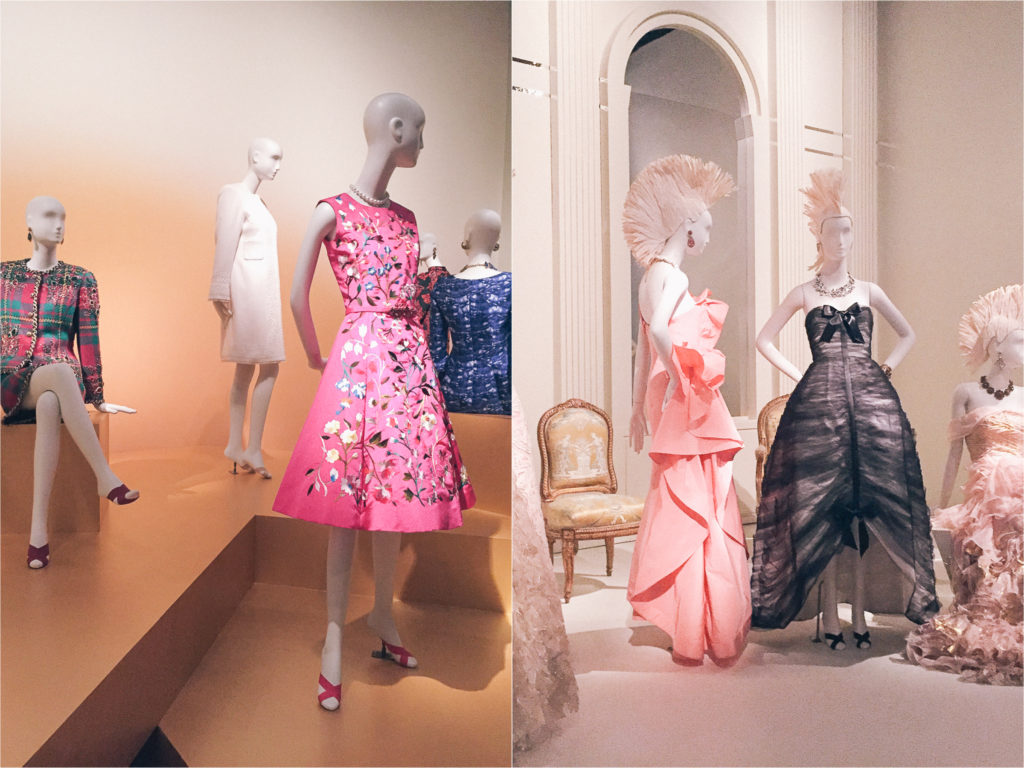 VISIT THE DE YOUNG MUSEUM
We completely lucked out and there was an Oscar de la Renta exhibit at de Young while we were in town.  The grounds of the museum are SO beautiful and within Golden Gate Park.  There's tons to explore on a nice day, or neat places to duck into if things take a turn (I visited the Academy of Sciences the last time I was in SF and it was also a blast).  I'm not normally a museum kinda gal, but de Young might have just changed my mind!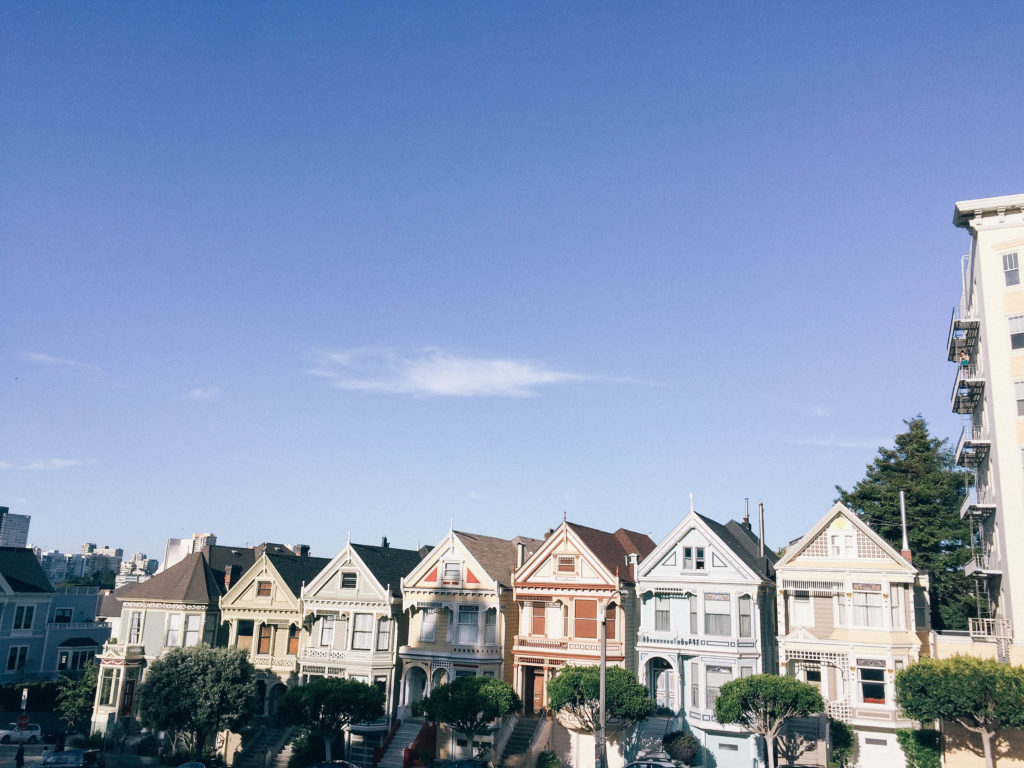 SEE THE FULL HOUSE HOUSE
Can't believe, out of all my visits to San Fran, I'd never paid a visit to the famous Full House painted ladies!  Love that they're actually located across from Alamo Square Park, so you could have a little picnic or sit and enjoy some rays, just like the opening credits.  Such a typical touristy activity, but I loved every second.  We even took a selfie with the 'cut-it-out' hand gestures and I'm not even sorry about it.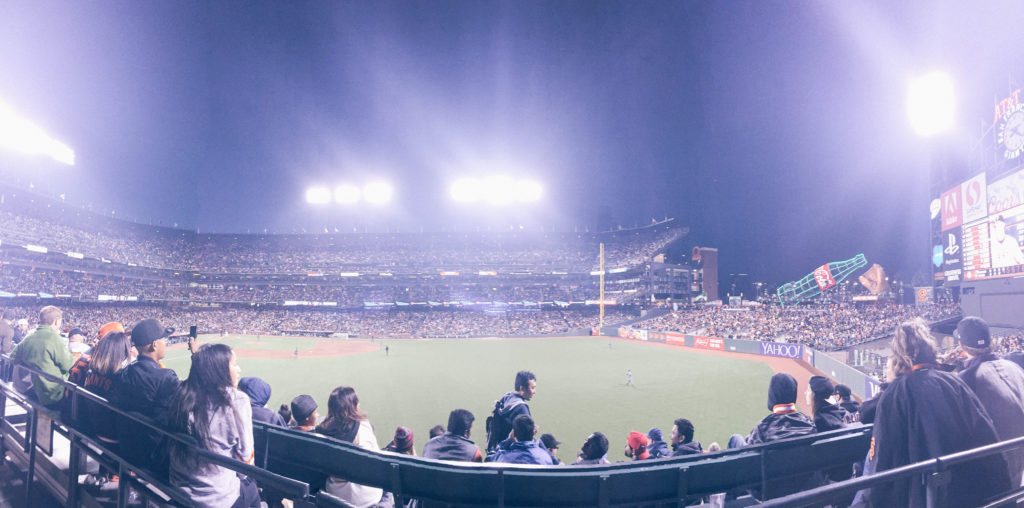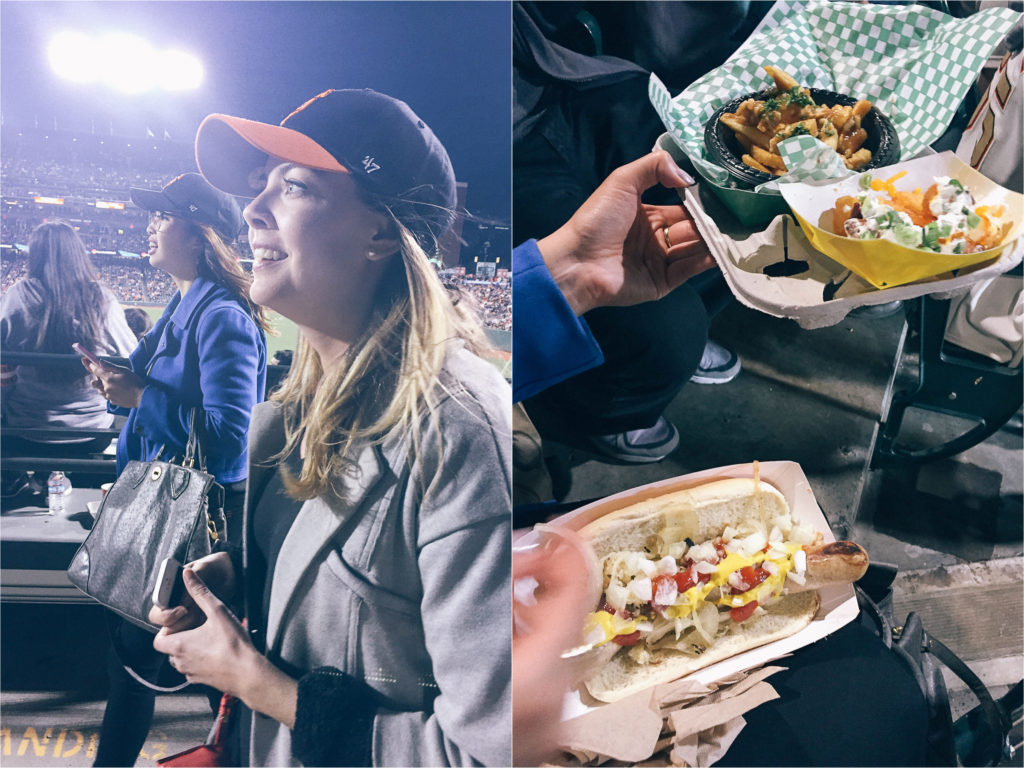 CATCH A GIANTS GAME
Saschie's cousins, once again, completely spoiled us.  They should just get full credit for these SF blog posts because they truly were our tour guides, even though they still had jobs to go to and children to care for.  They spoiled us with tickets to a Giants baseball game at the famous AT&T Park on our last night.  Sporting events have started to become a travel tradition (what can I say, I married into an athletic family…gooooo sports!) and I really enjoy them for the social and local aspect.  AT&T Park is just as wonderful as everyone describes.  When the Giants weren't playing well, we walked around the park and, surprise, surprise, ate all of the food.  Pretty sure we had garlic fries, tacos, others enjoyed hot dogs and beers, and then we all muscled down a Ghirardelli hot fudge sundae.  Yeah, honestly a really fun way to spend an evening.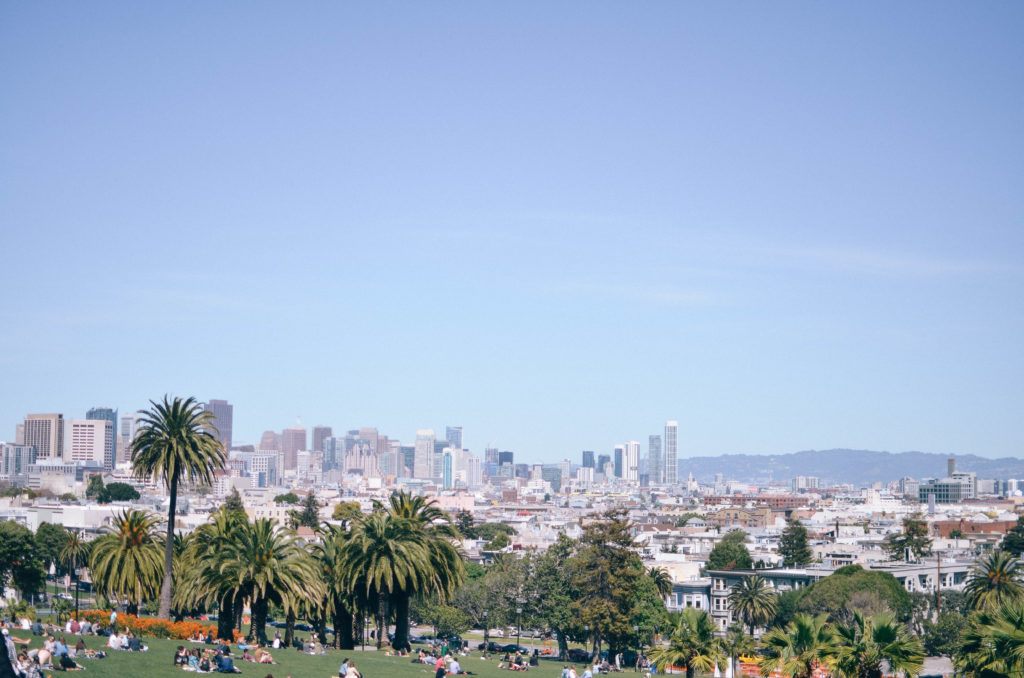 ENJOY THE VIEWS AT DOLORES PARK
An Instagram dream, Dolores Park has stunning views and is dangerously close to tons of great food (my SF food recommendations are coming up in another post soon).   It was the perfect way to end our daytime exploration of the Mission District, see more below!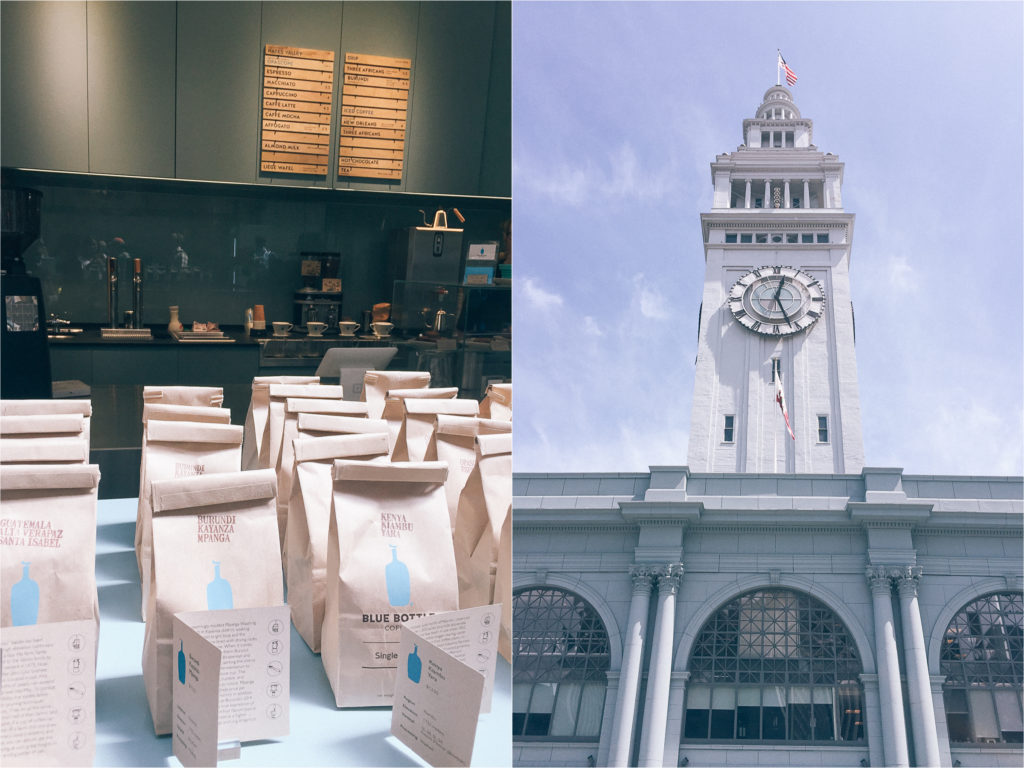 DO A FOOD TOUR AT THE FERRY BUILDING
I'd never done a food tour, but I like eats, and I like fun facts, so an Edible Excursion was the way to go!  Saschie had her work conference that morning, so Kate and I set off to the gorgeous Ferry Building for the guided food tour.  It was such a great way to try local fare, and learn a bit more about the history of the city.
EXPLORE THE MISSION
When I was in SF in 2010, we wandered around Haight and Ashbury and I thought it was THE coolest thing ever.  This time, the neighbourhood I went mad for was The Mission.  We spent a half day wandering around and having multiple meals, popping in and out of shops, and enjoying the scenery.  I went back for dinner with my family a few days later, and The Mission was just as vibrant at night.  I have so many great things to say about this area, it's a must-see!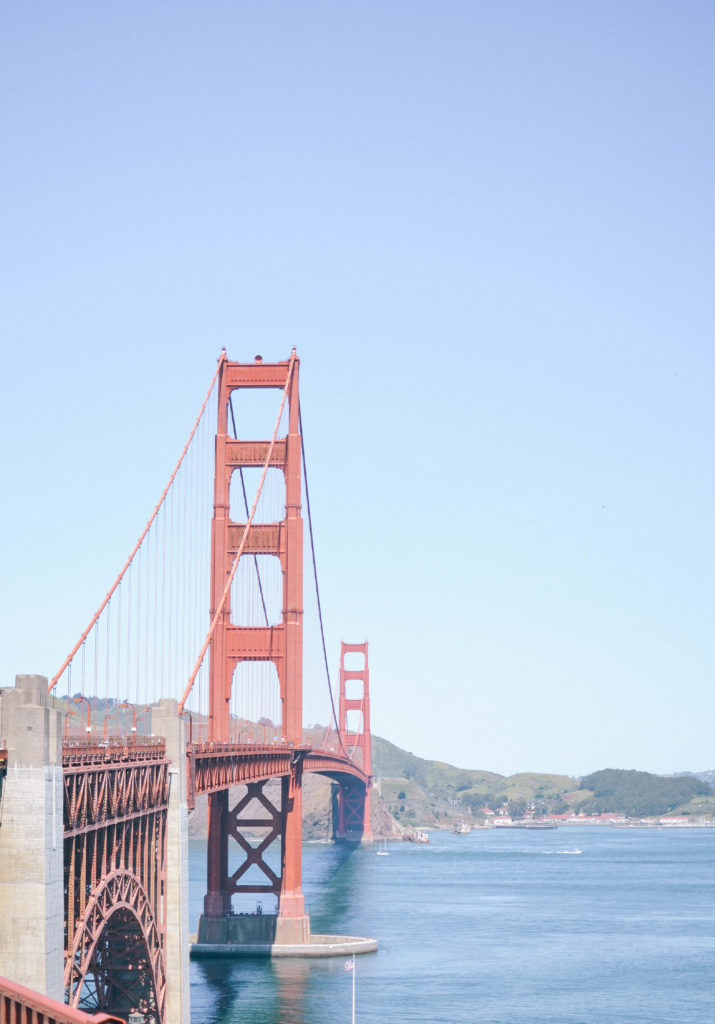 SEE THE GOLDEN GATE BRIDGE UP CLOSE
I'm pretty sure that most people who visit San Francisco would see the iconic Golden Gate Bridge at SOME point, but being up close is completely different.  Driving, walking, or biking across is an amazing experience!  The Golden Gate is such a photogenic bridge, I especially recommend the vantage point form the hill on the other side.  Keep in mind that the fog can and will roll in, so it's best to see on a clear day (or you literally might not be able to see it).
---
Save this post to Pinterest for later: