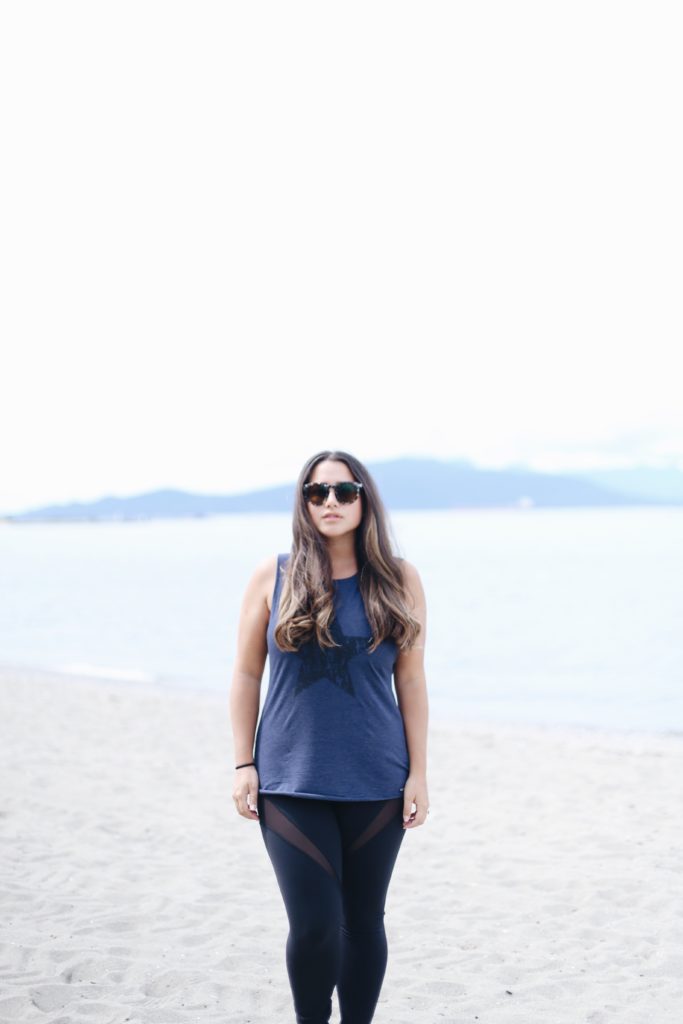 I know, I know, you're like hey, is that a Sports Illustrated bikini model?!  No, silly, it's just me!  Someone who always thought that because I wasn't 5'9″ and size minus 4 that there was NO way I could look nice in workout gear.  The QUEEN of oversized tees and multipack leggings, I have learned over the last few years that it actually IS possible to look good/feel good even while you're exercising!  Cannot do anything about sweaty red face though, that hot mess look just means that you're working hard.
As soon as I prioritized health and included fitness as a part of my life (attempted, anyway), I started discovering that there's a ton of stinkin' cute workout wear!  Take this Public Myth outfit for example.  I'm wearing a sports bra…in public…that doesn't scream grandma!  There's mesh cutouts on my legs and that doesn't even scare me!  All this from the girl who rocked a human repelling silk corset "sports bra" for too long, and who JUST threw out my Lulu yoga flares from 15 years ago.  I feel like a new woman.  I feel like I am only now discovering why everyday fitness wear is an epidemic here on the West Coast!
So, how can you step up your workout wear?  My biggest tip is that comfort and functionality are still most important.  I like to buy updated pieces that are still basic (not quite at the point of bright printed leggings, ya know?) but throw in a standout and/or trendy piece or two.  If you've got a similar shape, I recommend starting at a pair of high waisted black leggings and build from there.  They'll help hide sins and *hopefully* won't slide down mid-run.  When choosing athletic pieces, I would suggest quality over quantity.  I have probably 3 mix and match outfits that I rock all the time and I just remix and wash those as needed.  As for summer workouts, I've been loving outdoor running, yoga in the park, Body Balance classes, and tennis.  I'm all about getting outside (for FREE, thank you Mother Nature) and then strengthening at the gym or in the classroom.
What do you like to do to work up a sweat in the summertime?  Would love to hear in the comments below!