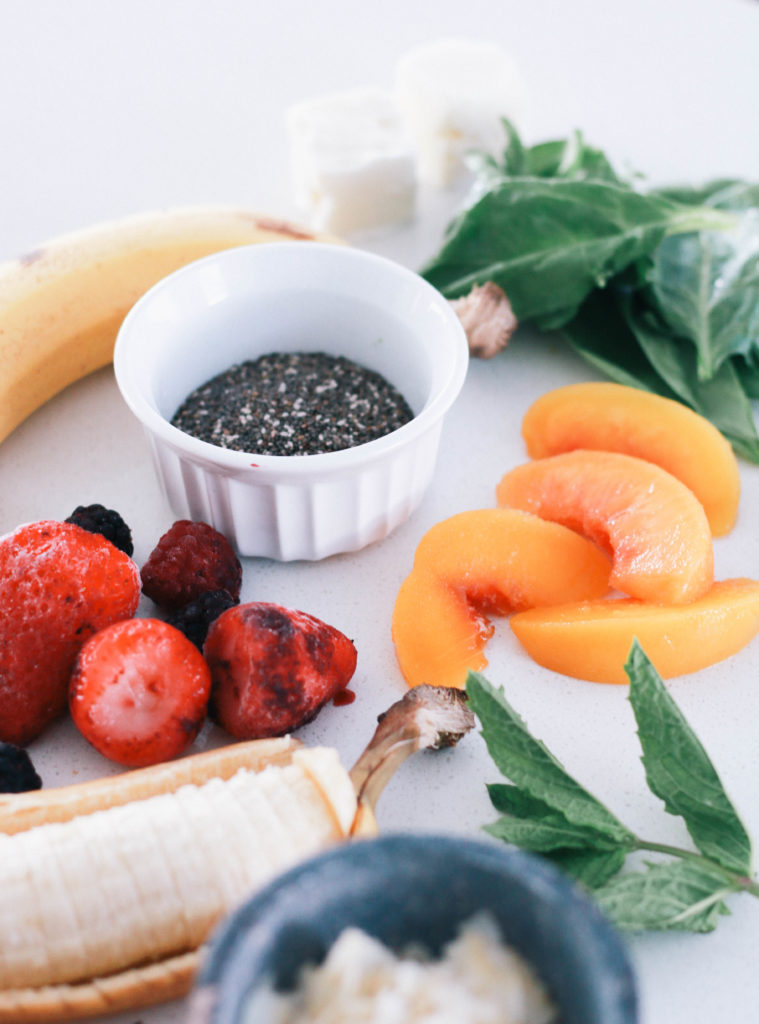 Don't worry, this is not a post about What The Health.
I have always wanted to be a smoothie person.  The one that shows up to a morning meeting with a delicious homemade green smoothie.  This dream is a bit tough to achieve for someone who lacks energy in the a.m. (and truthfully, never has morning meetings) because I really think you have to be a morning person to be a true smoothie person…or do you?  In my efforts to infuse more routine into my life and eat more whole foods, I have been trying out some meal prepping and it has been a massive help!  The fact that even I can be eating three meals a day, homemade, and full of nutrients is impressive for someone inherently lazy like myself.
I just can't believe that I didn't try freezing smoothie ingredients sooner!  It's such a perfect way to enjoy a breakfast or lunch that nourishes your body and gives you energy for the day.  I finally feel like I'm on the way to be a smoothie person, and damn, it feels great!  The concept is very simple, and really, nothing revolutionary, but I've included some helpful notes below in case you want to try it out too.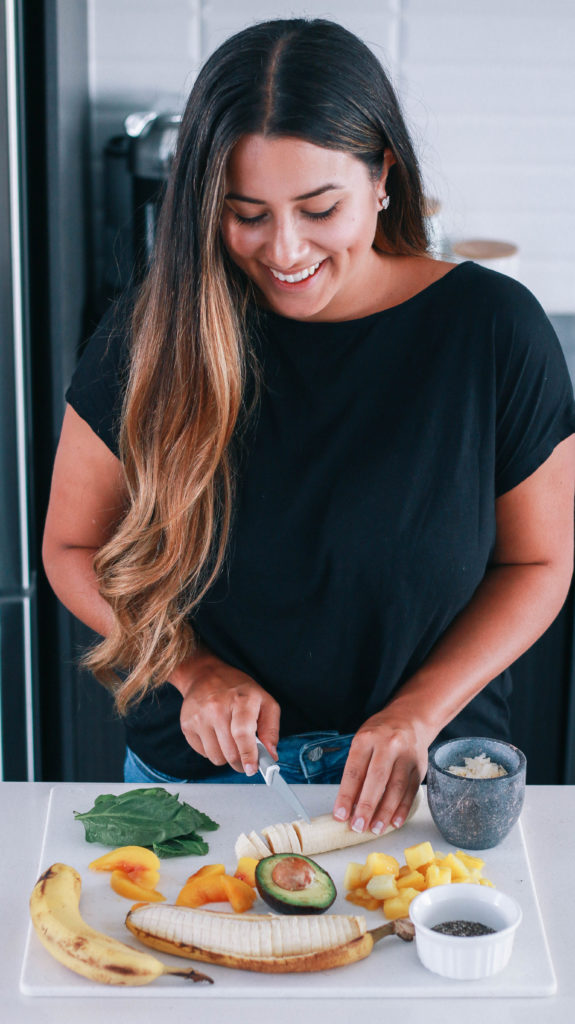 TIPS FOR FROZEN SMOOTHIE PACKS
Cut up some of the fruit to make the blending a bit easier
I also tried freezing some vanilla greek yogurt in a silicone ice tray, and it worked REALLY well!  Still gave the smoothies that creamy vanilla taste, wouldn't have been able to tell the difference
Label the freezer bags with a sharpie to include the date you made them, and, if you'd like, the type of smoothie
When you take your smoothie pack out to use, run it under hot water for a few minutes to help break up the contents.  Your blender will not be happy with one giant block of fruit!
If you are finding the smoothie a bit thick as it blends, a tiny amount of hot water can help even things out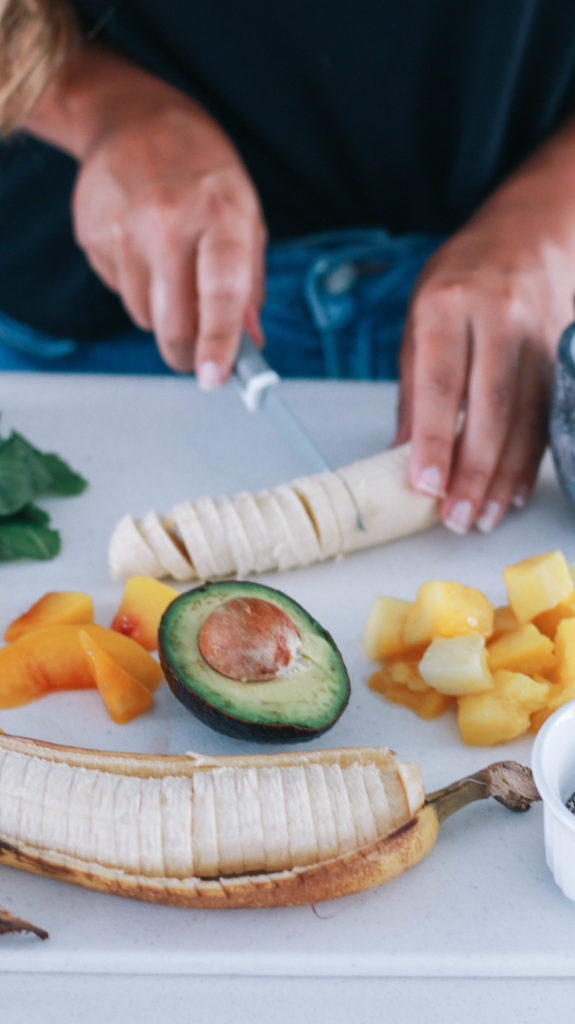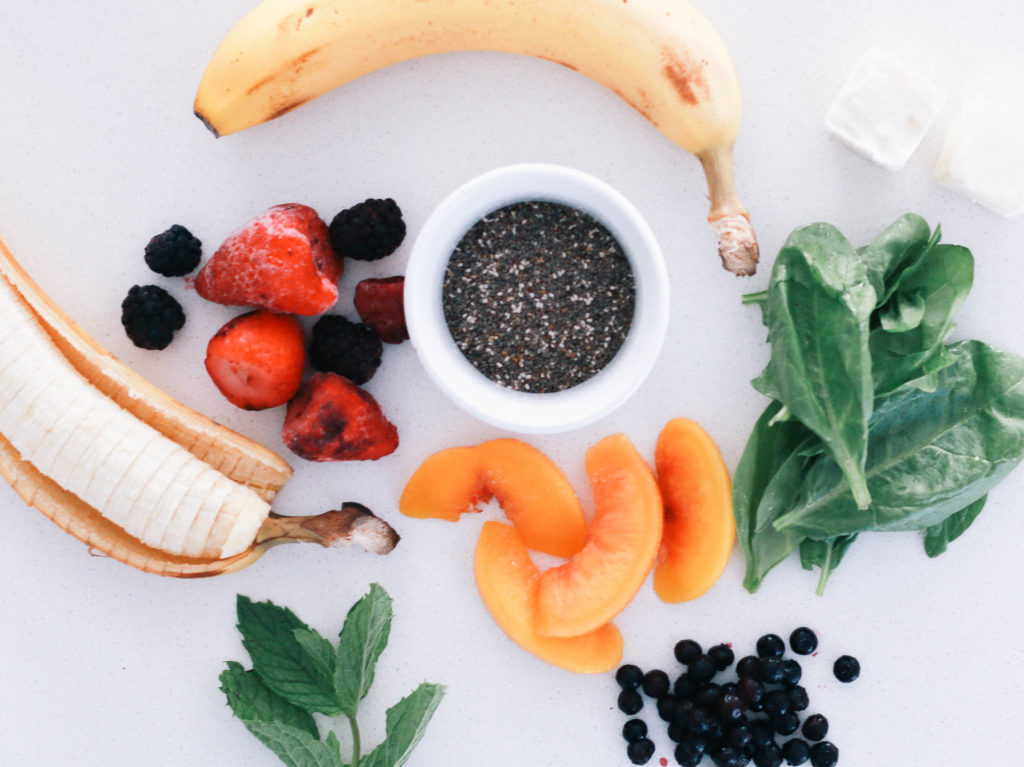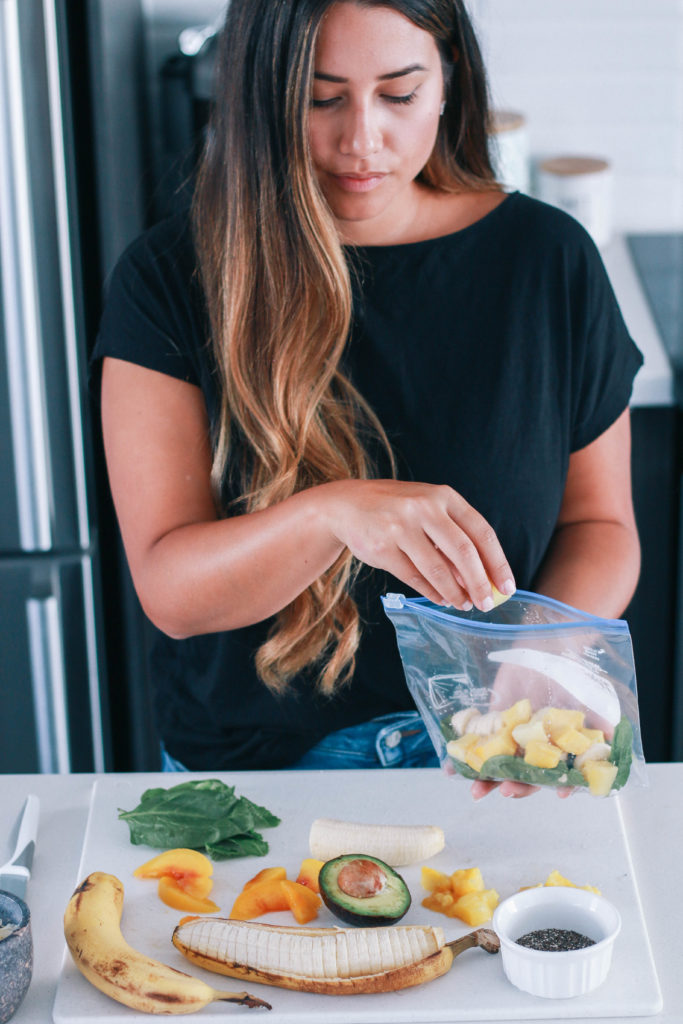 Adam and I always have frozen fruit on hand because he is obsessed with overnight oats and I always had the intention of being a smoothie person.  For these photos, I used our frozen fruit, but with it being summer and prime berry season, I would DEFINITELY recommend freezing your own fresh fruit when possible.  We have since done this and it really makes your morning smoothie even better!  Also, I ended up not able to photograph the spinach, as produce can turn so quickly in this heat and ours had completely wilted when I went to prep these smoothie packs, go figure!  Anyway, I normally put a handful of spinach in, not a couple leaves!
I'd love to give you exact amounts of ingredients, but I've never been one to measure out smoothies.  Just put together what you like and fingers crossed it tastes as good as it sounds.  Some of my favourite combinations right now are…
Tropical Greens
FREEZE: Mango + Mint + Banana + Spinach + Coconut Flakes + Avocado + Kale
ADD: Water or Coconut Water
Berry Good
FREEZE: Mixed Berries + Peaches + Banana + Coconut Flakes + Chia Seeds + Vanilla Yogurt
ADD: Coconut Milk
Summer Breeze
FREEZE: Peach + Mango + Mint + Banana + Vanilla Yogurt + Coconut Flakes
ADD: Coconut Milk + Water + Hemp Protein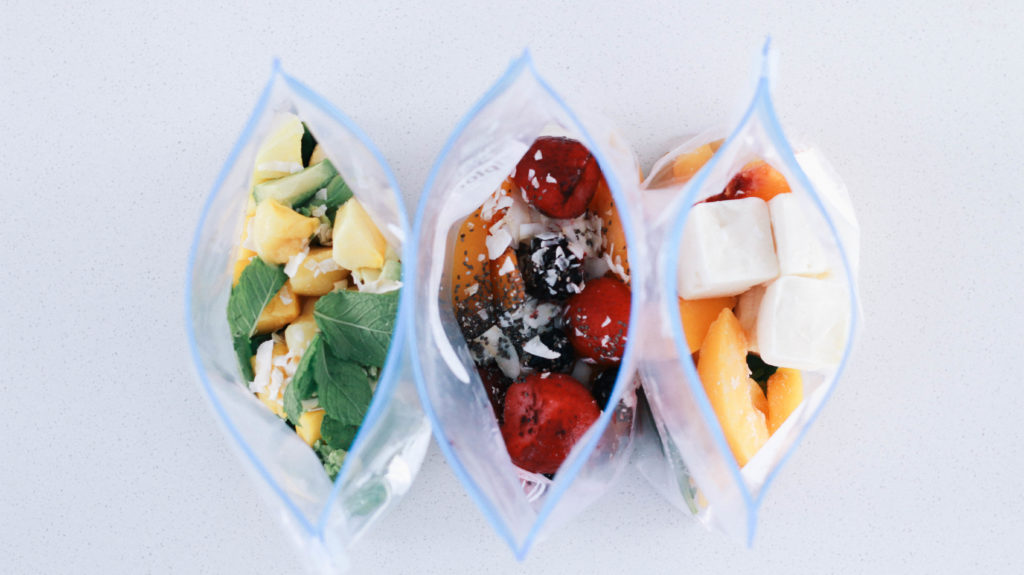 Photo help from Melissa Cartier
I'm obviously in a summery coconut mood!  What are some of your favourite smoothie recipes?  Let me know in the comments below, I'll be doing my next smoothie prep next week!