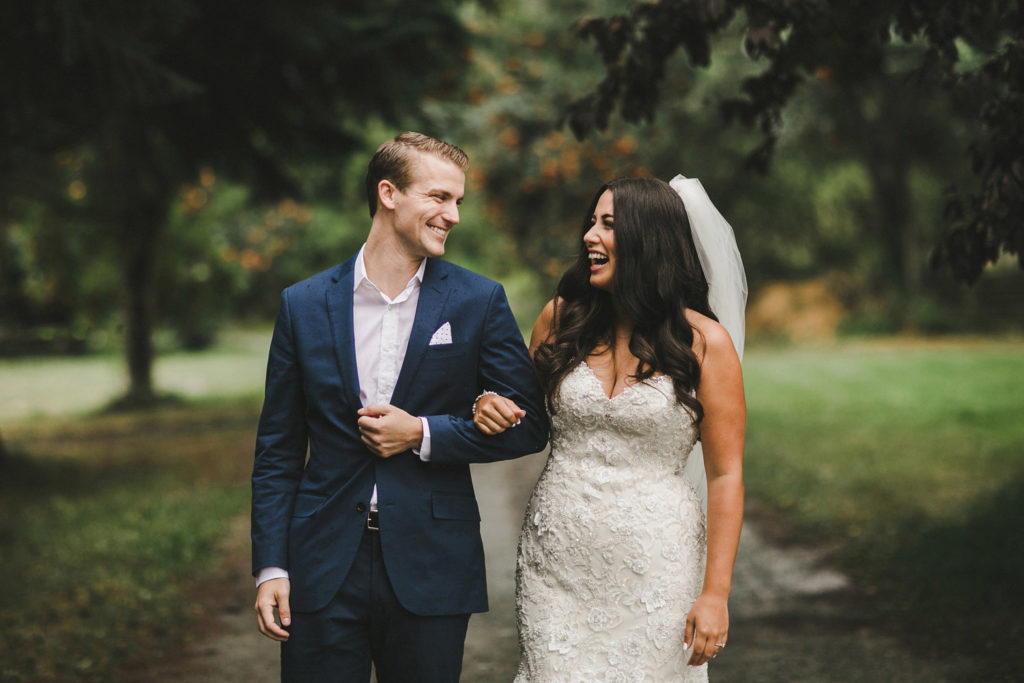 Photo by Shari and Mike
The other night, I asked Adam what I should write about in honour of one year wedding anniversary. He stared back at me and kind of shrugged.  I revealed that I was thinking of writing about the highs and lows of marriage thus far and he seemed a bit surprised by the sentiment.  "Think about it," I urged him, "We honestly couldn't have squeezed in any more life changes in the last 365 days if we'd tried!"
There was all the notable moments for our friends.  Tons of our close friends and family got married.  Two of my besties had babies and more of my close pals announced they have little babes on the way.  We experienced a big loss when my Uncle Daryl passed away.  There was a perfect amount of travel involved the last 365 days.  Together, we spent 3 weeks in Italy for our honeymoon, went to Palm Springs for Melissa's wedding, enjoyed a week in Playa del Carmen with Adam's company, had a delightful Easter weekend in the Dominican Republic with Adam's family, explored Toronto for a few days en route back, made our way to Austin, Texas for the first time, and then to Cancun for Kate and Andy's wedding.  I also spent a week with my friend in Hamilton, Ontario, a few weeks in London and Ireland with Alex, and a lovely trip to San Francisco with a Saschie and Kate.  In terms of travel, we certainly went for it this year!  There was the fact that for the second time in a year, our apartment was flooded and we were forced to move out for over a month and go through a renovation…again.  Personally, we went through some things as a couple.  I changed career paths and opted to blog full time.  Perhaps inspired, Adam actually recently just gave notice at the company he's been with for 8 years and is now in the midst of a big career change as well.  There's a few other big things, but some events for us and close friends aren't really to be shared online, as I'm sure you can understand.  Even without the other points, it's obvious that this year has been a heck of a lot.
It seems that we just happened to wed within that time in life where everyone is going through massive change.  Marriage and babies and death and new jobs and being lost and finding yourself again.  It's a bit crazy, but it definitely made us realize the 'work' portion of marriage that everyone advertises actually exists.  When we're shaken out of familiarity and the comfort of our mundane everyday and thrown these curve balls.  That's when you're put to the test.
Amongst the stressful chaos of the wedding, our go-to music was Beck's latest album, Morning Phase.  It was relatively calming and helped us keep our sanity the night before the wedding.  We've listened to it since and are transported right back to our Pemberton suite the night before the wedding, frantically writing out seating charts and cards.  This morning, on our impromptu anniversary trip to the Naramata Bench, we drove into town for breakfast.  Sitting out on the patio, sipping our coffees, I suddenly heard the faint sound of Blue Moon playing in the background.  Of all the songs to hear on the morning or our anniversary, it just happened to be one from the album that we so heavily associate with the wedding.  Just felt like a bit of a sign, ya know?
In honour of our one year anniversary, here's a little stroll down memory lane:
Our Rehearsal
Our Wedding Day
Our Wedding Highlight Video
WedLuxe Bride Spotlight
15 Favourite Wedding Moments
Hitched
My Wedding Decor Secrets
That Time We Had A Second Wedding