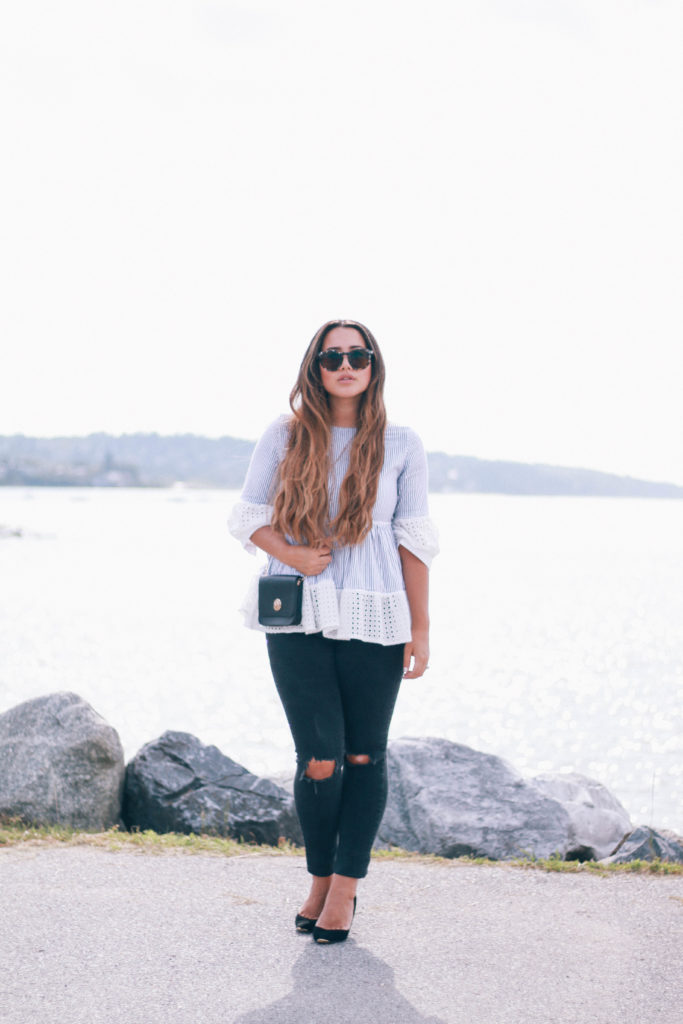 You've for sure seen lots of Chicwish items on liketoknowit and other click to purchase apps.  They have the sweetest feminine blouses and dresses with thoughtful details and trendy prints/colours.  Through RewardStyle, this was my second ever order from Chicwish, after my first one was an average experience at best.  Last summer, I received the dress I'd ordered, but it didn't come with the fabric belt as advertised and shipping took longer than expected.
This time around, I was back on Chicwich specifically for the one shoulder ruffle top that is so popular.  It is incredibly sweet and just had to be mine!  This was all during my spring online ordering frenzy, so I ended up also throwing in this peplum stripe blouse with wide eyelet trim detail and I am really glad I did!  How freaking adorable is this blouse?  I wore it for days in a row after receiving it.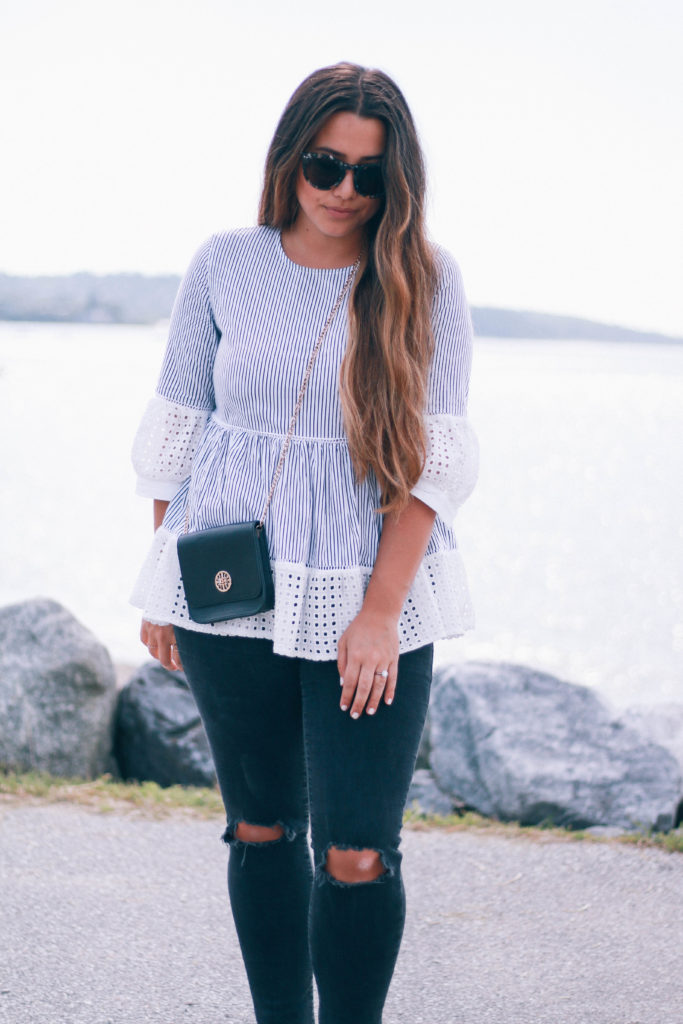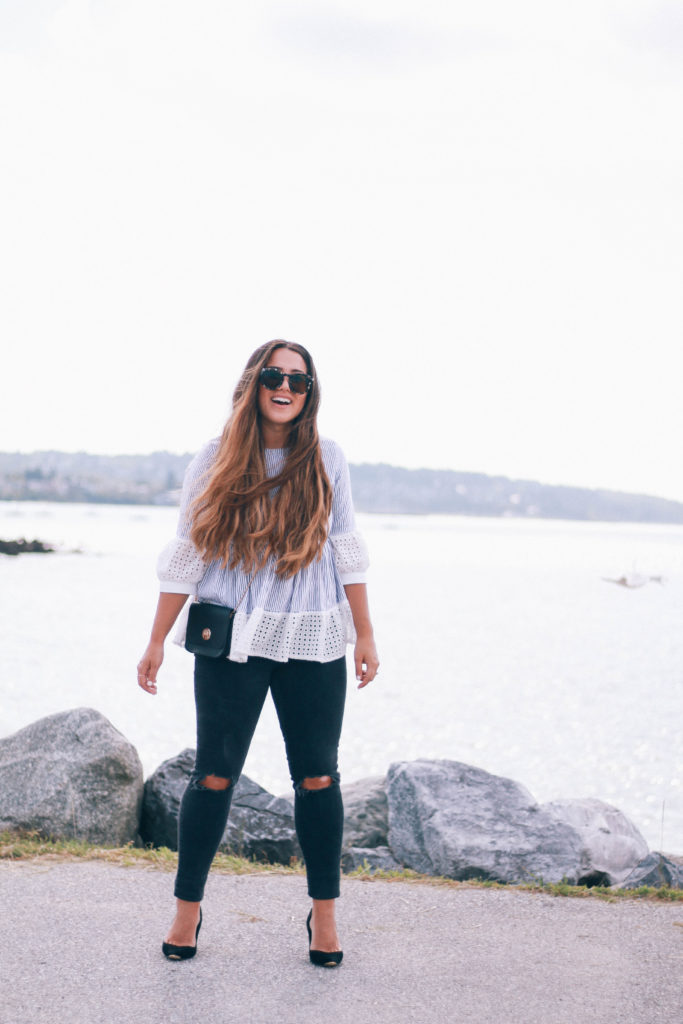 I love the cuts and fits of the blouses I ordered (I sized up from my usual based on reviews) but the fabric of this particular blouse has done a bit of colour bleeding if it encounters moisture.  It's a little disappointing, as my other striped pieces from them haven't done this.  I'm not sure the best way to combat this, or if it's just about wearing this blouse when it's not a million degrees out.  If you have any advice, let me know.
This is also the second time in the past few weeks that I've paired a blue stripe with something black thinking that it matched perfectly.  Am I turning colour blind?  This is slightly concerning.
As for my honest review of the second Chicwish order, it still took longer than I'm used to with online ordering to receive, about 3 weeks.  No extra charges upon arrival and this time I had all the items and they were in the right sizes.  I would order from them again, because I still love their unique and trendy offerings, but would be very careful choosing fabrics and with the expectation of a lengthier journey here.
Have you ever ordered from them?  What was your experience like?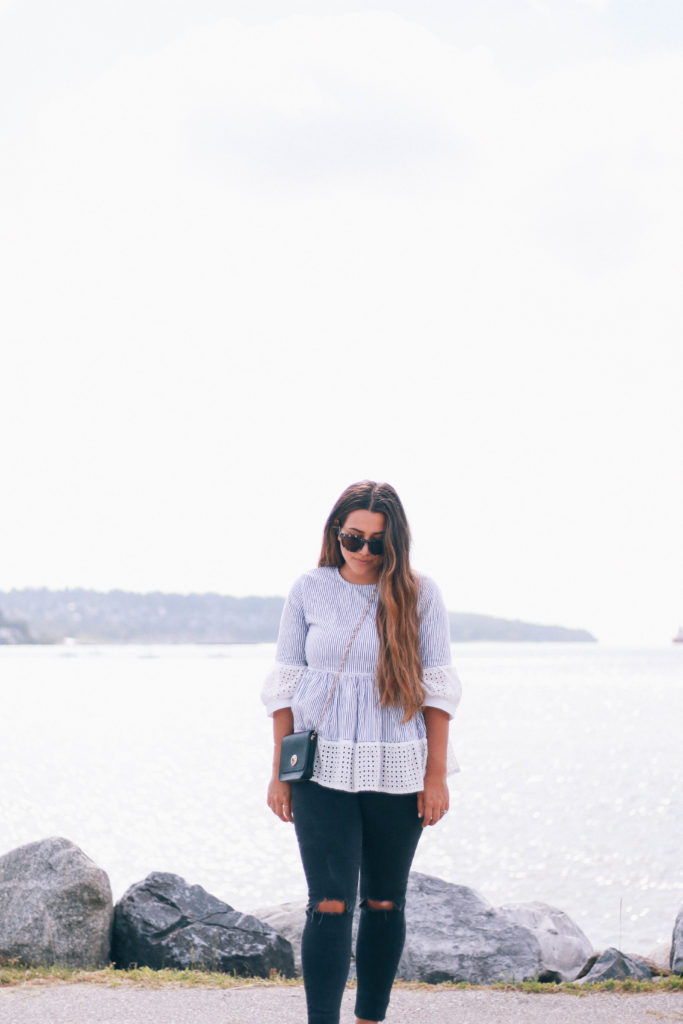 Photos by To Vogue Or Bust
Peplum Blouse from Chicwish
Black Jeans from Mavi
Black Pumps from Ted Baker, similar here
Cross Body Bag from Le Chateau, similar here