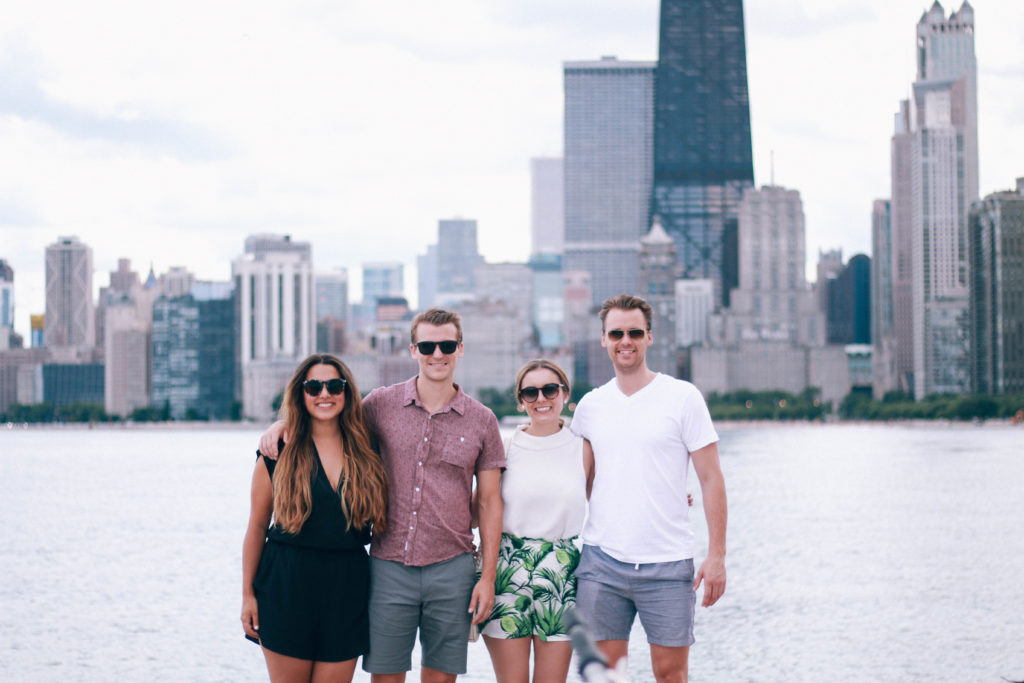 This is the story of our first trip to Chicago, Illinois.
Adam's youngest brother, Ben, and his fiancé Anya were in a long distance relationship for, well, ever.  In fact, it isn't since their Michigan days (M Go Blue!) that they've really been in the same place for an extended period of time. Which, is really crazy when I think about that timeline.  It has been so inspiring watching them stay patient and supportive while they each pursue their dreams.  And after so much waiting, they have finally settled down in the same zip code.  In the same apartment!  Of course we'd still see them when they'd come to Vancouver, or we've met up on family trips over the years, but it wasn't until we were planning Chicago, that Adam and I realized we'd not paid them a real visit for quite a few years.  This trip was bound to be massive amounts of fun.
The flights there were very easy.  We left on a Thursday morning and flew West Jet to Calgary and then on to Chicago, with a late afternoon arrival.  And since it was rush hour, Ben suggested we take the train into the city, which was a hundred percent the better option.  We got off at a downtown stop and caught a ten minute cab to their Streeterville apartment.  Which is probably the most amazing apartment I've ever step foot in!  Their elevator doesn't even have buttons, you just scan your fob and it takes you to your floor…technology is crazy!  Anya has gorgeous design taste, so the place was immaculately decorated and the golden evening light was pouring through the floor to ceiling window, and just when I thought it was all too perfect, the doorbell rang and it was a freaking Lou Malnatis Pizza delivery guy!  Those 2 had the genius idea for us to enjoy our inaugural deep dish pizza experience on the patio, with bubbly to celebrate us all finally hanging out in Chicago.  Talk about a warm welcome!  Anya ordered a thin crust as well, and I have to say that I actually preferred it.  I am happy we tried deep dish though, wouldn't have been the same otherwise.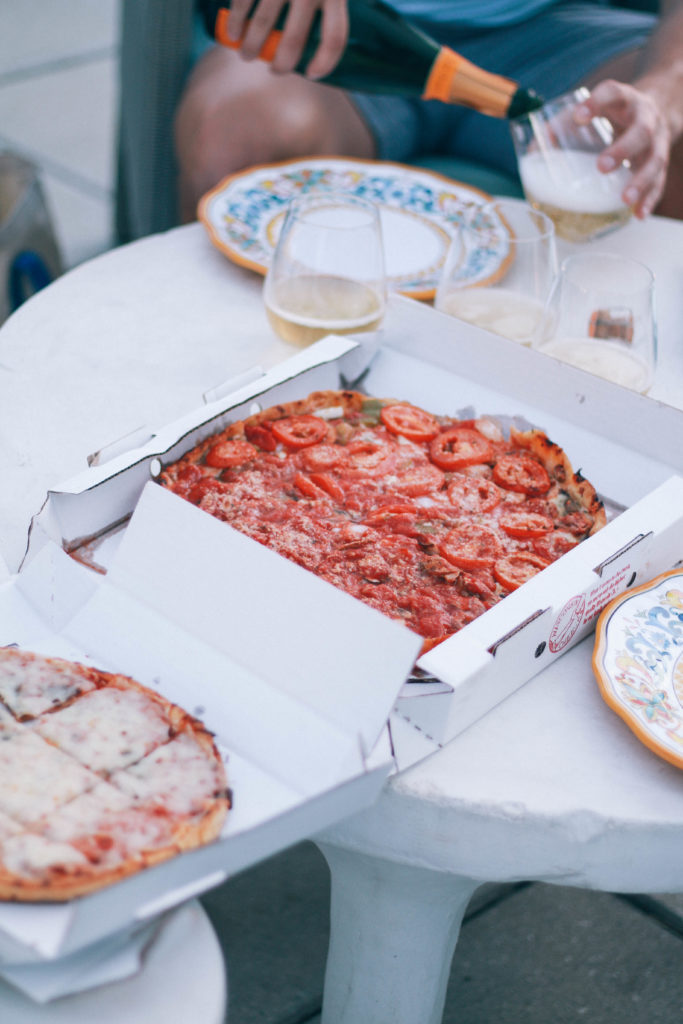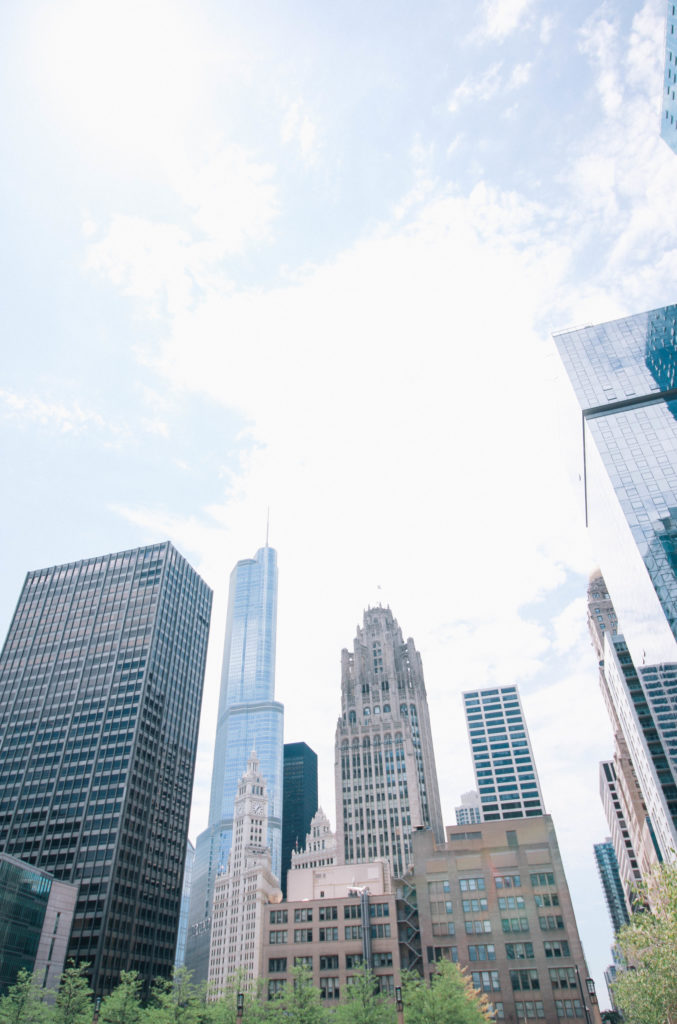 The next morning, we slowly emerged from our delightful post flying slumber and started getting ready.  I was showered and almost done my makeup, when a wave of nausea struck.  It was odd, but I applied my mascara and decided to go sit down and have some water.  Well, that didn't stay down and I was now getting ill, extremely overheated, and paralyzed by a killer headache.  I tried to fight through it, but eventually faced the fact that the only way to salvage the day was to go back to sleep and send Adam off to sight see on his own.  Sadly, this isn't the first time this has happened to me.  I can recall at least 5 other instances of plane anxiety tension headache turning into major system issues upon arrival.  The most notable being my Vegas stagette where I was in so much pain and overcome with nausea that I couldn't keep anything down.  Which meant that eating and drinking wasn't an option…at my own bachelorette.  I mean, talk about terrible timing.  Anyway, what I'm trying to say is that I'd learned my lesson and knew that rest and avoiding food and booze was the only way to potentially feel better and not have a repeat of Vegas.  Does this happen to anyone else while travelling?   It's simply the worst.
Adam opted for a lakefront cycle while I had the most glorious rest.  When he returned from his bike ride and woke me up, I could already tell that I felt a bit better.  Weak, but better.  We then decided to get out of the apartment and walk around a bit.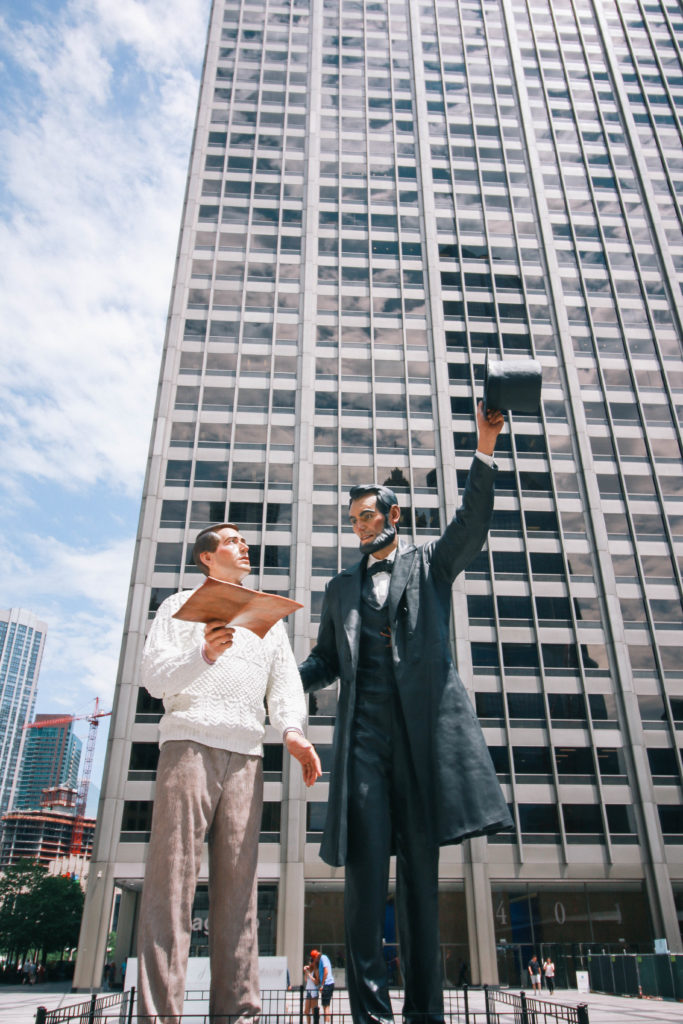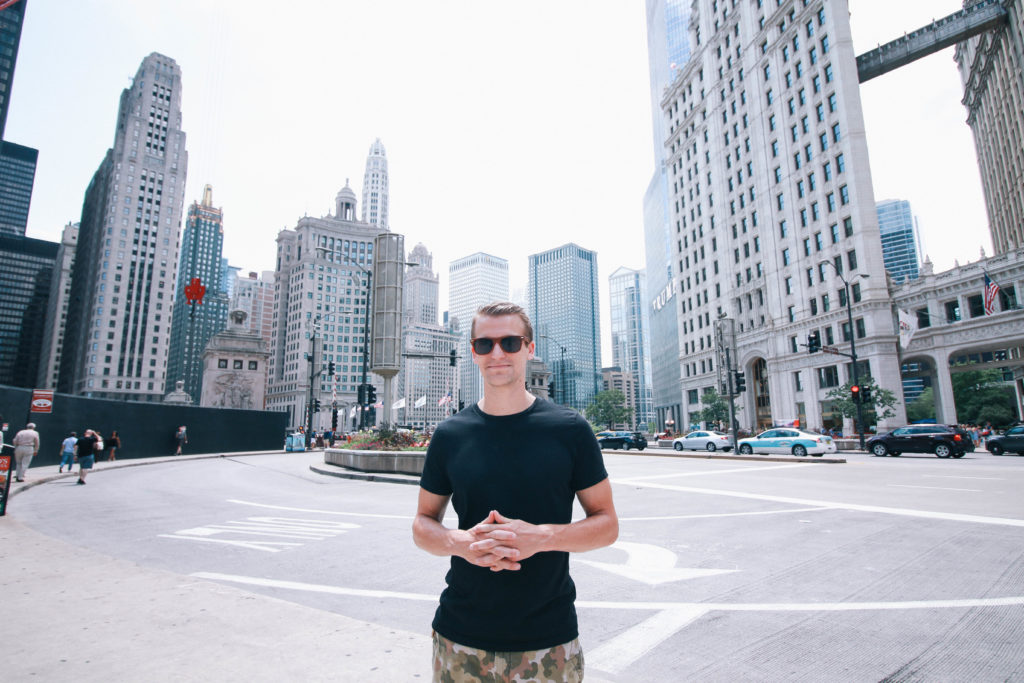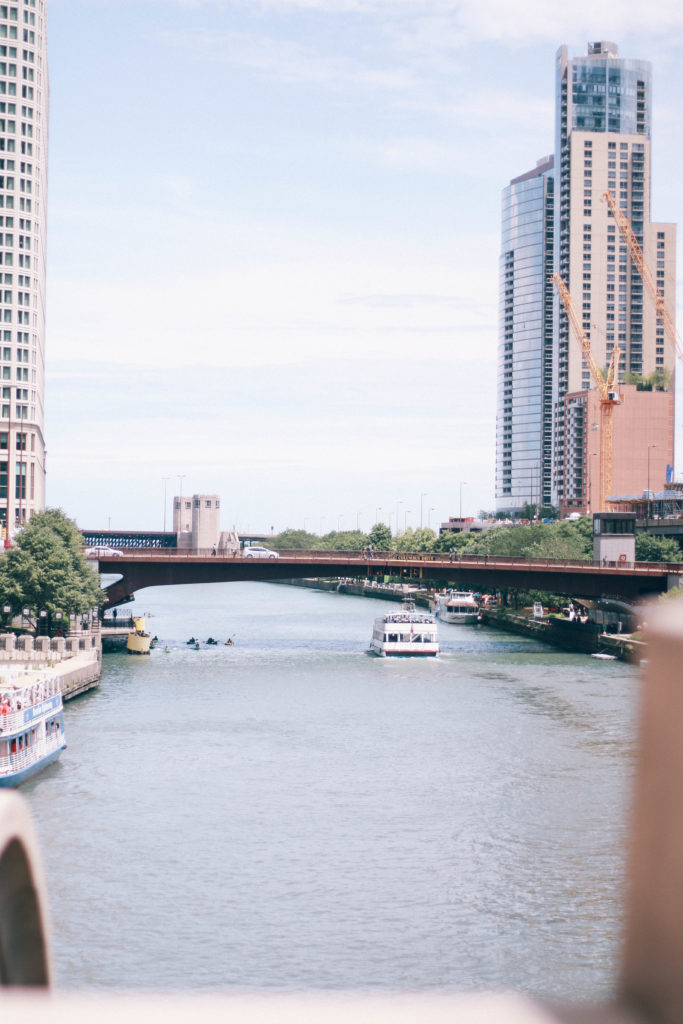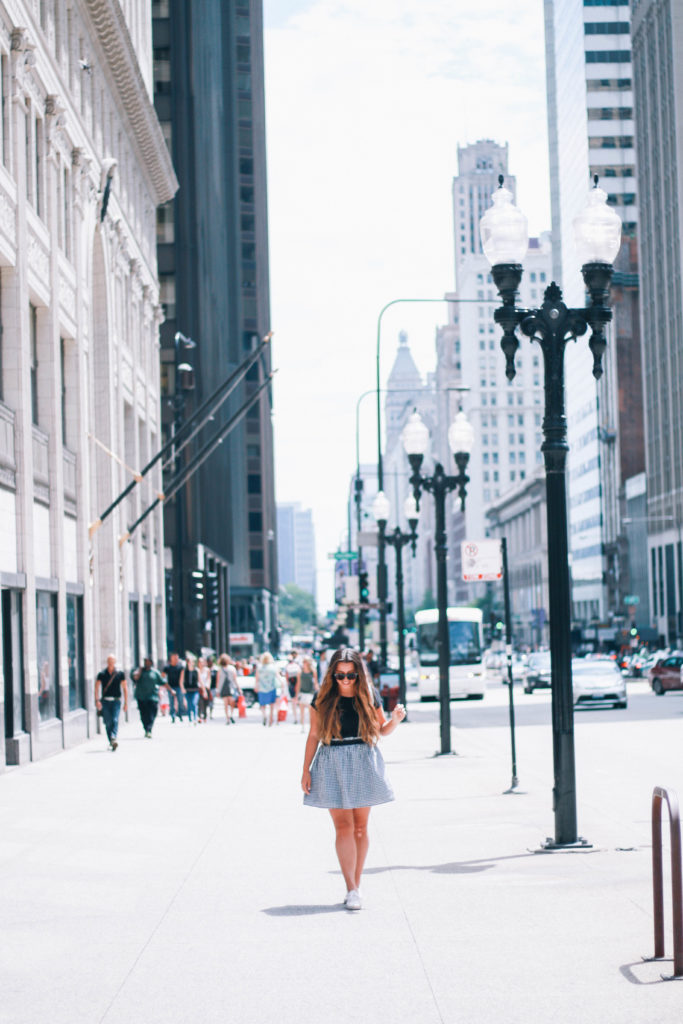 If you've ever spent time in Chicago in the summer, you know what kind of heat greeted us outside.  Plus, I was already running warm, so it wasn't the easiest or most relaxing stroll.  Thank goodness for air conditioned stores that you can stand in for a few minutes of relief.  It felt good to get outside though, and I'm glad I felt well enough for our BIG Friday night group plans, which included…
A dinner at Girl & The Goat
As soon as we confirmed our visit, Ben called Girl & The Goat to get a dinner reservation during our stay.  It was a few months in advance, and the ONLY time slot he could get was Friday at 5 pm.  And so, we took it!  The food was incredible, and share plates was the perfect way for me to avoid upsetting my tummy any more.  I'm so glad we were able to go there while we were in town!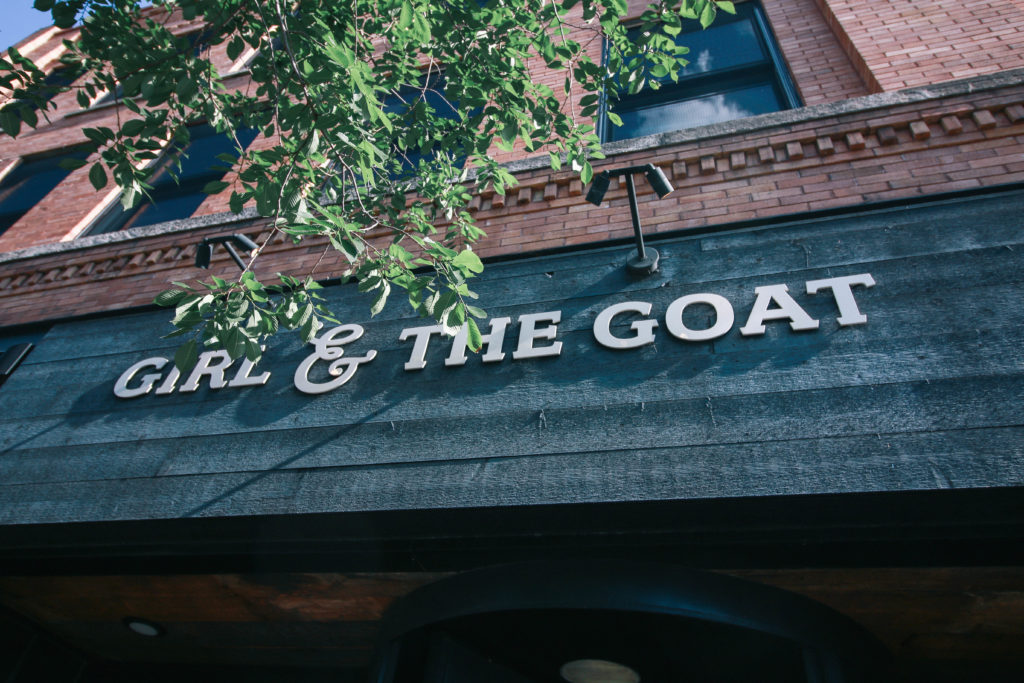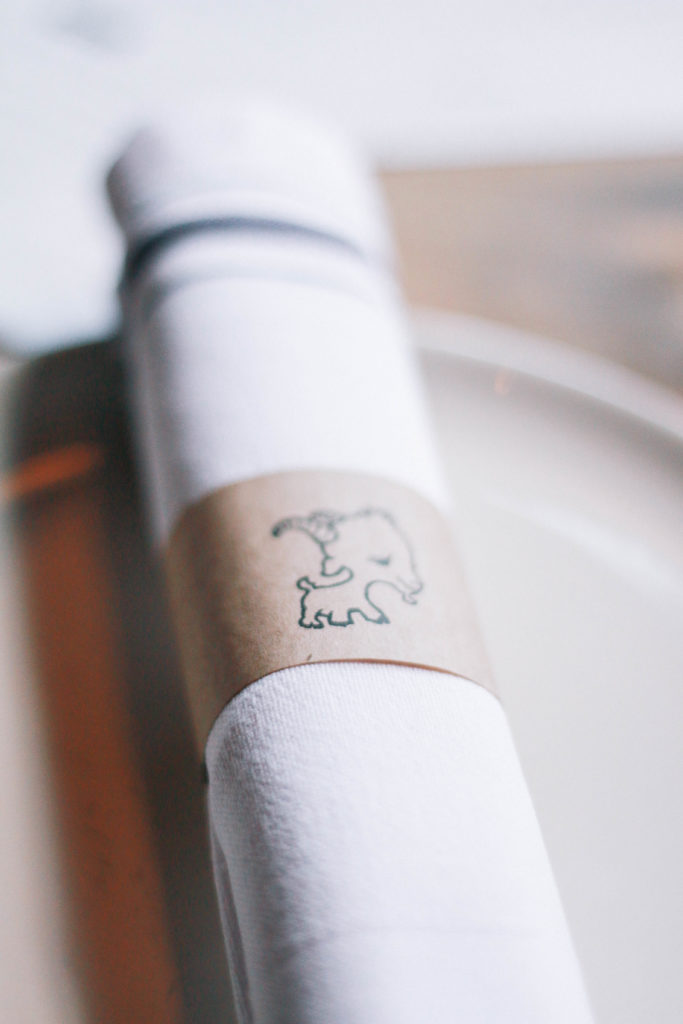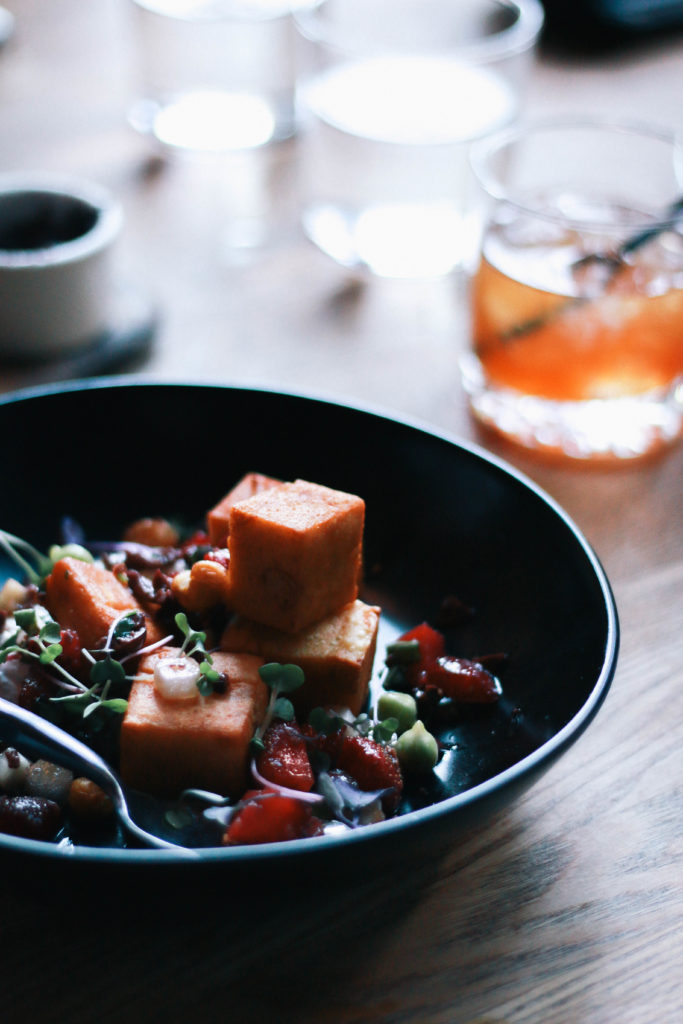 Drinks At Saint Lou's Assembly
Not really knowing the area, and with a few hours to kill, we asked our server at Girl & The Goat if she had any recommendations for a really good cocktail nearby.  Without hesitation, she said we had to check out Money Gun down the street.  The entrance was through some diner (and we got carded which was awesome LOL) but when we walked in, the funky dark interior just wasn't the summer vibe we were hoping for.  We went back into the strange diner and inquired about the patio we could see past the booths.  The hostess told us it was an outdoor bar and it turned out to be Saint Lou's Assembly.  Being Friday night, it was packed with people having post workweek beverages and it was just a really fun crowd.  Ben and Anya said they've been back a few times this summer, so we're really glad to have stumbled upon such a city gem!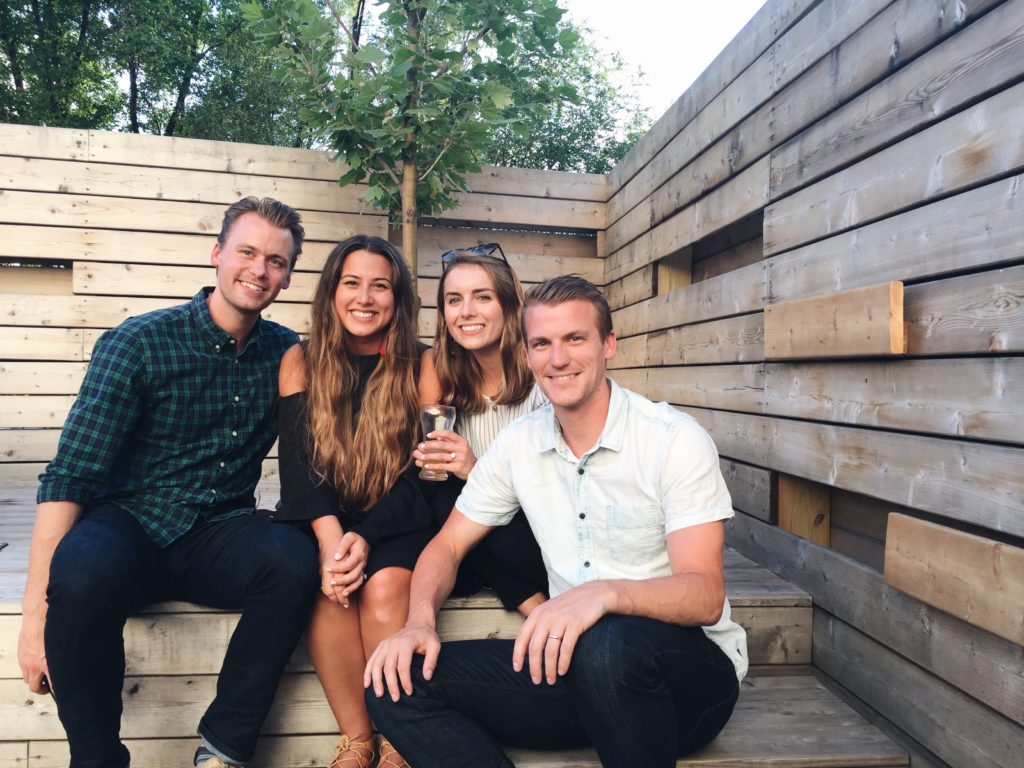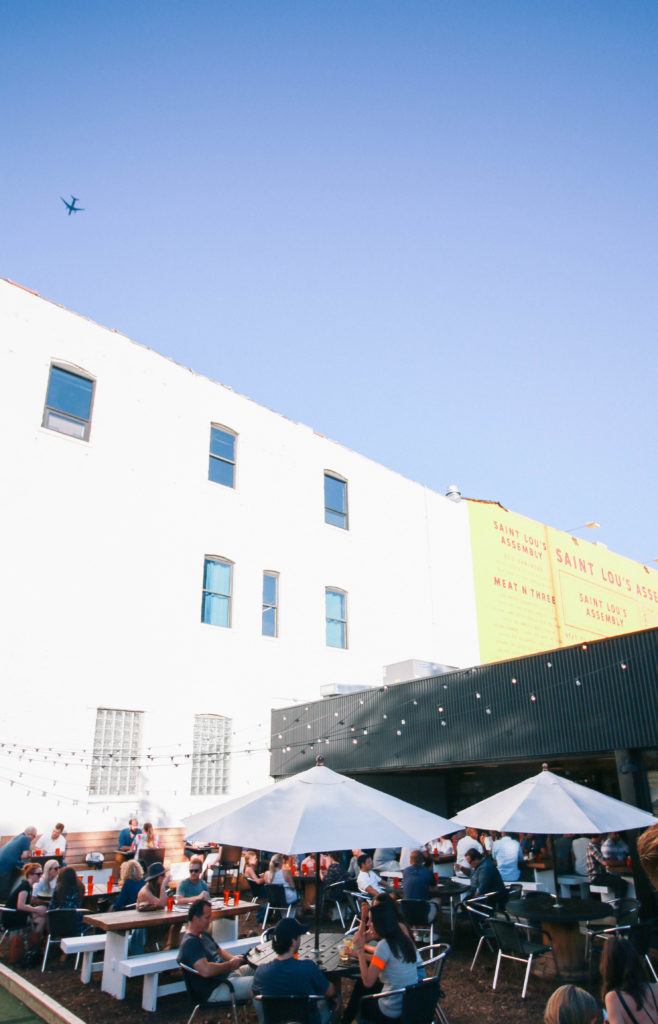 A Show at The Second City
I'd first heard about Second City in Amy Poehler's book, 'Yes, Please'.  The comedy club's alumni include greats like John Candy, Chris Farley, Tina Fey, Mike Meyers, Jordan Peele, Bill Murray, Steve Carell, and many, many more.  The show was a mix of skits and improv and just absolutely hilarious. All of the performers were crazy talented, I wouldn't be surprised if a few ended up on SNL.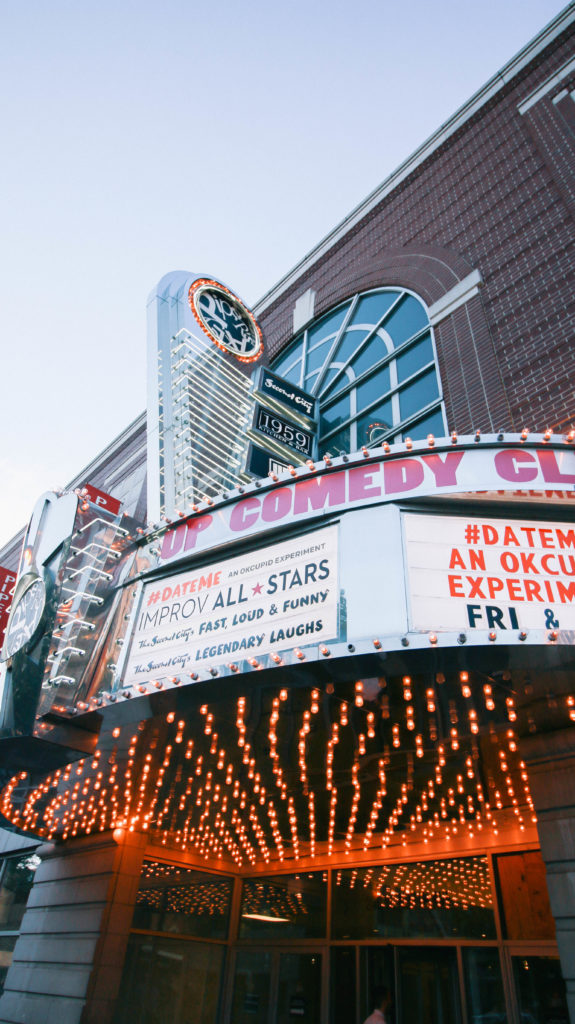 Drinks on the LondonHouse Rooftop
Besides high rises, Chicago also knows how to make a damn good rooftop bar.  The views at LondonHouse were spectacular.  The atmosphere was really fun and the people watching was just as exciting as the city views.  We did wait in a long lineup to get in, but the queue moved quite quickly.  After a few laps around, my headache dictated my expiry, Cinderally styles, at exactly 10:30 PM.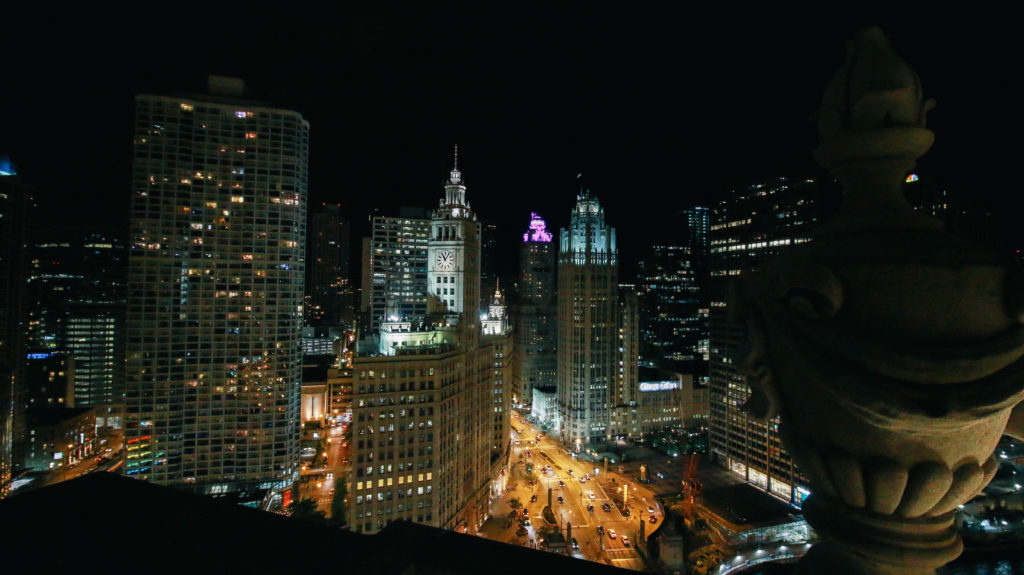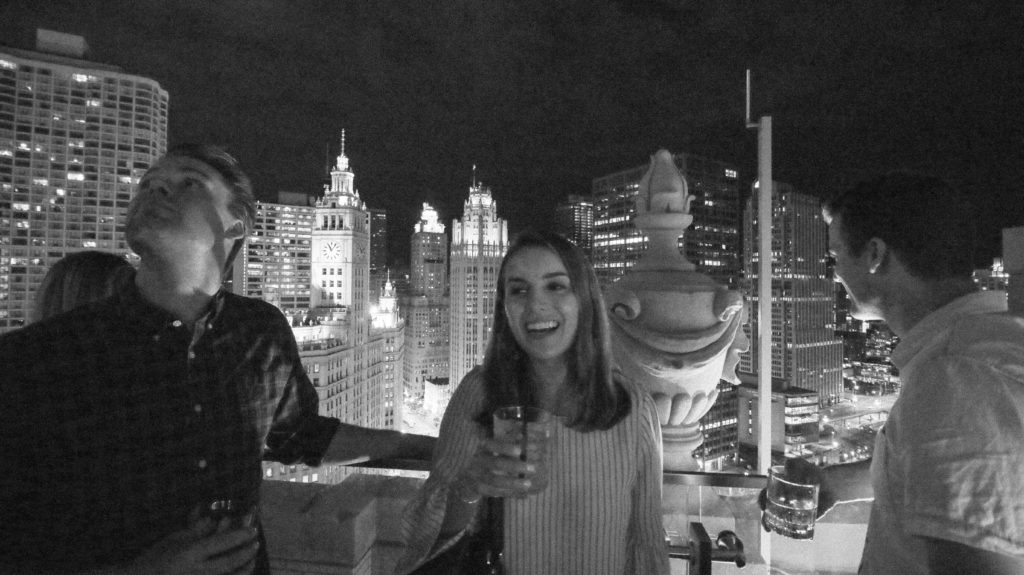 The next morning was exciting because Ben had orchestrated a surprise engagement party for Anya.  Which, was really special for us too, because as out of town guests, you don't normally get to meet and hang out with someone's closest friends and family during such a short visit.  The plan was largely on me, as for some reason the "story" was that we had a super early reservation at a vegetarian restaurant I really wanted to try.  Anya is very easy going though, so she really didn't question this, even when the boys kept bringing it up at our Summer House brunch.  Finally at one point, when Anya left the table, I had to tell Ben and Adam to cool the jets on all the 4 PM reservation talk or else she WAS going to get suspicious!  Haha.  Thankfully they relaxed a little and we did some shopping after brunch (which is when I found that darling jumpsuit) and got some donuts at Stan's.  Gave us just enough time to get ready for the big surprise.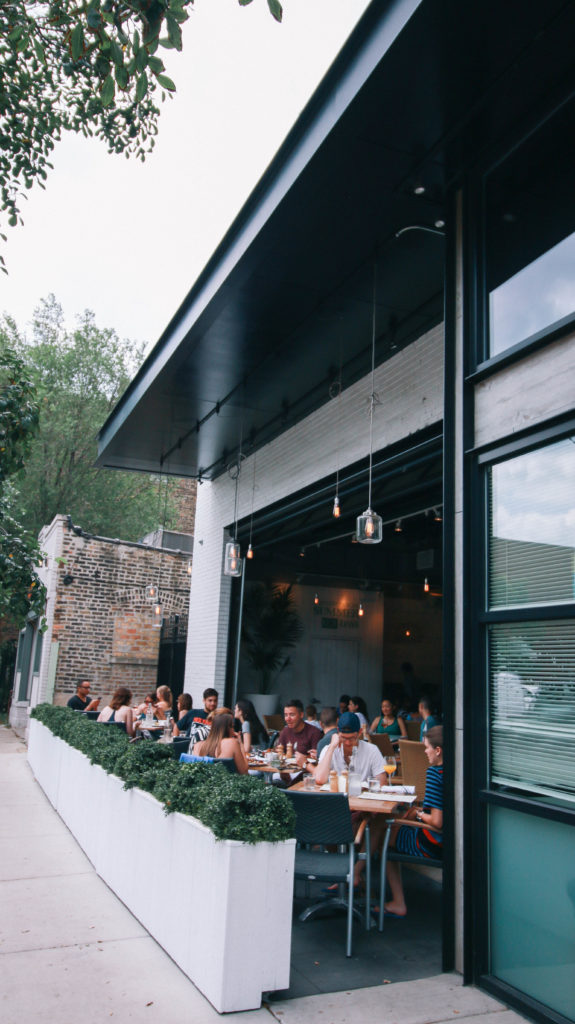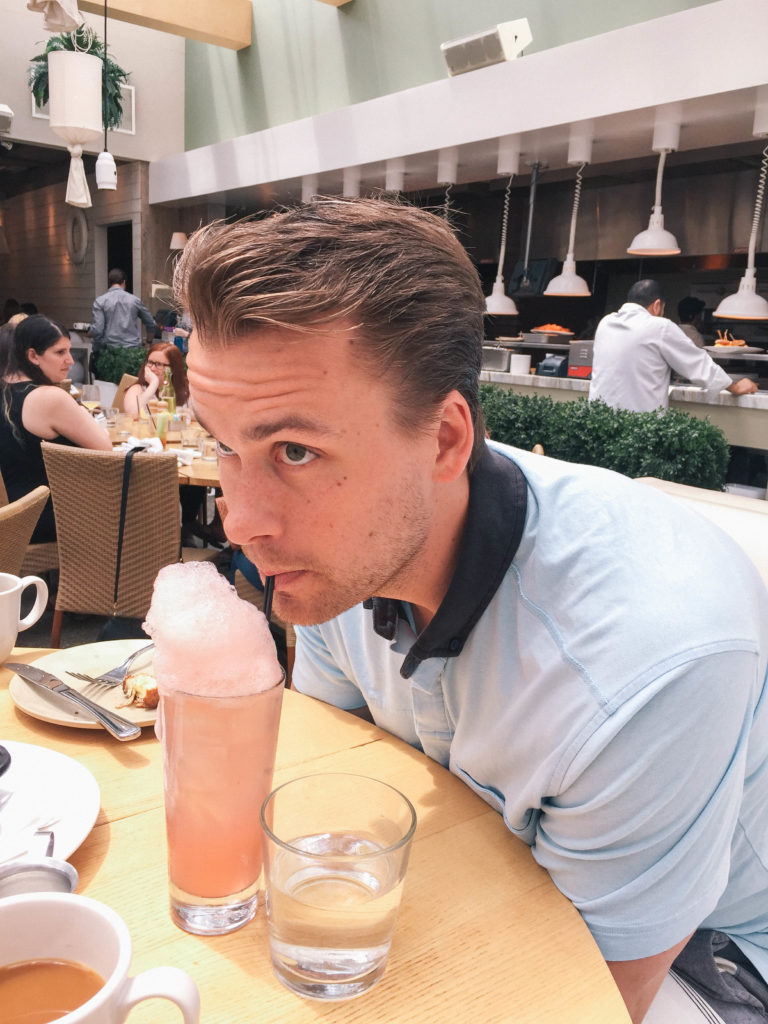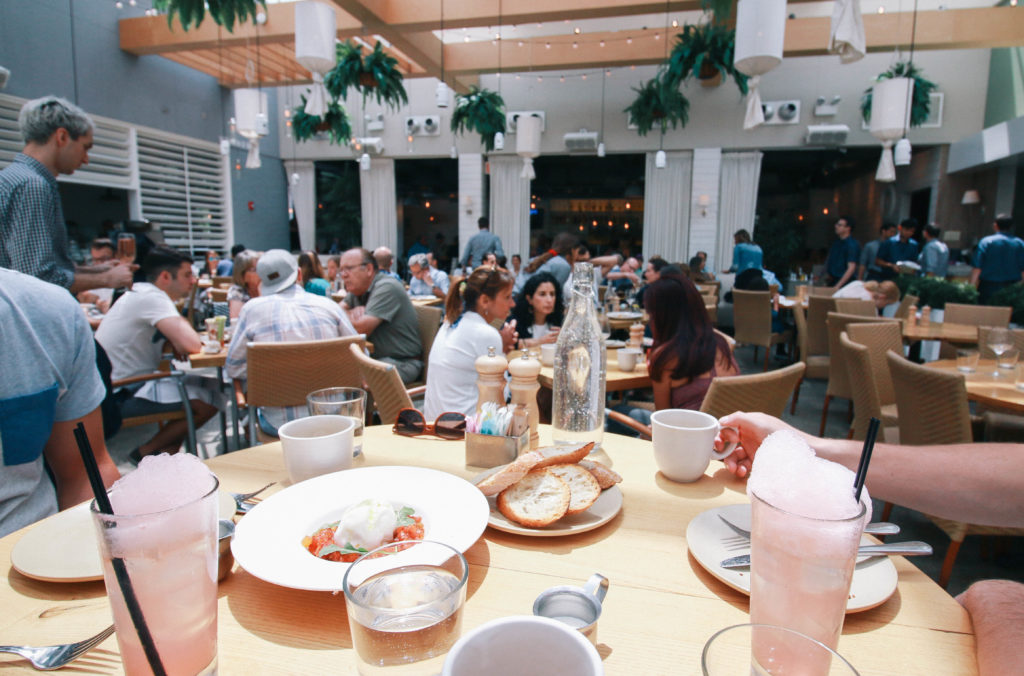 Ohhhh, I so wish that I had photos from our entrance into the restaurant.  I got a little iPhone video, but we obviously arrived with the engaged couple, so it's not the best view.  Regardless of the documentation, it was awesome.  Anya had NO idea, despite how silent our car ride there was, and then how random and rambling Adam became in the moments before, asking Anya bizarre questions at the hostess table like, "So, tell me about when your family moved here from Poland." LOL.  After the initial shock, it was all happiness and cheer and bubbly.  There were two very surprise guests who flew in from Manhattan for the dinner, and most of Anya's family.  I really cannot even describe to you how special it was to be there for the party and to meet those who are so near and dear to them.  Everyone was really sweet and inclusive, we had such a great meal at Cafe Ba Ba Reeba and then made our way back to their rooftop patio for more drinks.
The weather took a turn towards rain as we were hanging out poolside, so we ended up heading over to The Peninsula.  Anya's Uncle loves it there and had us all try his favourite cocktail that has pear and cayenne.  It's a striking combination, but we all loved it and had a few rounds.   The night was such a blast and one of my favourite parts was the after party back at the apartment.  The four of us had a late night cheese and crackers feast and told ridiculous stories from the night and laughed until we cried.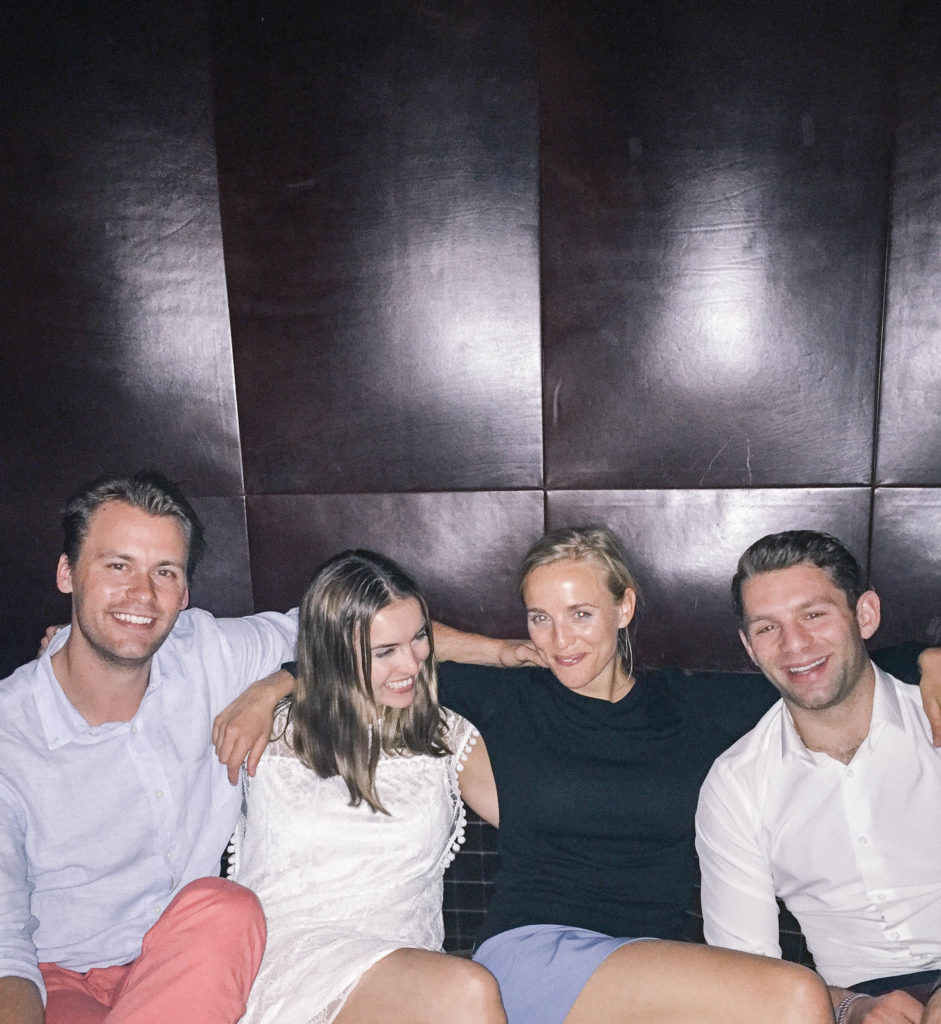 We packed so much into this particular day, it's tough to recall everything.  I remember that it was obviously  a bit of a groggy morning.  The sun was shining again, but the wind was blowing at incredible speed, which I simply loved for a place they call the Windy City.  Our first reservation was for a patio brunch at Blue Door Kitchen, which we quite enjoyed.  The neighbourhood we were in was so picturesque, we ended up wandering around and pretending to pick out which gorgeous house we'd want to live in.  We made our way towards the water and walked the Lakefront Trail from Castaways. There was a postcard worthy view nearby, and we took a bunch of touristy photos there.  No regrets.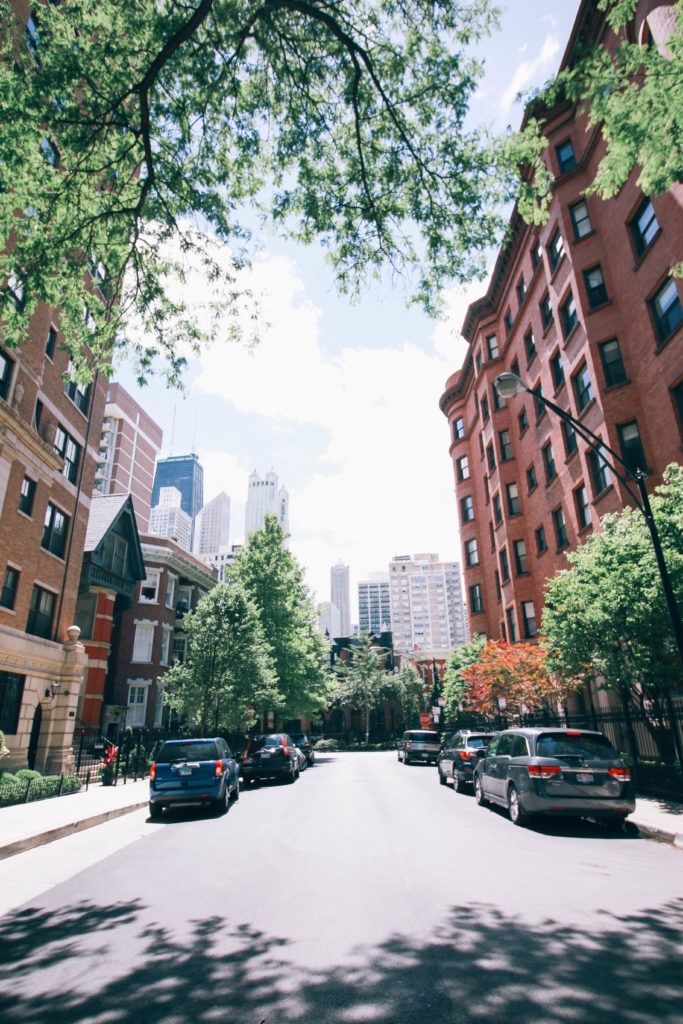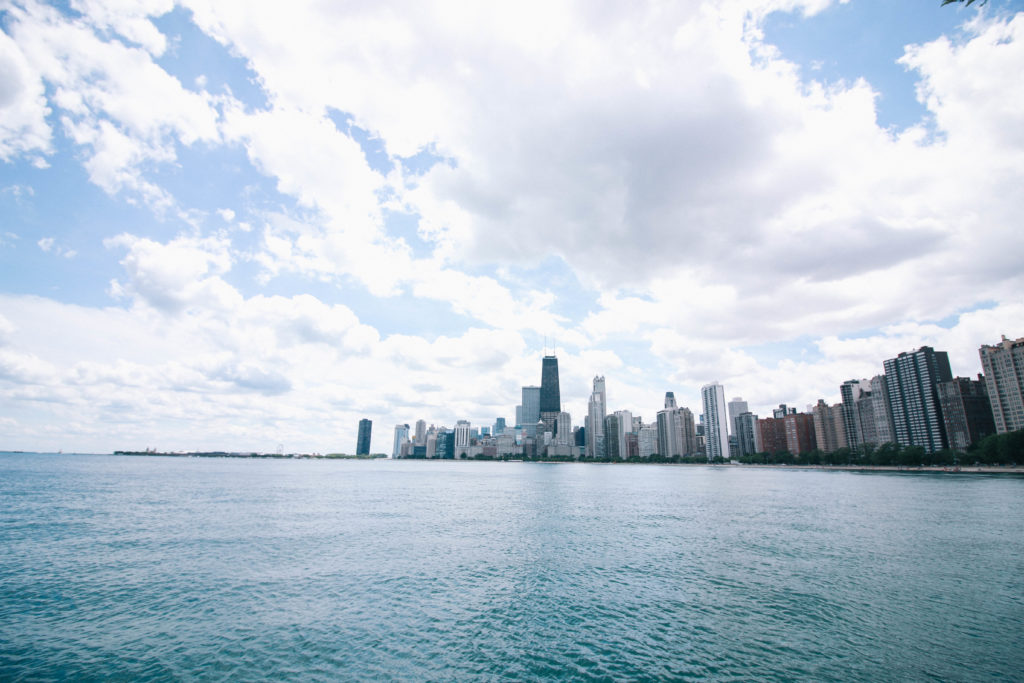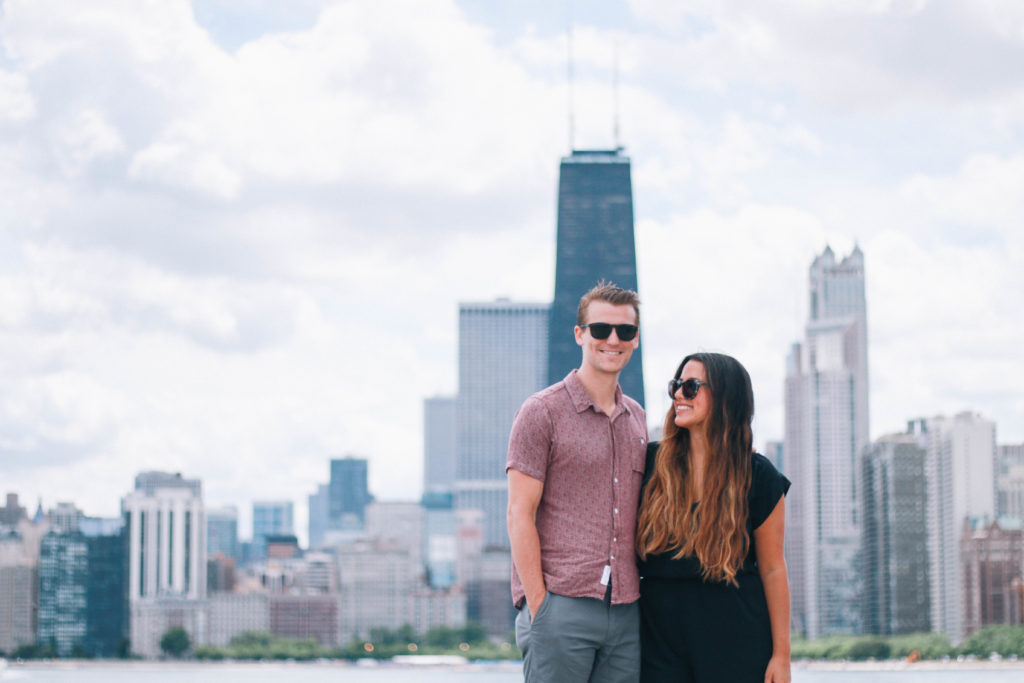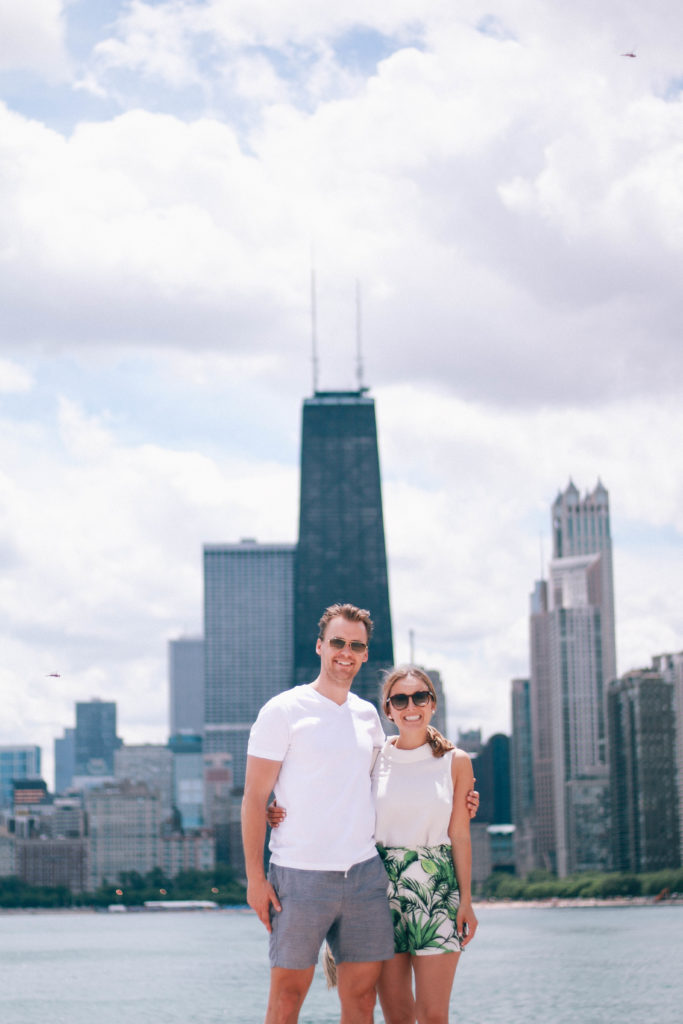 We had a quick, pit stop cool down costume change and embarked on the rest of the waterfront walk towards Millennium Park.  How could we go to Chicago and not see The Bean?!  It was a Sunday, so the crowds were intense, but I'm so happy we went.  The Bean was actually a lot larger than I was expecting!  (That's what she said. Sorry, been watching The Office a ton lately).  Everyone then got Chicago Hot Dogs, and I, a soft pretzel, and we went over to the stage to watch some live music.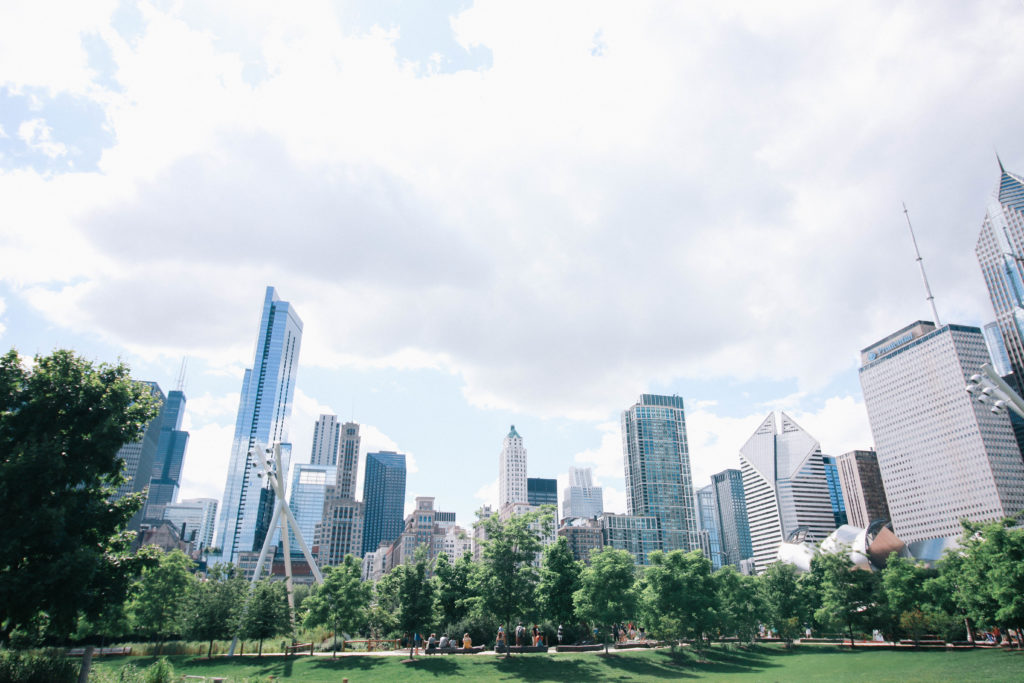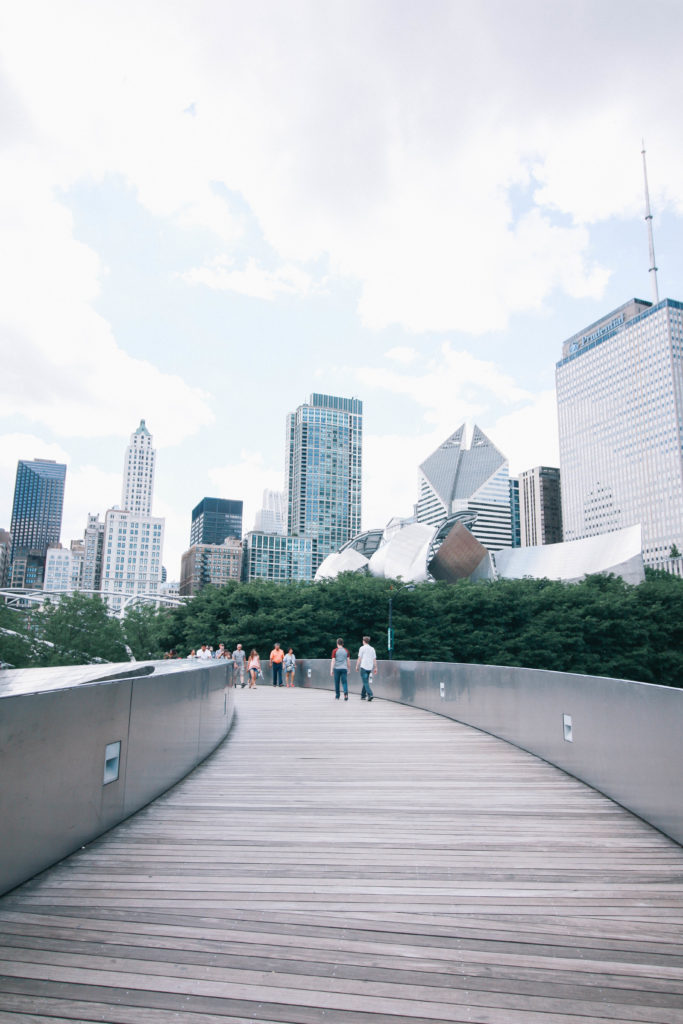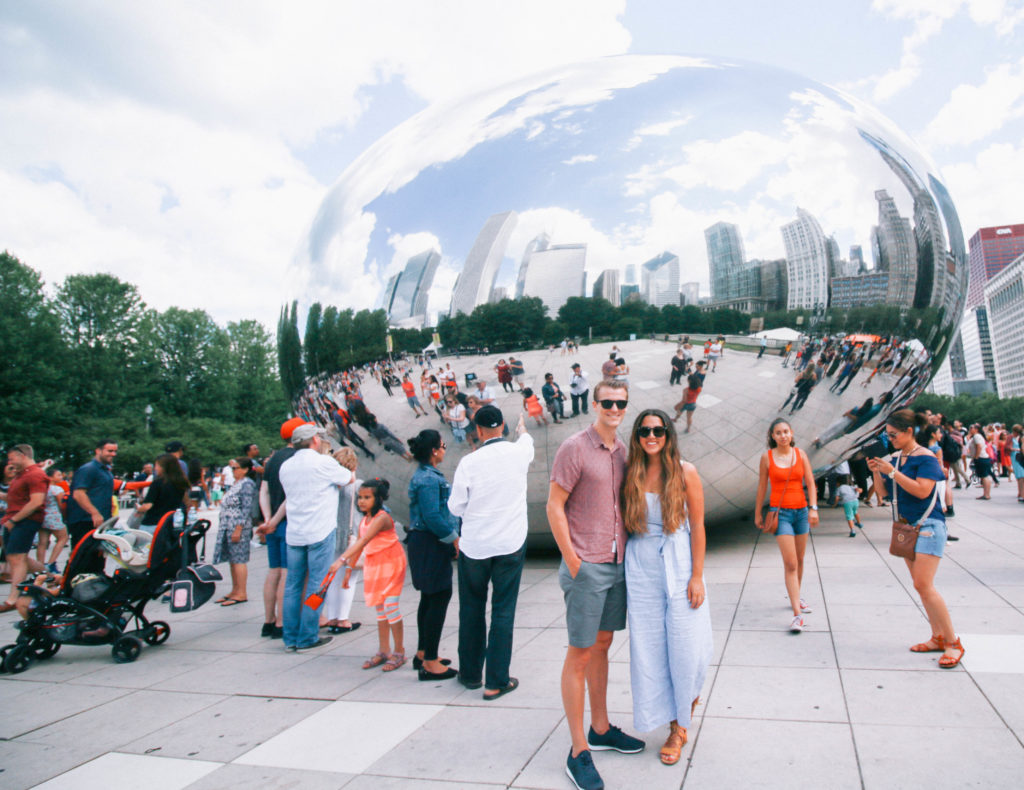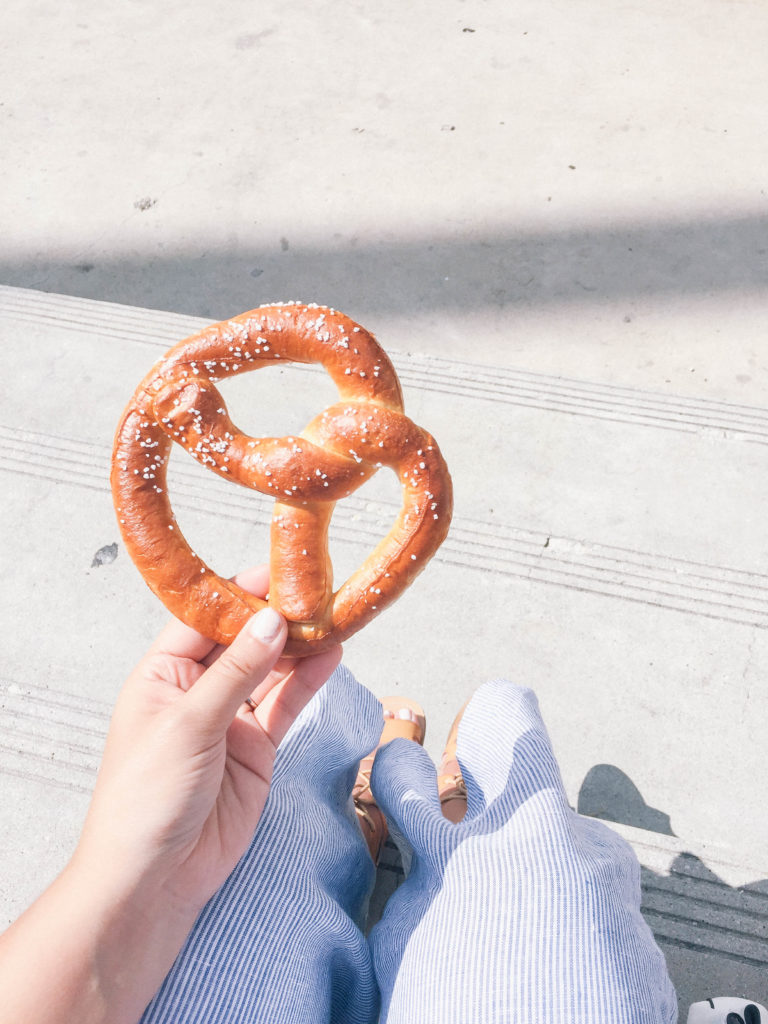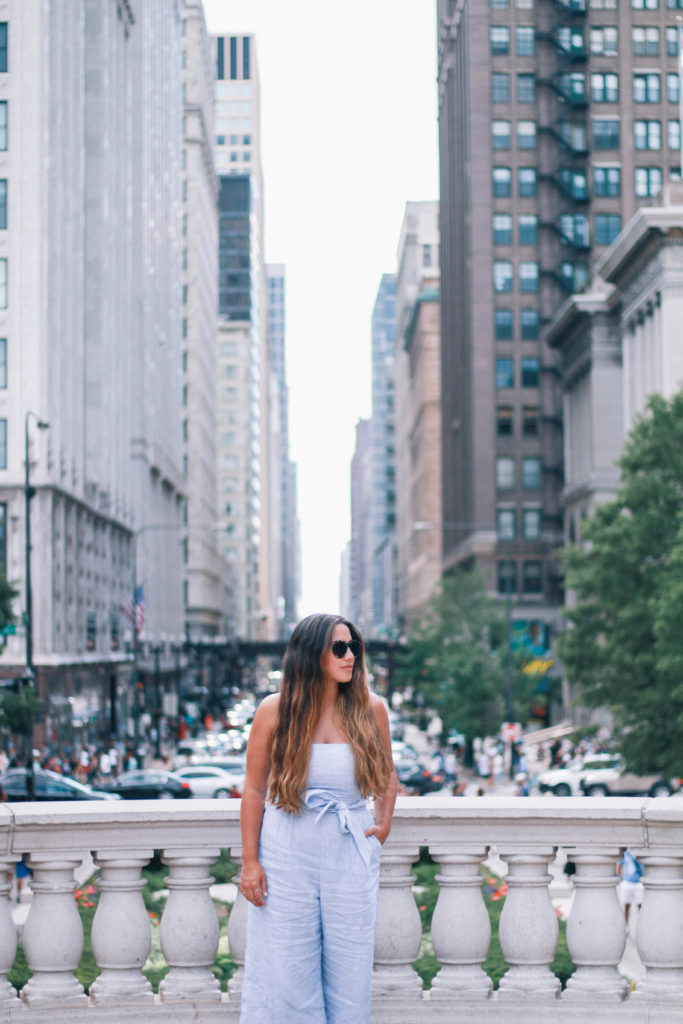 Our farewell dinner was at Fig & Olive, which Ben and Anya used to live near and love for their crostini selection alone.  We sat on the patio, where rain threatened us again, but ended up holding off and giving us a sensational golden hour view.
We were all winding down but pushed on to get to one more location.  It's a bit touristy, but we walked over to The Hancock for one last drink and iconic city views.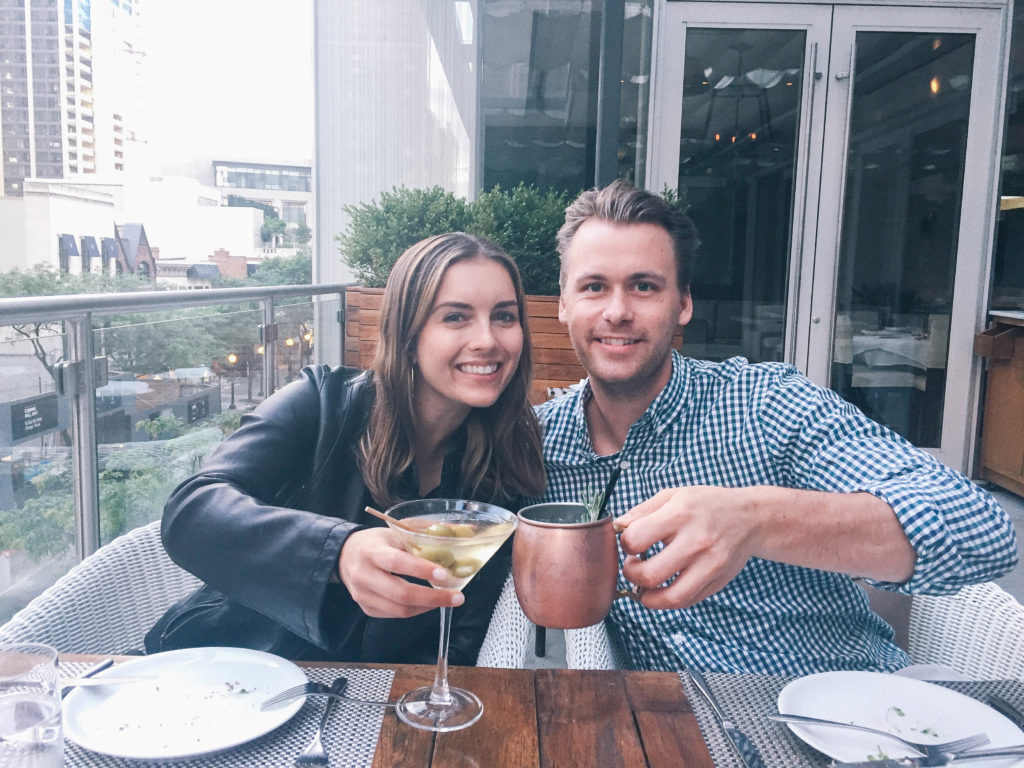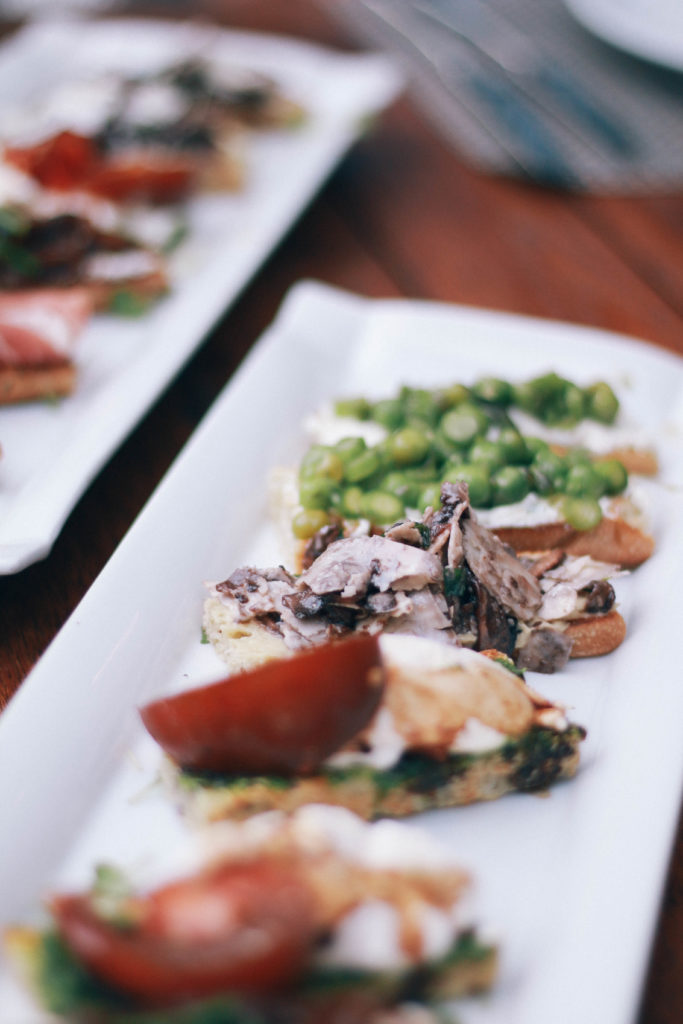 It's a bit backwards, but Adam and I went on an Architectural Boat Tour on our very last day.  It's an activity that I absolutely endorse, but would recommend as one of the firsts on your Chicago itinerary instead.  Gives you insight into the city's history, orients you, and provides SO many fun facts.  After our river cruise, we went back to walk along the water's edge, this time on the River Walk to explore what we'd just learned about by foot.  Then it was time to grab a quick bite and head back to catch the train to the airport!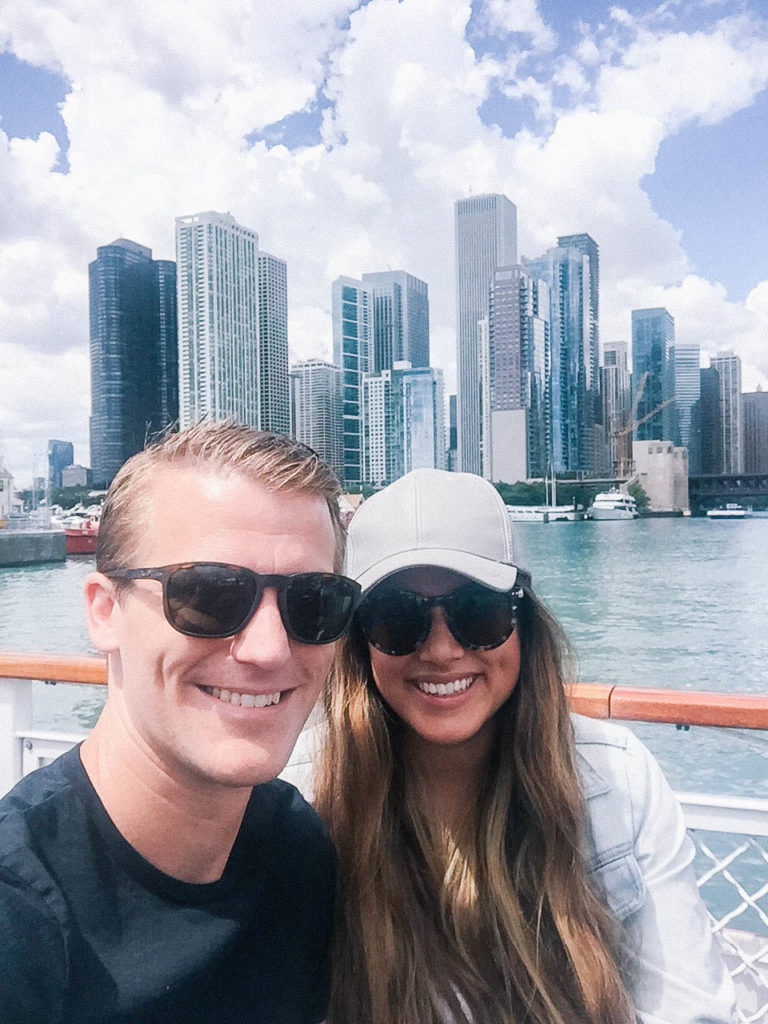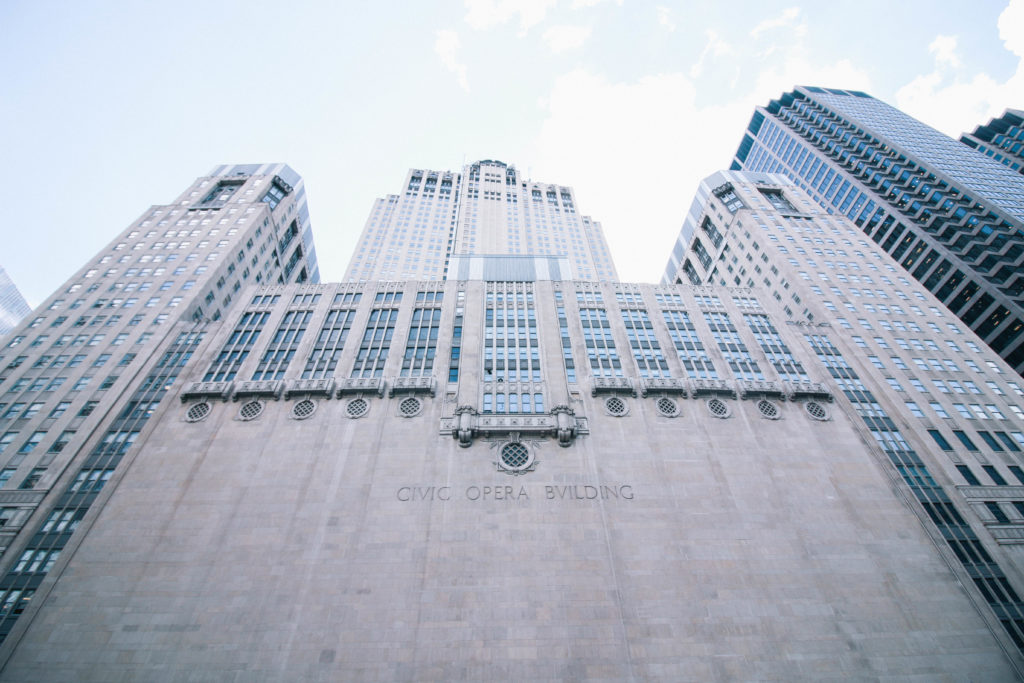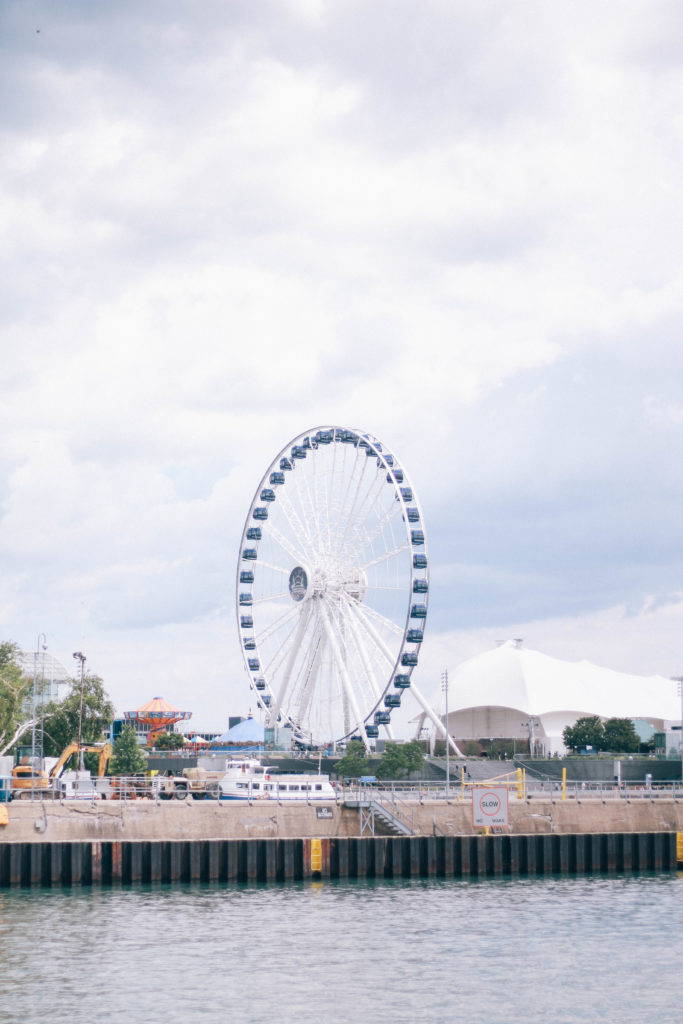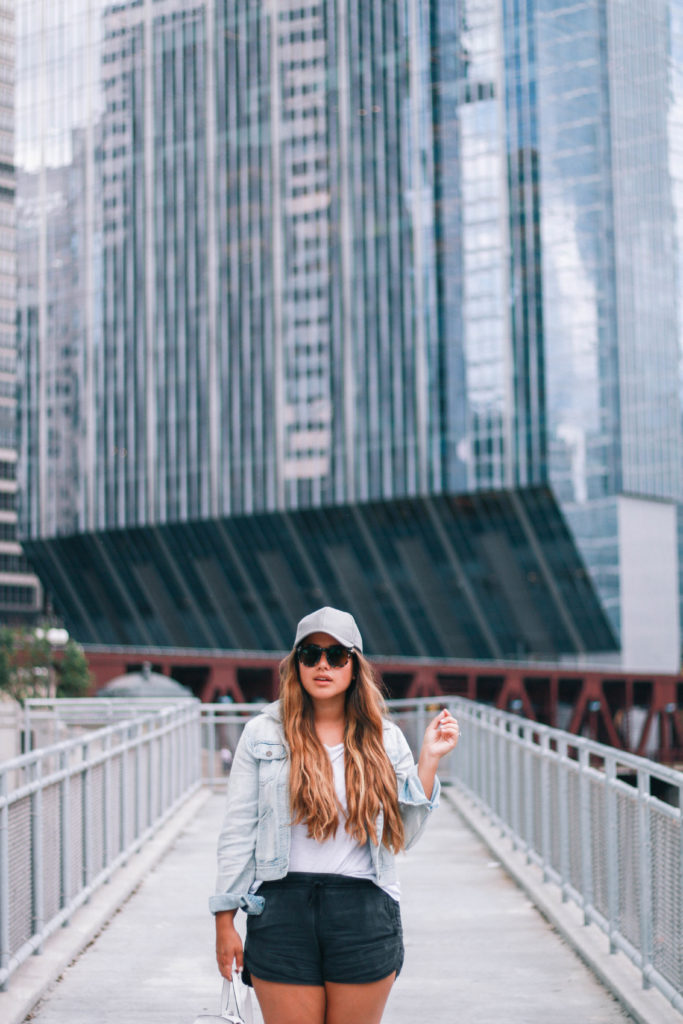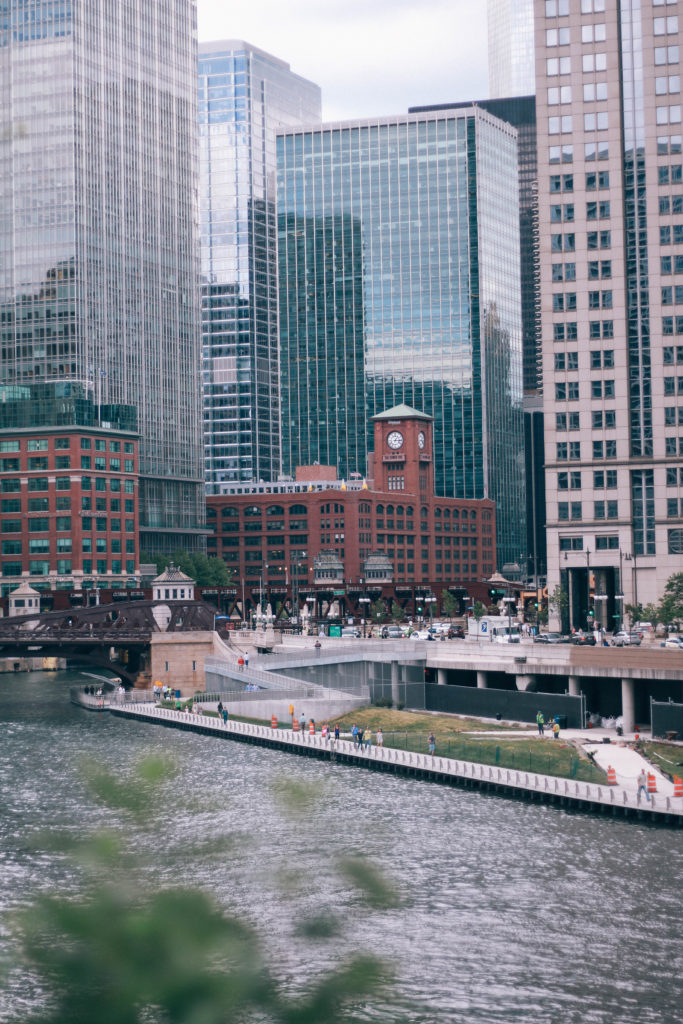 Chicago is an absolute gem and we are already so excited to go back!  Add it to your list of places to travel, if you haven't already.  Even if you don't have a Ben and Anya to visit, I promise you'll fall in love with the city!
Also, if you've made it to the end of this post, you are a rockstar!  It was a lengthy one, but I hope you liked this old school diary style post.