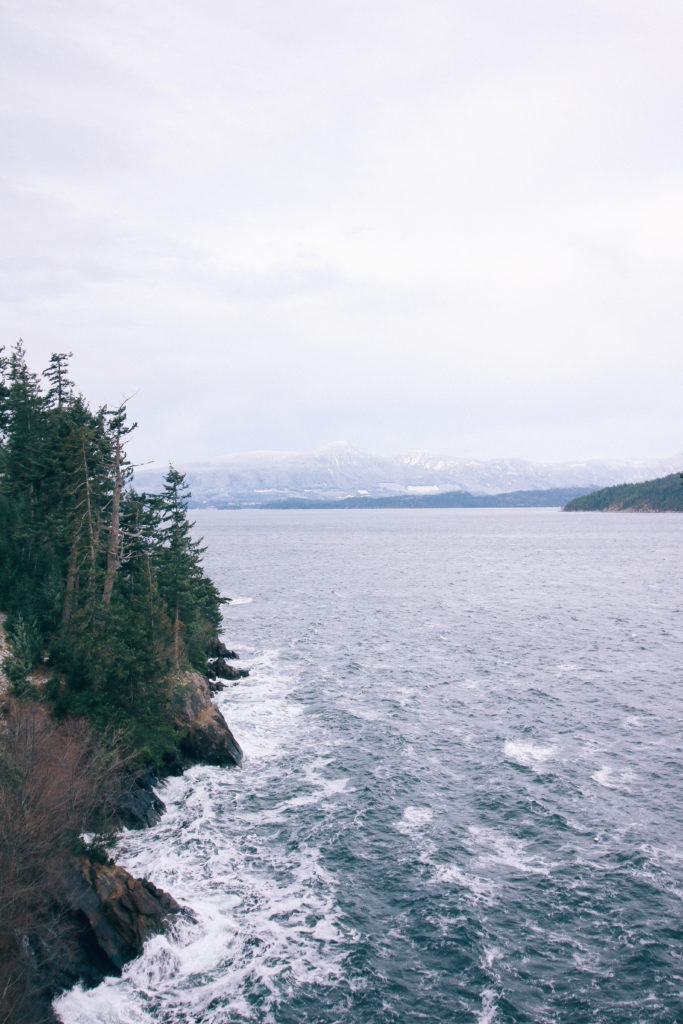 Whenever I've watched one of those movies where a series of silly and exaggerated events takes place over just one night, I always have to point out that, "yeah, that stuff just doesn't happen in real life."  But, I'm here to admit that I was wrong.  In fact, my year started out with one wild overnight Adventures in Babysitting-esque adventure.  Let me start from the beginning.
Our New Year's Eve was a quiet and slightly snowy one.  We met up with some of our friends at their family cabin on Bowen Island.  To give you an idea, Bowen is a small island, just a 20 minute ferry ride from West Vancouver.  There's really just one main road, one main street with shops and a very West Coast island feel.  If you'd like, you can watch my Bowen VLOG to get a better sense (note in the video how outrageously tall all of the trees are).  A real sign of the times (#thisis30), we were there with our friends Tessa and AJ, who have a 5 month old, Pia and Jim, who are expecting their first any day now, their friends who have a 9 month old, and then us with our pup.  We rang in 2017 in our pjs with Cards Against Humanity while the babies slept, laughing at how much life has changed.  Our running hypothetical scenario was about pregnant Pia going into labour on NYE while we were isolated on the island.  A very probable scenario, we compared possible solutions, like doctors and midwives on the island, or a helicopter lift to the hospital.  We all eased Pia and her husband Jim's worries with these options, assuring them that her water likely wasn't going to break anytime soon.
The next morning, I was woken up by Reg launching himself onto the bed and attacking my face with snuggles, as he and Adam returned from their morning walk.  "It's really windy out there today," Adam pointed out, as I desperately tried to fend off our hyper dog.  I hopped out of bed enthusiastically at the notion of a large pot of coffee brewing in the kitchen and followed my boys downstairs.  The cooing of our youngest house mates echoed throughout the recently renovated open concept living area.  The gorgeous oversized floor to ceiling wall of windows showed off that delicious winter morning light, covering the nearby Sunshine Coast in an almost reflective golden light.  I grabbed my camera and decided to step outside, hoping to capture the stunning view for the gram.  I'd barely turned the door handle, when it went flying open, nearly blowing me and the door away.  I hesitated, thinking that maybe without shoes or a coat on, being outside in this wind wasn't the best idea, but of course decided to just be quick.  When I stepped back in, Adam turned to me and said, "Reggie won't eat his breakfast.  I wonder if he's not feeling well."  I looked down at that scruffy little pup and pointlessly asked him what was wrong.  You could hear his stomach gurgling and we chalked it up to be a sore tummy.
Everyone had a leisurely morning, and we started making breakfast around 10.  Someone pointed out that since it was a holiday, the ferry times were noon and 3:10 pm and we all agreed that the later one was our best bet since we were mid cooking and still had to tidy the cabin.  Reggie kept pacing around, stopping in the oddest spots to stand super straight, tail between his legs, then he'd lay down somewhere, only to become restless again.  "Maybe something bad is going to happen," AJ declared, "dogs know these things.  People say that their dogs act strange before earthquakes and stuff." We all looked at each other and agreed, but shrugged it off, saying that he probably just ate something weird.
As we were cleaning the place, I was overcome with anxiety, and noticed that Adam was as well.  We just couldn't figure out why we were so nervous about catching the 3:10 ferry home and decided together that we should leave extra early to ensure we got on the boat.  We loaded our vehicle, helped tidy around, and then awkwardly left in a hurry before our friends had loaded their kids into the cars.  Our drive to the ferry terminal from the cabin is always a winding one, but there were tons of extra obstacles on this particular afternoon.  We had to go extra slow to swerve and avoid oversized branches and other debris that littered the road, as the huge trees exaggeratedly swayed from side to side above us.