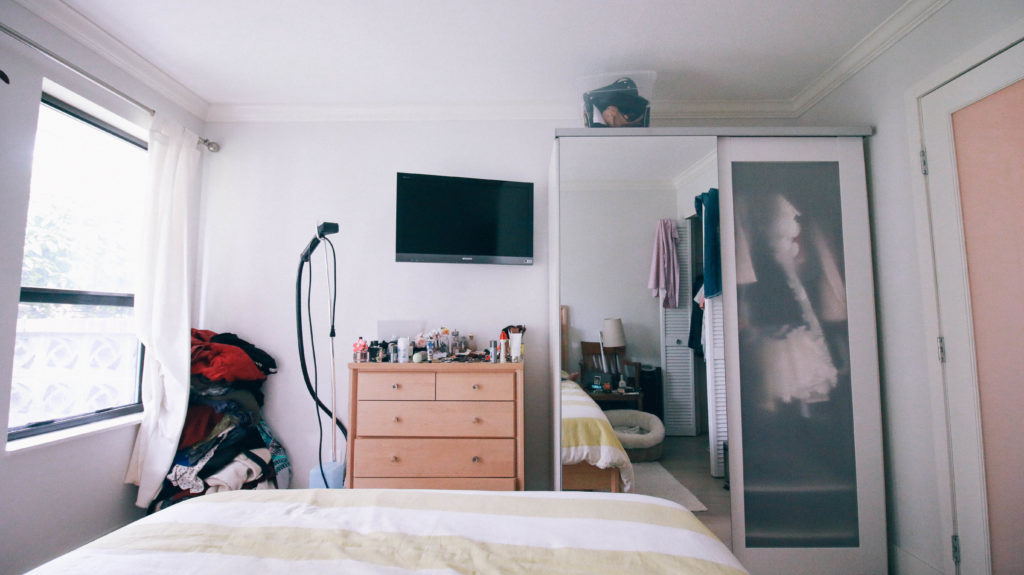 Our bedroom has been in desperate need of a makeover from the very beginning.  When I moved in with Adam, we sold of his Ikea bedroom set and brought in mine.  A bed and 2 dressers that, at the time of purchase, my parents threatened "I had to keep for the rest of my life"  if he was going to spend that kind of money.  I think I took their words a bit too literally.  The makeshift wire shelf over top of a single bar closet system is the bane of my existence.  The amount of wasted space in there is astonishing.  As part of the tornado of clutter I brought into Adam's life, we purchased an Ikea system in an attempt to contain my wardrobe.  Surprisingly, it was not enough space.  I usually keep a pile of clothing on my side of the bed instead.
Turns out, bringing in these mismatched oversized furniture pieces began my hatred for the room.  Nothing is symmetrical.  Adam's "nightstand" is a chair with clutter on it.  I don't even have one, I just open a drawer to the tall dresser and place my phone on it.  We lay in bed to face a mounted tv, that, when we moved in together, my dad insisted "was a necessity if we were to have a successful relationship".  We've used it maybe 4 times total.  We're lacking storage.  Nothing matches.  We never even open the curtains to let daylight in.  Our bedroom looks like a sad, pet-friendly dorm room.  The worst part?  I moved in 6 years ago.  We have lived like this for over 6 years.
As the housing market in Vancouver has gone bananas, we've decided to stay in our 700 square feet and make improvements.  So, following our second apartment flood, which gifted us with beautiful new floors, we have slowly but surely been updating the rest of our space.  It has been such a fun project for me, but when it came to our bedroom, I was stuck.
We saved up some money and enlisted the help of an interior designer.  It has been the best decision we've made with our apartment so far.  The amazing team at Amanda Hamilton Interior Design has been such a joy to work with and has left me wondering why we didn't just ask for help sooner.