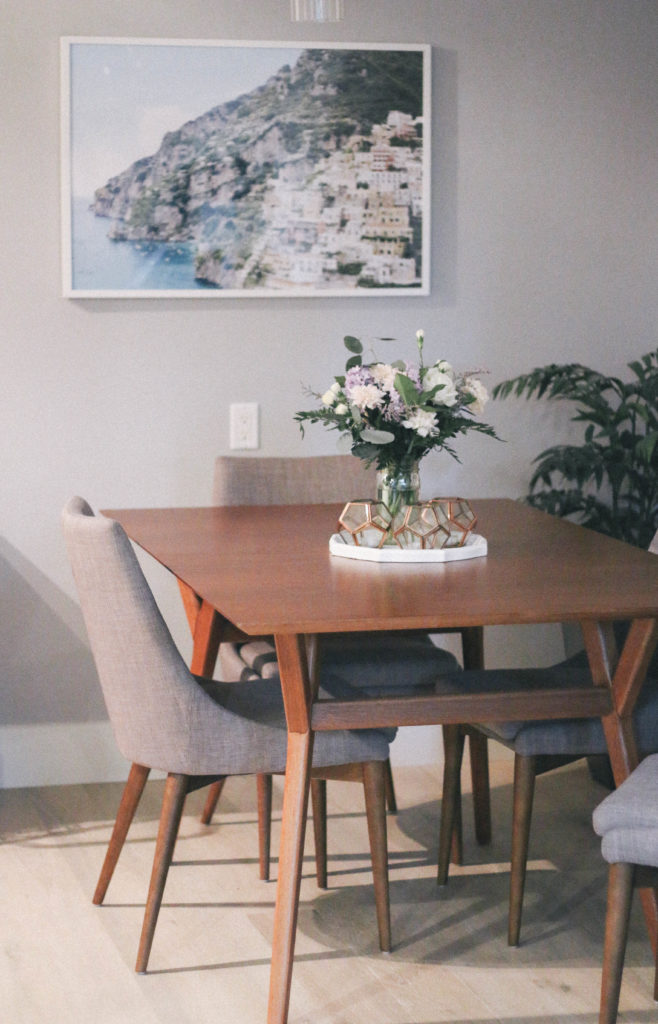 Our apartment has undergone a major transformation and I am so excited to finally start sharing some of it with you!  I've mentioned it a million times, but with some terrible luck, we just so happened to have two floods almost exactly a year apart (it's always in February, so I'm understandably a bit on edge).  Though they were an absolute pain at the time, both taught us valuable lessons about our home.  First, we learned that we had WAY too much stuff.  Having to pack up your things with a days notice really makes you realize the weight of everything you own.  Also, that we'd become complacent to feeling 'meh' about our apartment.  It's so easy to just live amongst within growing clutter, furniture you don't love, or the same old decor.  Change requires effort, and let's face it, a lot of the time that energy is justified elsewhere.  But, I'll tell you, after basically being forced into redecorating when our second flood hit, we realized that we could learn to love our space again.
Though we allocated a more significant budget to larger furniture swaps like our dining table and chairs, a couch, our Sayulita Chair, and wall mounted shelves, we also added a lot of smaller touches that helped make our apartment feel brand new without breaking the bank.
Large Framed Print
Under $50
Inspired by all the beautiful fine art prints I've seen online, I decided to try a DIY version.  It seemed a waste not to use one of my own photos and it's such a great conversation piece in our dining room.  The project ended up being extremely simple, the toughest part was that I had to shed a tiny bit off my printed photo in order for it to fit into the frame.  It's so wonderful seeing the stunning Amalfi Coast on our wall every day, and I feel a real sense of pride that it's my own photo (and that I managed to achieve the look for under $50).
Pictured: IKEA Ribba Frame ($20) and Large Photo Printed at Costco ($18)